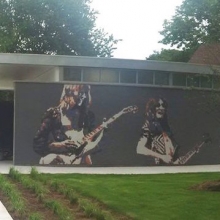 Earlier this week an inaugural launch event at the recently-opened Lee Lifeson Art Park in Toronto's Willowdale neighborhood was announced for Saturday, October 1st via the City of Toronto's Celebrate Toronto newsletter:
On October 1 from 1 to 5 pm, join Cultural Hotspot and North York Arts at the kick-off to the inaugural season of the Lee Lifeson Art Park in Willowdale. Create a community arts piece, join an Aztec dance workshop lead by performer Jesus Mora and fellow dancers, and watch the Live Arts Youth Showcase, featuring spoken word, music and dance. Visit toronto.ca/culturalhotspot for information
You can get all the details at the official event page here. Back in the summer of 2014 the North York community council first approved plans for the new, arts-themed park and decided to name it after 2 of its most famous former residents - Geddy Lee and Alex Lifeson. The park began construction earlier this year and after several months of work it was recently opened up to the public. Here's what Geddy Lee told the Toronto Star back in August, 2014 regarding the park:
... "I know my mom is very happy!" ... "We met with the park architects and were really impressed with the thought and plans they have for it," ... "[Willowdale] is where I met my best friend and bandmate," ... "We were humbly honoured by the suggestion to name the park after us." ... "On tour and during our travels, ... we get to visit and enjoy so many parks around the world and really appreciate having that communal green space that is so important to a vibrant city."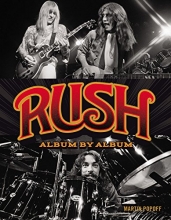 A new book from author and rock journalist Martin Popoff titled Rush: Album by Album will be released via Voyageur Press in May of 2017. This will be the third Rush book from Popoff who also authored the 2004 Rush biography Contents Under Pressure, along with Rush: The Unauthorized Illustrated History back in 2013 (an updated edition was released earlier this year). From the book's description:
... this new book from prolific rock journalist and acknowledged Rush authority Martin Popoff pays tribute to the band's discography by moderating in-depth, frank, and entertaining conversations about all 20 of Rush's studio albums. Inside, the author gathers 20 rock journalists and authors who offer insights, opinions, and anecdotes about every release. Together, the conversations comprise a unique historical overview of the band, as well as a handsome discography. Popoff also includes loads of sidebars that provide complete track listings, details on album personnel, information on where and when the albums were recorded, and sidebar facts about the albums, their songs, and the band.
The hardcover edition of the book is now available for pre-order at this location (thanks geddyalexneil).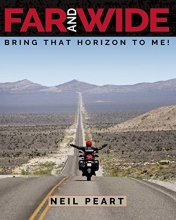 Speaking of new books, Neil Peart's latest book is titled Far and Wide: Bring that Horizon to Me! and chronicles Peart's travels on Rush's 2015 R40 Live tour. The book is available in both hardcover and for the Kindle. Here's the description from Amazon.com:
Thirty-five concerts. 17,000 motorcycle miles. Three months. One lifetime.

In May 2015, the veteran Canadian rock trio Rush embarked on their fortieth anniversary tour, R40. For the band and their fans, R40 was a celebration and, perhaps, a farewell. But for Neil Peart, each tour is more than just a string of concerts, it's an opportunity to explore backroads near and far on his BMW motorcycle. So if this was to be the last tour and the last great adventure, he decided it would have to be the best one, onstage and off.

This third volume in Peart's illustrated travel series shares all-new tales that transport the reader across North America and through memories of fifty years of playing drums. From the scenic grandeur of the American West to a peaceful lake in Quebec's Laurentian Mountains to the mean streets of Midtown Los Angeles, each story is shared in an intimate narrative voice that has won the hearts of many readers.

Richly illustrated, thoughtful, and ever-engaging, Far and Wide is an elegant scrapbook of people and places, music and laughter, from a fascinating road - and a remarkable life.
Portions of the book are also available to preview on Google Books, and you can order your copy at this location.
Speaking of Neil Peart, Ambrosia drummer Burleigh Drummond was recently interviewed for Rock Cellar magazine and when asked about some moments that stand out in his memory from the band's '70s heyday, he brought up the following story involving Rush and Neil Peart:
... We were opening for Rush and about the second night we were walking off the stage and Neil Peart was standing there and he said, 'Hey man, what do you think of my set up?" He had a fair amount of drums and a gong. I said, "Oh man, I love that stuff." And he said, "Well man, I got that from you." On our first album, I was one of the few drummers using mallets and gongs. So he was somebody that appreciated what I did. He's a wonderful drummer. I saw him again five years ago and he remembered our entire set that we played. He remembered every song that we played. It blew me away how much he remembered. ...
Guitar World posted their list of 15 of Prog-Rock's Best Guitarists Through the Years last week and Rush's Alex Lifeson made the cut:
Chops-worshipping fans have long heralded Alex Lifeson, drummer Neil Peart and bassist-singer Geddy Lee for their supreme instrumental skills, but the intriguing thing about Rush is the way they deliver the goods without infantilizing their musicianship. Their razzle-dazzle never seems as if it's tossed off to satisfy some demand for immediate gratification; it has grace and purpose. Take, for example, "Jacob's Ladder" ...
April Wine frontman and guitarist Myles Goodwyn will be releasing an autobiography titled Just Between You And Me: A Memoir on October 18th (thanks RushFanForever). April Wine was one of Canada's most successful rock acts in the '70s and '80s, and opened for Rush on a number of dates from 1977-79. Some early editorial reviews of the book are out, including one from Alex Lifeson:
"In these pages, Myles chronicles the journey of April Wine, Canadian hard rock trailblazers, but also presents his personal life stripped to the core, warts and all. It's a story many will understand and appreciate." (Alex Lifeson, guitarist for Rush, Order of Canada)
Yesterday TeamRock.com posted their breakdown of Rush's Moving Pictures album, ranking the albums 7 tracks from best to worst. It's no surprise what song took the top spot:
1) Tom Sawyer: Not just the best song on Moving Pictures, but the best Rush song ever. Discuss. Does anyone really know what Tom Sawyer is about (other than Neil Peart)? Who cares. It sounds like Rush are imparting the secret of life. And that's what counts. Everything about Tom Sawyer is portentous, powerful and of near biblical importance: from Geddy's hysterical yelp - 'the riveeeer' - to Lifeson's barbed wire guitar solo via Peart's wrist-spraining drum fills. There are many great moments in rock, but that synthesised whoosh and bone-rattling bass lick at the start of Tom Sawyer are two of them. All together now: 'A modern-day warrior, mean mean stride...'
This past Saturday, September 3rd marked the 25th anniversary of Rush's 14th studio album Roll the Bones. Here's the music video for the title track:
In addition to the Roll the Bones anniversary last week, Hold Your Fire celebrated the 29th anniversary of its release yesterday, Signals celebrates its 34th anniversary today, and Test for Echo's 20th anniversary is tomorrow. Also, Neil Peart and his wife Carrie Nuttall are celebrating their 16th wedding anniversary today, and Neil will be celebrating his 64th birthday this coming Monday, September 12th! Have a great weekend everyone!