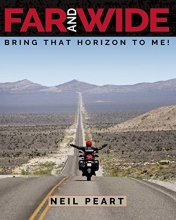 Neil Peart's latest book is titled Far and Wide: Bring that Horizon to Me! and chronicles Peart's travels on Rush's 2015 R40 Live tour. Although the official release date from ECW Press is given as September 13th, the book is already available for purchase and has been shipping from Amazon and other retailers this past week. It is available in both hardcover and for the Kindle. Here's the book's description from Amazon.com:
Thirty-five concerts. 17,000 motorcycle miles. Three months. One lifetime.

In May 2015, the veteran Canadian rock trio Rush embarked on their fortieth anniversary tour, R40. For the band and their fans, R40 was a celebration and, perhaps, a farewell. But for Neil Peart, each tour is more than just a string of concerts, it's an opportunity to explore backroads near and far on his BMW motorcycle. So if this was to be the last tour and the last great adventure, he decided it would have to be the best one, onstage and off.

This third volume in Peart's illustrated travel series shares all-new tales that transport the reader across North America and through memories of fifty years of playing drums. From the scenic grandeur of the American West to a peaceful lake in Quebec's Laurentian Mountains to the mean streets of Midtown Los Angeles, each story is shared in an intimate narrative voice that has won the hearts of many readers.

Richly illustrated, thoughtful, and ever-engaging, Far and Wide is an elegant scrapbook of people and places, music and laughter, from a fascinating road - and a remarkable life.
Portions of the book are also available to preview on Google Books, and you can order your copy at this location.
Alex Lifeson participated in the Scott Medlock-Robby Krieger Golf Invitational and All-star Jam this past Monday at the North Ranch Country Club in Westlake Village, California. The tournament itself took place during the day with a 19th hole post-tournament cocktail party following, along with an All-Star Jam concert in the evening. The concert featured Alex Lifeson, Richie Sambora, Orianthi, Robby Krieger, Jerry Cantrell, Mike Inez, Danny Seraphine, Phil Chen and others performing a number of hits by all of the members' various bands including some Rush. HeavyMetalHill.com had extensive coverage of the event including dozens of photos, videos of most of the performances and a 5-minute interview with Alex Lifeson where he talks about the event, last year's R40 Live tour and what he's been doing with himself this summer:
... "I've been writing a lot. I've been playing quite a bit actually. I've been enjoying my family. It's the first summer off I think I've had in 45 summers, so it's a real treat actually to be home. Do I miss touring? I'm not so sure and, you know, you never know what the future holds anyway, so. For the time being I think we're all kind of enjoying this little respite, you know." ...
You can listen to the full interview below or on YouTube here. The all-star band performed Rush's The Spirit of Radio, Limelight and Freewill. Alex also sat in on a number of other songs including a performance of the Alice in Chains song Would. You can check out all the photos and videos from the concert at this location.


Last month we learned of a new official Rush 18-month, 12"x12" wall calendar from BrownTrout Publishers that is slated to release in 2 weeks on September 15th and can be pre-ordered here. NMR Distribution has also released their own official Rush calendar which you can purchase via Amazon at this location. The NMR Distribution calendar is a 16-month calendar that features the classic pink Rush explosion logo on the cover and a number of photos from the band's R40 Live tour. The Browntrout calendar celebrates the upcoming 40th anniversary of the release of Rush's A Farewell to Kings, which debuted on August 29th, 1977. The cover depicts the iconic album cover, with the internal images showing various photos of the band from the A Farewell to Kings era as seen here. You can pre-order your copy at this location, and purchase the NMR Distribution calendar here.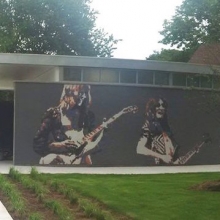 Back in the summer of 2014 the North York community council approved plans for a new, arts-themed park in the Toronto neighborhood of Willowdale named after 2 of its most famous former residents - Geddy Lee and Alex Lifeson. The perimeter fencing was recently removed from the Lee Lifeson Art Park and it's now open to the public. There's also some kind of dedication/ceremony in the works for later this month although nothing has been finalized yet. Here's what Geddy Lee told the Toronto Star back in August, 2014 regarding the park:
... "I know my mom is very happy!" ... "We met with the park architects and were really impressed with the thought and plans they have for it," ... "[Willowdale] is where I met my best friend and bandmate," ... "We were humbly honoured by the suggestion to name the park after us." ... "On tour and during our travels, ... we get to visit and enjoy so many parks around the world and really appreciate having that communal green space that is so important to a vibrant city."
The idea was first put forth at a consultation meeting held on April 22, 2014 by Councillor John Fillon and was then formally recommended by the Toronto parks committee on July 17th:
... Early designs for the area include art installations, a collaborative performance space and even a small bandshell for "acoustic concerts," according to [Filion], who first hatched the tribute plan two years ago. "I was standing around one night with a fellow music lover trying to think of somebody who had grown up in Willowdale who was a famous artist or musician," Filion said. "We both came up with the name Geddy Lee almost simultaneously." The councillor contacted Lee with the idea, and he immediately got on board - albeit with one condition. "He said he was interested and honoured, but also suggested it be named after Alex Lifeson, too," Filion said. ...
You can learn more about the park on Fillon's website here.
Former Rush producer Terry Brown along with his brother Phill Brown - also an accomplished producer who has worked with Led Zeppelin, Talk Talk and Jimi Hendrix - will be the subject of two Q&A sessions at Metropolis Studios in London, England on October 8-9th. The event will be hosted by Prog/Classic Rock magazine's Jerry Ewing and Malcolm Dome. The two producer brothers will be talking about their 50-year careers in music, and their first ever collaboration as producers on Blurred Vision's next album, a follow-up to last year's Organized Insanity. Blurred Vision will also be performing at the event. For all the details visit the TeamRock.com website.
Meshuggah drummer Tomas Haake was recently interviewed by UltimateGuitar.com to talk about the band's upcoming album The Violent Sleep of Reason, and he mentions Neil Peart (thanks RushFanForever):
... [Neil Peart was a] Huge influence not only as a lyricist but obviously as a drummer. Rush were my house gods in my formative years and they always stayed with me even through the changes from the British Wave to Bay Area thrash and later on with fusion jazz like Allan Holdsworth and Chick Corea, which I was into for a while. Rush were there and they were a constant throughout those years. He was a mind opener for me when I started listening to them around age 10 or 11 and I noticed he was the lyricist for the band 'cause I never heard of such a stupid thing, right? It was like, "Yeah, you don't have to be just the drummer or you don't have to be the vocalist to necessarily be writing the lyrics." That was pretty cool and that guy has meant a huge deal for me absolutely. ...
A couple of weeks ago the NY Daily News posted a gallery titled DRUMROLL PLEASE! A look at the most influential artists to pound the skins where they listed off fourteen influential drummers, including Rush's Neil Peart (thanks Dustin):
Rush is one of the most complex band's around, so it's fitting that they have one of the most technical drummers around with Neil Peart. Peart was influenced by The Who's Keith Moon and it shows with how active he is when he plays. His style has changed throughout the years, but his ambition and willingness to try new things behind the set are what sets him apart in rock history. Peart shines on songs like "YYZ," "Tom Sawyer," "Limelight" and "The Trees."
Back in an updates post from April of this year we featured a storyboard video of animator Sant Arellano's interpretation of Rush's Red Barchetta for a short film project he was working on. Arellano is now planning on finishing up the project that he hopes to fund with a Kickstarter campaign. He's launched a Facebook page and website where you can follow his progress, and will be releasing a trailer of sorts documenting the entire process.
Here's Alex Lifeson's interview from the Medlock-Krieger Golf Tournament earlier this week:
The next couple of weeks will mark the anniversaries of four Rush releases, including the 25th anniversary of the release of 1991's Roll the Bones tomorrow, Hold Your Fire (September 8, 1987), Signals (September 9, 1982) and Test for Echo (September 10, 1996). Also, Neil Peart and his wife Carrie Nuttall are celebrating their 16th wedding anniversary next Friday, September 9th, and Neil will also be celebrating his 64th birthday on September 12th! Have a great Labor Day weekend everyone!