This past Saturday night beloved Canadian band The Tragically Hip played their final show to a sold-out crowd at the Rogers K-Rock arena in the band's hometown of Kingston. Earlier this year frontman Gord Downie revealed that he had terminal brain cancer, prompting The Hip to embark on one last tour to say farewell to their fans. The CBC broadcast the show live, triggering an impromptu national holiday across Canada Saturday night. From the New York Times:
... There were viewing events in hockey arenas, town squares, clubs and restaurants from the Yukon to Nova Scotia, and in United States towns near the border, like Plattsburgh, N.Y. "Dear World," the Toronto police wrote on Twitter on Saturday morning. "Please be advised that Canada will be closed tonight at 8:30 p.m. Have a #TragicallyHip day." In terms of national attention, the Kingston concert was "analogous to the Super Bowl," said Randy Lennox, president of broadcasting and content for Bell Media, a major Canadian broadcaster. Mr. Lennox, who previously ran Universal Canada, the Tragically Hip's label, and who has known the band members since 1988, said that Mr. Downie is to Canada what Bono is to Ireland. "This is indigenous, this is a band that is our soul," he said. ...
Rush have always been big fans of The Hip, who opened for the band back in the early 1990s:
... Geddy Lee, frontman for Rush, for whom the Hip once opened, praised them in an email for their "blues based, sinewy, guitar rock combined with Gord's original poetic style of lyrics." He attended one of their Toronto shows this month - "an incredibly heartfelt and moving experience," he said, "one I shall never forget." ...
The CBC also sat down with Geddy Lee a few weeks ago for a series of short video interviews to talk about The Hip and their place in the history of Canadian music. Geddy discusses the distinct Canadian-ness of the band, when The Hip opened for Rush in the early '90s, his favorite Hip album, their cover of Rush's Limelight and more. Here's some of what Geddy had to say:
"The first time you listen to one of their records it kind of sneaks up on you," Lee says. "It sounds simpler than it is. There is a particular way the power of those guitars work together.... [They] always sound sinewy and muscular. Then you put Gord's voice and his lyrics on top of that, and after repeated listening, you really start to love it. It just gets inside you. I think that's a trademark of the Hip."
Macleans published an article this past week where several Canadians share their personal memories of The Hip including this one from Rob Wells of the Trailer Park Boys that involves Alex Lifeson:
... There was one night where we were shooting, and a lightning storm was coming, and it was just incredible. They were improvising a song. We used to shoot in a park that we owned that was gated. We used to have these big parties on Friday nights after wrap. Alex Lifeson [of Rush] and Gord were there. This night unfolded with a jam. It was so dangerous, it's unbelievable. There was literally lightning striking all around us. Everyone was standing in about an inch of water. I remember looking down and seeing the power bar that my amp was plugged into floating in a puddle, but I didn't want to stop, so I was like "Nah, I probably won't get electrocuted."
Speaking of Lerxst, Alex will be participating in the Scott Medlock-Robby Krieger Golf Invitational and All-star Jam this coming Monday, August 29th at the North Ranch Country Club in Westlake Village, California. The tournament itself will start at 11AM with a 19th hole post-tournament cocktail party, and a 7PM All-Star Jam featuring Krieger, Sebastian Bach, Lita Ford, Alice Cooper, Alex Lifeson, and many other musical guests. All the events are open to the public, so if you want to play in the tournament, attend the 19th hole cocktail party or attend the All-Star Jam you have to register and buy tickets via the website here. Alex Lifeson took part in the event 2 years ago back in 2014, but had to skip it last year due to Rush's R40 Live tour. You can check out full coverage from the 2014 event including photos, videos and more in this post. At the 2014 event Alex performed a number of songs including Rush's Working Man (video) and The Spirit of Radio (video) with an all-star lineup including Krieger, Sebastian Bach, Tommy Thayer and many others. He also played on I'm a Man (video) and The Doors' Hello I Love You. More videos can be seen on YouTube here.

The Percussive Arts Society is running a contest/raffle where you could win a Time Machine tour drumhead signed by all three members of Rush. Raffle tickets are available for as little as $10 each and the drawing will take place on November 12th. The drumhead is framed in museum grade glass and valued at $2,500. Proceeds from the raffle will benefit the Percussive Arts Society. For all the details and to purchase tickets, visit this location.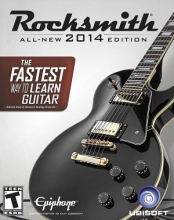 Rocksmith is a music video game produced by Ubisoft who's main feature is allowing players to plug in virtually any electric guitar and play. It is available on the PlayStation 3, Xbox 360 and PC. This past week's featured DLC release for the game was a five-song Rush pack including Closer To The Heart, Fly By Night, Freewill, Working Man, and La Villa Strangiato - which is now the longest song in the Rocksmith library at 9:35 (dethroning Freebird at 9:08). This is the second Rush DLC pack, with the first having been offered up back in 2012 and including Red Barchetta, Tom Sawyer, YYZ, Subdivisions, Limelight and Headlong Flight as a bonus track. With the release of the Rush II pack, and counting the included The Spirit of Radio track, Rush now has a total of twelve songs in the Rocksmith library, tying them with Jimi Hendrix and Rise Against for the most represented in the game.
Exclaim! posted a list of their Eight Favourite Songs About Robots earlier this week and Rush's The Body Electric made the cut (thanks RushFanForever):
No strangers to exploring the world of science fiction in song, Rush's "The Body Electric" tells the story of "an android on the run" in search of freedom from its electronic existence. In linking the world of robotics to the human race with the song's protagonist's individualist aspirations, the song's chorus features bassist/vocalist Geddy Lee singing the binary code '1001001,' which translates to a capital I. And here's some irony: "The Body Electric" comes from the band's 1984 record Grace Under Pressure, on which machines - namely, Lee's synthesizers and Neil Peart's electric drums - played a prominent role in their songwriting.
Paul Werdohf wrote a piece for the satirical website Clickhole.com this past week titled While I Love The Band Rush, I Worry That Neil Peart's Need For Drumsticks Has In Some Way Contributed To Deforestation (thanks John at Cygnus-X1.net):
... As long as Neil Peart is playing drums, our global ecosystem will suffer for it. I'm not saying that you should stop listening to Rush right now (I sure won't!) or that you need to feel guilty when "Tom Sawyer" comes on in your car. But it may be time to start quantifying just how much Neil Peart has played a part in the deforestation epidemic. We want to leave bountiful and healthy forests to our children and grandchildren, and if it turns out Rolling Stone's #4 greatest drummer of all time is inhibiting that future with his careless use of his drumsticks, I don't know what I or the millions of other Rush fans will do with ourselves.
USA Today posted a list of the songs chosen by NASCAR drivers for their pre-race introductions at the 2016 Bristol night race last week, and Brad Keselowski chose Rush's Tom Sawyer.
Last month Reader's Digest posted a list of 10 Essential Songs for a Canadian Road Trip Playlist and making the cut at #3 was Rush's The Spirit of Radio (thanks RushFanForever):
Put on the brakes for a moment to reflect on just how brilliant Rush's "Spirit of the Radio" truly is. There's the masterful guitar line in the song's opening bars, which is incredibly unique and among the most recognizable in rock history. Then, layers of complexity are added in the form of the drums and bass. But through it all, that beat never wavers-a testament to the talent of these Canadian musicians. As if that wasn't enough, it's a song that pays homage to the radio: A device that's synonymous with the automobile, and the soundtrack to Canadian road trips for the bulk of the 20th century.
Amooeba Music's latest What's in my Bag webisode on their YouTube channel features Sebastian Bach taking viewers on a vinyl shopping trip with the singer at Amoeba Music. Towards the beginning of the video he goes to the Rush section, remarks about how Rush albums often have pictures of butts on them, and then ends up purchasing a 200g vinyl copy of A Farewell to Kings. You can watch the video on YouTube at this location (thanks Will C).
The Toronto Sun's Sunshine Girl for this past Monday was Dannie, an all-Canadian girl who loves Rush (particularly Geddy Lee) and the Toronto Blue Jays. She wears a Rush R40 (2112 style) in her photo spread as seen here.
Drummer Vinnie Amico of American jam band moe. was recently interviewed by the Argus Leader and when asked about the first band he ever loved, he had this to say:
Rush, but it could have also been Van Halen. All of this stuff happened around the same time, but I ended up getting deeper with Rush, Led Zeppelin and Van Halen. When I first got a record player, it was Rush's 'Moving Pictures', Led Zeppelin 'IV' and the first Van Halen. Then I got into subsequent Led Zeppelin albums. I'd sit there and just study this music. My brother was a few years older, so he was listening to Yes, Genesis, and Journey. We kind of just shared everything, and I was already playing drums by then. For me, every record I put on I just learned the drum parts.
Jason Heller wrote a piece for Pitchfork this past week titled Punk, Disco, and Silly Love Songs: Revisiting the Explosive Summer of 1976 which mentions Rush:
... Two bands that had a huge hand in spawning metal and hard rock-Led Zeppelin and Black Sabbath-release albums in 1976, but neither Presence nor Technical Ecstasy capture those titans at their apex. It's up to a fresh batch of rockers to pick up the gauntlet. One of them is Rush. The Canadian trio's album 2112 has been out for a couple months by the time summer hits. It's already well on its way to becoming a staple of progressive rock, tapping into science fiction and, oddly enough for a rock band, Ayn Rand's controversial, selfishness-as-an-ideal philosophy of Objectivism-which in 1976 was beginning to make strong inroads into mainstream conservative thought. ...
Colorado-based melodic death metal band Allegaeon will be releasing their fourth full-length album on September 23rd via Metal Blade Records. It's titled Proponent for Sentience and includes a heavy cover version of Rush's Subdivisions. The band released a video of the cover earlier this week which you can watch below or on YouTube at this location. You can pre-order a copy of Proponent for Sentience at this link, and learn more about Allegaeon via their Facebook page.
That's all for this week. Happy almost-birthday to Alex Lifeson, who will turn 63 years young tomorrow. Have a great weekend everyone!