UPDATE - 11/13@1:40PM: The Rocksmith Rush DLC pack is now out. It includes Red Barchetta, Tom Sawyer, YYZ, Subdivisions, and Limelight - plus you can purchase Headlong Flight separately. Here's the video trailer: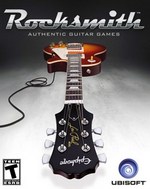 According to The HeroFeed, Rocksmith will be releasing a Rush DLC pack next week. From the website:
Next week marks the Rocksmith debut of the Canadian trio of progressive rock RUSH! We had some previous knowledge of this DLC arriving as you may remember, but there is still a bit of a mystery of whether or not we will be getting their latest single off 2012′s Clockwork Angels, Headlong Flight. Hints on Facebook have confirmed the inclusion of tracks such as: Red Barchetta, Tom Sawyer, and YYZ(ed) while leaked tracks such as Subdivisions, and Limelight haven't been officially revealed the video below confirms them. You may notice that Headlong Flight is missing which raises questions about whether the track was pulled, is a single, or maybe just coming later this year (Canadian Artists anyone?) All shall be revealed on Tuesday, so for now start preparing your guitars for the holy trinity!
Rocksmith is a music video game produced by Ubisoft who's main feature is allowing players to plug in virtually any electric guitar and play. It is available on the PlayStation 3, Xbox 360 and PC. Thanks to Tomcat84 for the heads up.