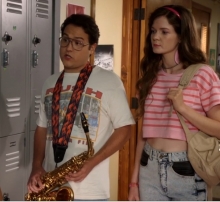 Early in Season 3 of the ABC '80s sitcom The Goldbergs a new recurring character named Johnny Atkins (played by Sean Marquette) was introduced. He's a cocky band geek who goes to school with Erica and is always shown wearing various Rush t-shirts and carrying a saxophone around his neck. He first appeared in the 2nd episode of the season (A Chrous Lie) where he was Erica's potential date to homecoming. In that episode he was shown wearing three separate Rush t-shirts at different points in the show; a Moving Pictures shirt, a Fly By Night shirt and a Hold Your Fire shirt. He also made appearances in several other episodes this season, but this coming week's episode promises to be the most Rush-reference-laden episode to date. The title of the episode is Rush and here's the official episode summary:
When Beverly gives Adam a "best son" trophy, Barry brings to her attention that she always favors Adam. Appalled, Beverly decides to ignore Adam (much to his delight) and smother Barry (much to his dislike), but it backfires. Meanwhile, Erica starts dating a boy who gets her to love the band Rush as much as he does and whom Murray doesn't approve of, on "The Goldbergs," WEDNESDAY, APRIL 13 (8:30-9:00 p.m. EDT) on the ABC Television Network.
The episode airs this coming Wednesday, April 13th and you can watch The Goldbergs on ABC or online at the ABC website here. Thanks to John at Cygnus-X1.net for the heads up.