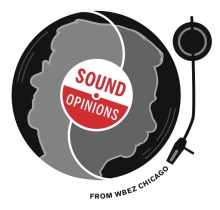 Geddy Lee and Alex Lifeson were guests on last Friday night's episode of Chicago Public Radio's Sound Opinions program. Sound Opinions is a nationally-syndicated radio talk show hosted by Jim DeRogatis and Greg Kot focusing on rock music. It airs Friday nights at 8PM CT and Saturdays at 11AM CT on Chicago Public Radio. The entire show is available for listening online using the player below or at the Sound Opinions website. The Rush portion of the program begins at about the 6:15 mark and runs until the 48-minute mark. They speak with both Geddy Lee and Alex Lifeson about the history of Rush, interspersed with snippets of several Rush songs along the way. Towards the end of the interview they address the band's future plans:
Alex: I think right now we don't have any plans for anything. Keep in mind that we had a year and a half off after the Clockwork Angels Tour. We didn't talk about anything to do with the band in a year and a half. I think we're just in a stage now where we're just kind of taking some time, reconnecting with our families and friends and pursuing some other interests, and having some fun really. I know Geddy and I love writing together. We've been doing it since we were young teenagers. I'd like to think that we'll do it until we're very old men instead of just "mostly" old men.

Geddy: For Neil it's become too hard. And that's a phrase he likes to use. To play for 3 hours, to play the way we feel is being "Rush" - the way Rush plays a 3-hour show that's very complicated. That has taken its physical toll on his body. During the course of any of the last few tours he's gone through periods that he's having problems. Whether it's tendonitis or whether it's some other thing. So I think for him it's enough. He can't go through all that again. That's gonna dictate obviously what performing live is going to mean for Rush. And whether that happens or not - I can't really say at this point.

Alex: Neil's in a great headspace now. He's really enjoying his life and feels great. He's spending a lot of time with his daughter and his family. And doing the things that he loves to do, with his health intact. That's a very positive thing.

Rush's 2112 is celebrating the 40th anniversary of its March/April 1976 release this year, and Mojo magazine has included a special 3-page feature on the album's anniversary in its March 2016 issue. They chat with both Geddy Lee and producer Terry Brown about the story behind the album's inception and its huge success. Here's Geddy on how the album was received:
... At first, 2112 was a slow seller, but when we went back on the road we were getting better gigs, even headlining some shows. It was a defining album. The artwork for the album by our friend Hugh Syme became a brand, it transcended the record and became very representational of us as a band. The album was a vindication. From that point, we were free to make our own mistakes. ...
You can read the entire article online here on pages 22-4, and John at Cygnus-X1.net has also made a transcription available here. And speaking of 2112, Ultimate Classic Rock posted their list of the Best Rock Albums of 1976 earlier this week and 2112 made the cut at #7:
Rush finally got some attention with their fourth album, a powerhouse combo of prog and heavy rock. '2112''s entire legend is based on side one's seven-part, 20-minute suite, an epic tale of a dystopian future where one man is freed by the power of music ... or something like that. No matter. This is one awesome ride.
Steven Wilson kicked off the North American leg of his Hand. Cannot. Erase. tour earlier this week in Quebec City, and Tuesday night played Massey Hall in Toronto where Rush's Alex Lifeson was in attendance. Lifeson is a big fan of Steven Wilson's work and played a solo on the song Anesthetize from Porcupine Tree's 2007 Fear of a Blank Planet album. Alex hung out backstage with the band after the show and both bass player Nick Beggs and drummer Craig Blundell posted photos of themselves with Alex to their various social media pages. You can check out Beggs with Alex via his Facebook and Twitter pages, and also Blundell with Lerxst via his Facebook and Twitter.
Speaking of Alex Lifeson, the 11th annual Toronto Sketch Comedy Festival is currently underway in Toronto and will include an evening of comedy and music with HELLO! THUNDER BAY! this coming Monday, March 7th at the Randolph Theatre. HELLO! THUNDER BAY! will be hosted by Dave Bidini of the Rheostatics and will feature Alex Lifeson, Terra Lightfoot, David Quinton Steinberg, Tom Power, and Odario Williams sharing their funniest stories from the road, while Canada's musically-inclined comedians such as Gavin Crawford, Jessica Holmes, and Sean Cullen, perform hilarious parody songs. For all the details and to purchase tickets visit the Toronto Sketch Comedy Festival website here.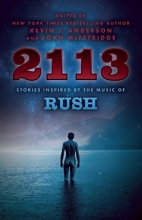 Clockwork Angels/Clockwork Lives author Kevin J. Anderson is co-editing an anthology of Rush-based stories with John McFetridge titled 2113: Stories Inspired by the Music of Rush which is due to release on April 12th via ECW Press. ECW Press launched a Facebook contest earlier this week where they'll be giving away 10 copies of the book. To enter, simply LIKE their Facebook page and share this Facebook post; they'll be announcing the winners in the comments on March 9th. You can also get a FREE 2113 sneak preview booklet online here (you just have to pay for shipping). The booklet includes the short story Random Access Memory by John McFetridge, inspired by Rush's Lakeside Park. For 2113 Anderson lined up a team of award-winning and bestselling authors to contribute short stories based on Rush songs, with Anderson himself contributing a novella titled 2113. You can pre-order your copy of 2113 here.
Mike Portnoy (Dream Theater, Winery Dogs) was recently interviewed by TeamRock.com for a feature titled Thinking Out Loud: Mike Portnoy on Dream Theater, Rush and learning a valuable lesson from Lars Ulrich, and he mentions Rush and Neil Peart at a couple of different points in the interview.
Both Rush's 2112 and Ernest Cline's Ready Player One are referenced in this Des Moines Register article from earlier this week on a bill called Senate File 2112 that is currently being considered in the Iowa Legislature:
... [2112 is] the perfect symbolic number for a proposed law to clarify who should have access to all of our "digital assets" after we die. ... the first half of [2112] spins the story of a hero's struggle in a dystopian future. The musicians envisioned a 22nd century in which people plug into their machines and while away their days under the authoritarian rule of the Solar Federation. ... now I'm going to fold one pop culture reference into another: Rush's "2112" also is leveraged as a key plot device in the novel "Ready Player One," published a few years ago by Ernest Cline. The dystopia of this book is not as distant - 2044 - but arguably even more extreme. This fictional Earth is an ecological and economic wasteland where people spend a majority of their lives immersed in a virtual digital reality called the OASIS (Ontologically Anthropocentric Sensory Immersive Simulation). ...
Metallica's Master of Puppets album celebrated the 30th anniversary of its release yesterday. Earlier this week Rolling Stone posted this article profiling the album and its anniversary, and mention how Geddy almost produced the album:
... Originally, they'd hoped Rush singer Geddy Lee would produce the LP, but he was unavailable due to time constraints. So they decided to work again with Rasmussen, who had previously produced the band's Ride the Lightning LP. ...
Back in December Geddy Lee was interviewed by Nathan Carson of Noisey (Vice) and elaborated on this story:
... I like Metallica. I've got great respect for them. ... There was some discussion with Lars, back in the day, about working with them. This was before Master of Puppets came out, I think? There was talk, you know. I was friends with their management and I met Lars back in England. I remember going to see them here in Toronto when they played at the Masonic Temple. That's when the original bass player was still happening. You know, before that tragedy. And, you know, we talked about it and I liked their band a lot at that time. But it just never came together. ...
Also of note, one of the tracks on Master of Puppets - Welcome Home (Sanitarium) - contains a tribute to Rush's Tom Sawyer (from 4:06-4:21 and at 4:43). Rush is also thanked in the albums' credits.
Speaking of March anniversaries, the Moon Records release of Rush's debut album occurred sometime in March of 1974. In celebration of that anniversary, here's the complete video of the original Rush lineup with John Rutsey on drums performing on Canadian Bandstand at Laura Secord Secondary School in St. Catharines, Ontario sometime in the spring of 1974, shortly after the album's release.
That's all for this week. Have a great weekend!