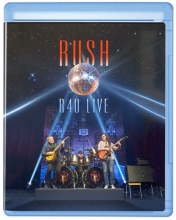 Geddy Lee recently chatted with Nathan Carson of Noisey (Vice) for a new interview where he discusses Rush's recent R40 Live tour and accompanying concert video. Geddy covers many of the topics already covered in other R40 Live interviews but also touches on other subjects such as how aging affects musicianship, having fun on tour, women at Rush shows, heavy metal music, and more. Geddy shares the following story involving Metallica, and the rumor that he was asked to help produce their Master of Puppets album:
... I like Metallica. I've got great respect for them. ... [the rumor is] sort of true. There was some discussion with Lars, back in the day, about working with them. This was before Master of Puppets came out, I think? There was talk, you know. I was friends with their management and I met Lars back in England. I remember going to see them here in Toronto when they played at the Masonic Temple. That's when the original bass player was still happening. You know, before that tragedy. And, you know, we talked about it and I liked their band a lot at that time. But it just never came together. ...
You can read the entire interview online at this location.