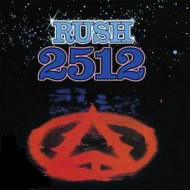 For all of those who celebrate the holiday - merry Christmas and happy Rushmas!!! I hope Santa left you all a bunch of cool Rush swag under the Christmas tree last night. My guess is that many lucky Rush fans received the R40 Live concert video or some of the Rush vinyl reissues. So what did Santa bring you? Let us know in the comments.
It's been a relatively quiet week for Rush news although there were a few new interviews to report. Geddy Lee was the featured guest on UK digital radio station Planet Rock's weekly show My Planet Rocks this past Sunday evening. Geddy Lee took over the station for an hour, playing a few songs that he chose and discussing them with the interviewer in between. Geddy had them play The Yardbirds' For Your Love, Cream's Spoonful, Time and a Word from Yes and Driving Sideways from John Mayall & The Bluesbreakers. They also opened the show with Tom Sawyer and played it out with Geddy's choice - The Anarchist. You can listen to the show online at the Planet Rock website here. Geddy Lee was also featured in a short TeamRock.com article where they asked Geddy - a regular attendee of stand-up comedy shows - to list off what he thinks are the 10 best stand-up comedians. Included on his list are Jerry Seinfeld, Richard Pryor, Amy Schumer, Woody Allen and many others. You can check out the complete list and read what Geddy had to say about each one at this location.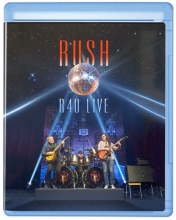 Rush's R40 Live concert film officially released back on November 20th in North America, debuting at #24 on the Billboard 200 album chart in its first week of release. The video and the band's associated tour made a few 2015 best of lists including this one from the Montreal Gazette (thanks RushFanForever) and this one from the Portland Mercury. R40 Live is available as 2 DVDs, 1 Blu-ray disc or 3 Audio CDs along with various combo packages. Previews of several tracks from the video are available on the Rush YouTube channel, along with a 2-minute trailer for the film here. R40 Live's tracklisting mirrors the Friday, June 19th Toronto show setlist, with One Little Victory, Distant Early Warning and Red Barchetta from the June 17th Toronto show as bonus material on the DVD/Blu-ray. The CD also includes audio for Clockwork Angels, The Wreckers, The Camera Eye and Losing It with Jonathan Dinklage as bonus material. Eric at Power Windows has the liner notes here, and John at Cygnus-X1.net has posted artwork here. You can order the various R40 Live packages at the following locations:
[3-disc CD/Blu-ray Combo]
[3-disc CD/DVD Combo]
[3 Audio CDs]
[Blu-ray only]
[DVD only]
Rush fan Jennifer Morrow's appearance on Jeopardy! earlier this year made Ultimate Classic Rock's list of 2015's Coolest Rock Stories:
... [Morrow] showed up with a pair of drumsticks given to her as a good-luck charm by Neil Peart - and who proceeded to win her first appearance with a $2,112 Daily Double bet - that's very much still the case. Those drumsticks didn't come out again during Morrow's second appearance, but they still did the trick, as she won again.
Ultimate Classic Rock ran a bracket contest over the last several weeks in celebration of the recently-released Star Wars movie. The contest was titled Rock Star Wars and they pitted space-themed rock songs against one another. One of the songs in the running was the classic Rush sci-fi anthem Cygnus-X1, which ended up winning the whole thing.
Earlier this year Kevin Hale of the SHOOTING FromThe LIP podcast ran a Rush 40 for 40 Super Fan Series where he spoke to several Rush superfans about their Rush fandom. In the past couple of weeks he invited everyone back (yours truly included) for a couple of round table interview sessions, the first of which is now available online here.

Earlier this week I introduced a new feature to the rushisaband.com website that I'd been working on over the past year. In the process of running this site for the past 10 years I always thought it would be cool to have a searchable archive of Rush tour dates. So I finally went ahead and built one. When you go to the tour section, it now features a searchable list of all 2000+ of Rush's (known) tour dates along with venues, setlists and bands they played with. It uses a number of different search criteria, including bands played with, song played, specific day in tour history and shows within a given distance from any location. So if you want to know if/when Rush ever played a show with Thin Lizzy you can do that. Or if you were wondering where Rush played on the day you were born, or on your birthday over the years - you can do that too. How about if you wanted to know whether Rush ever played a show with Blue Oyster Cult where they broke out A Farewell to Kings within 50 miles of New York City (they did)? You can do that too! The possibilities are endless. While in the process of putting all this together, I figured, "why not do this for other artists too?". So I expanded my initial mission to include all the bands that ever played with Rush, and from there I just kept going. And thus was born TourDateSearch.com. The site allows you to search through hundreds of thousands of historical tour dates and setlists for OVER ONE THOUSAND rock artists from the '60s on up through today, and using all the same search criteria I listed above; bands played with, song played, specific day in tour history and shows within a given distance from any location. The site is updated on a daily basis and you can also find out when/where a particular artist will be playing their next few shows. Search results include setlist information from setlist.fm and the ability to comment on any given show using Disqus. So please give the new tour search as well as the new site at tourdatesearch.com a whirl and let me know what you think. Also be sure to follow TourDateSearch.com on Facebook and Twitter for all the latest updates. New artists and new features are added every day so stay tuned!
Last month Gibson Custom announced the release of a new limited edition Alex Lifeson signature double-neck guitar. From TheMusicZoo.com:
Gibson Custom is excited to announce a very limited edition replica of Alex Lifeson's 70's Gibson Double Neck, crafted in close collaboration with the Artist. This limited run of 100 EDS-1275's is a replica of Alex's famous Farewell to Kings Double Neck. Based on hands-on analysis and digital scans of the original's neck and body profiles, each one is a literal copy of the guitar that Alex acquired in the mid-1970's and one that would go on to become a visual and tonal icon.

"I acquired this [white] one in 1976, along with a cherry one which I later gave to Eric Johnson. It's been with me ever since, playing a constant role in the Farewell to Kings tour between 1977 and 1983, then again from 1991-1996, primarily for the song Xanadu. It was used to record the songs Xanadu, Something for Nothing, and Vapor Trails. Also on others for accent, but I can't recall them all!" ...
Last week Gibson posted a three minute video of Alex Lifeson discussing the guitar which you can watch below or at this location:
That's all for this week. Have a Merry Christmas and Happy #RushMas everybody!!