UPDATE - 11/22@5:32PM: John at Cygnus-X1.net has transcribed/scanned the article (provided by RushFanForever) and made it available online here.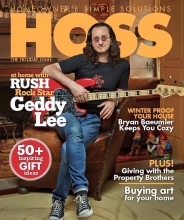 As we learned a few weeks ago, the Holiday edition of HOSS (Home Owner's Simple Solutions) magazine hits newsstands today and includes a cover feature with Rush's Geddy Lee titled Closer to the heart with Geddy Lee of RUSH. From the HOSS news release:
... The photograph of Lee on the cover of Hoss shows him with his classic and notable Fender jazz bass guitar, as he sports a black shirt, blue jeans, and his trademark converse shoes. ... The HOSS feature story on Lee inside reveals his passion for collecting vintage bass guitars, some of which line the walls of his studio and home, and how his passions extend to wine, baseball and his commitment to philanthropy. ... An avid Toronto Blue Jays fan, Lee's home in Toronto is decorated with scores of baseball memorabilia of sorts, reports HOSS Magazine. ... HOSS Magazine also reveals that he has a vast wine collection: red or white, he has literally hundreds of brands decorated throughout his home. And let's not forget his gargantuan wine cellar that houses over 5,000 bottles curated from some of the best vineyards around the world, including a host of very hard to find Burgundies.

Both his homes in both Toronto and London feature art that he and his wife have collected over the years that is captive and engaging - artistic in every sense. In a unique sort of way his art collection mirrors his creative, sophisticated and open minded inner-self. ... Lee revealed to writer Philip Wilding that his interest in art was piqued by notable photographers, like André Kertész, Paul Strandand, and Alfred Stieglitz. He then shifted his sights towards fine art, and discovered this interested on a major U.S. tour with Rush in the late 1980s.

"It didn't matter what city I was in, I would go to an art gallery. What kept me sane on that tour was learning about art," says Lee.

"You can learn a lot by buying the books and going to every gallery you can and seeing what they have there - letting your eyes take it all in," he says.

Lee indicates in the feature story that he got into baseball ephemera because he has long loved the game. And then he found that something like a ball signed in 1917 made him want to look at 1917 America. For him art is the same. Whatever artist you become enamored with you absorb his life and times, the story behind that existence.

"Case in point, I'm a child of the 50s, so I have great respect for the artists that came in the early part of the 20th century and survived the war," says Lee. "And their art survived too and has gone on to become important. I think that's why I'm fascinated by that period of history to a certain extent. They and their work endured. Art goes on and touches us and our history." ...

The magazine is also running a Closer to the Heart with Rush contest to win a custom Fender Squire vintage modified jazz bass 70s' guitar. The bass comes with a custom engraved R40 Pickguard, produced by Fender exclusively for Rush. The prize pack also includes the new R40 Live DVD Set, a Sonos prize package of Sonos Wireless HiFi Speakers, and the chance to win a one year free subscription to HOSS Magazine. You can enter the contest online at this location.