UPDATE - 11/13@11:53AM: The magazine will also be running a contest (thanks RushFanForever) starting when the issue comes out on November 19th to win a custom jazz bass.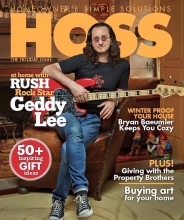 The Holiday edition of HOSS (Home Owner's Simple Solutions) magazine will hit newsstands on November 19th and features a cover feature with Rush's Geddy Lee. From the HOSS magazine Facebook page:
Closer to the heart with Geddy Lee of RUSH coming this November in HOSS magazine! Our feature story with Lee reveals his passion for collecting vintage bass guitars, some of which line the walls of his studio and home, and how his passions extend to wine, baseball and his commitment to philanthropy. Our Holiday issue hits newsstands November 19th! Mark your calendars!