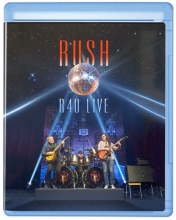 This past Monday Sirius XM's Classic Rewind (Channel 25) hosted the radio premiere of Rush's upcoming R40 Live CD. They'll continue to broadcast the audio every other day or so from now through December 6th with the full broadcast schedule available here. Sirius XM will also be hosting a town hall interview with Geddy Lee and Alex Lifeson at their New York City studios this afternoon. The interview will be moderated by filmmaker Michael Moore and will be broadcast as a one-hour show airing Wednesday, November 25th at 6PM EST with several rebroadcasts the following week (full schedule here). Subscribers were given a chance to attend the interview this past week via an online contest. If you aren't already a Sirius XM subscriber, you can get a free 30-day trial at this location. Geddy Lee and Alex Lifeson have been hitting the interview circuit this past week to promote the R40 Live release; Q107's Joanne Wilder tweeted out Wednesday that she had interviewed the pair, including this photo and indicating the interview would be coming soon. Rush's R40 Live concert film will be released next Friday, November 20th just in time for the Holidays, and will be available as 2 DVDs, 1 Blu-ray disc or 3 Audio CDs along with various combo packages. The Rush Backstage Club includes an optional t-shirt (seen here) with any purchase, and Best Buy's package includes a Rush Starman flashlight. Previews of Tom Sawyer, The Spirit of Radio, Roll the Bones, Closer to the Heart, and Jacob's Ladder are available for viewing online, along with a 2-minute trailer for the film here. R40 Live's tracklisting mirrors the Friday, June 19th Toronto show setlist, with One Little Victory, Distant Early Warning and Red Barchetta from the June 17th Toronto show as bonus material on the DVD/Blu-ray. The CD will also include audio for Clockwork Angels, The Wreckers, The Camera Eye and Losing It with Jonathan Dinklage as bonus material. Digital versions of Tom Sawyer (Amazon, iTunes), Roll the Bones (Amazon, iTunes) and Closer to the Heart (Amazon, iTunes) from the CD are available for purchase. There will also be a special London, UK screening of the film this coming Tuesday, November 17th. You can pre-order R40 Live at the following links:
[3-disc CD/Blu-ray Combo]
[3-disc CD/DVD Combo]
[3 Audio CDs]
[Blu-ray only]
[DVD only]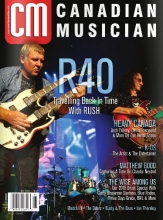 Speaking of R40 Live, the tour is the subject of a cover feature in the November/December, 2015 issue of Canadian Musician magazine. Geddy Lee and Alex Lifeson were interviewed for the feature where they break down the R40 Live setlist and stage show, describing how and why certain songs were selected, how the videos came about, and their favorite parts of the show. The interview ends with Geddy remarking on how the tour was designed to be fan-focused:
... "This whole tour was really driven by the fans," [Lee] says, reflecting on R40. "The design of the show, the song list, and a lot of the [video] content on the rear screen was all us saying thank you to our fans, because that's really the nature of an anniversary, in my view - especially due to the circumstances that this was our last tour, or potentially our last tour, so we really needed to say thank you the proper way". The Rush faithful have likely flagged the addition of "potentially" to that last remark with a spark of optimism, and Lifeson puts a bit of fuel on that potential fire by adding, "I'm slowly getting used to the idea that we may not be touring anymore". ...
The entire article is available online at this location on pages 35-38. Eric at Power Windows has also transcribed the article here.
In what looks like yet another indication of the Rush brand winding down and all involved shoring up their retirement funds, Rush's longtime management company Anthem Entertainment Group was acquired by rights management company Ole earlier this week in a move designed to enter the company into the label services business. Ole already owns Core Music, the 40-year home of Rush's music publishing that they purchased last year. As part of the deal Anthem A&R director Andy Curran will join Ole as GM of label services/A&R, Tyler Tasson will be brought on as manager of label services, and Anthem VP Pegi Cecconi will work as an Ole consultant. Anthem founder Ray Danniels will continue as president of SRO Management, which represents Rush and many other Canadian artists. Here's what Alex Lifeson had to say about the deal:
... "I'm pleased to see that Anthem Records has landed with ole, the home of our music publishing catalog. I wish them great success with their new label business. Congratulations to our longtime manager Ray Danniels and CEO of ole, Robert Ott on completing their deal!" ...

The Holiday edition of HOSS (Home Owner's Simple Solutions) magazine will hit newsstands on November 19th and contains a cover feature with Rush's Geddy Lee. HOSS will also be running a contest (thanks RushFanForever) that will open when the issue comes out to win a custom jazz bass.
Neil Peart is the subject of an interview and cover feature to appear in the January, 2016 issue of Modern Drummer magazine. The interview was conducted by Ilya Stemkovsky backstage at Rush's June 27th show in Newark. Neil covers a wide range of topics including the rigors of being a professional rock drummer in his sixties, continuing to grow and learn as a drummer, choosing songs for the R40 Live tour, his R40 Live drum kits, writing lyrics and more. The interview ends with Neil addressing all the attention and respect Rush has received over the past few years and also the future of Rush:
... MD: Induction into the Rock and Roll Hall of Fame, the cover of Rolling Stone...what's going on here?

Neil: [laughs] Persistence! Just keep going. You can eventually earn people's respect. It's easy to be dismissed in the beginning. And I've done that myself as a reader. Just dismissed certain writers. And then they earn my respect over time. That's persistence.

MD: What's in the future? If Rush isn't touring, will you still record? Write prose? Be a dad?

Neil: You just answered it. There's no strict answer, but those possibilities are all there.
You can read the entire interview online here.

A few weeks ago Geddy Lee and Alex Lifeson visited the set of the NBC drama Chicago Fire to film a scene for an upcoming episode of the show that will air this coming Tuesday, November 17th. The show's creators are Michael Brandt and Derek Haas, and Haas tweeted out a photo of the cast sheet from the episode, confirming that Geddy and Alex would appear, and also revealing the episode's Rush-inspired title - 2112. The show follows the lives of firefighters and paramedics working at the Chicago Fire Department, and the title of the episode is likely a reference to the NFPA 2112: Flash Fire Protection Standards, as well as being a nod to the episode's special guests. Here's the episode's synopsis which gives a glimpse into how Rush, Geddy and Alex will fit into the episode:
"Chief Boden (Eamonn Walker) meets his new neighbor (guest star Ilfenesh Hadera), who asks him for a favor that leads to serious consequences. Severide (Taylor Kinney) takes offense to being treated like a candidate by Captain Patterson (guest star Brian White) by undermining him during a call and the situation reaches a boiling point. Cruz (Joe Minoso) receives a surprise visit from his past when Freddie (guest star Ralph Rodriguez), a gangbanger who knows Cruz's brother Leon, comes to visit and ask for a favor. Elsewhere, the team is called to a harrowing scene of an 18-wheeler and receive a thanks in the form of tickets to see the band Rush, much to Mouch (Christian Stolte) and Herrmann's (David Eigenberg) delight."
A photo tweeted out by Michael Brandt from the set of the show has himself and Haas with Geddy Lee and Alex Lifeson where Alex is wearing an R40 laminate. This fact coupled with the episode synopsis probably means that Geddy and Alex will be playing themselves in some kind of backstage concert scene on a tour stop in Chicago.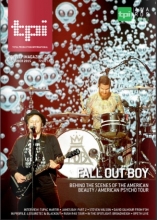 The November issue of TPI (Total Production International) magazine contains a two-page interview with longtime Rush lighting director Howard Ungerleider. He talks about how he started working with the band back in 1974 and then goes on to explain the moving back in time concept behind the band's R40 Live tour. You can read the entire interview online at this location on pages 24-26 (thanks RushFanForever).
Back in July when the Foo Fighters played a show in Toronto as part of their Sonic Highways tour, Geddy Lee's mother Mary was in attendance as a special guest of Dave Grohl's mother Virginia Grohl. The pair were photographed together backstage and shown up on the big screen during the show. It turns out that Mrs. Grohl likes to hang out with other rock moms - so much so that she's writing a book titled My Son the Rockstar containing interviews with other rock moms as described in this Washingtonian article. The article doesn't mention specifically that Mary Weinrib was interviewed for the book, but it does mention the pair hanging out in Toronto - so it's very likely she was interviewed for it.
Tomorrow is the 15th anniversary of the release of Geddy Lee's first and only solo album My Favorite Headache. The album peaked at #52 on the Billboard 200 and featured Geddy's friend Ben Mink and Soundgarden's Matt Cameron. You can check out a video of the album's electronic press kit Below or at this location.
That's all for this week. Have a great weekend!!