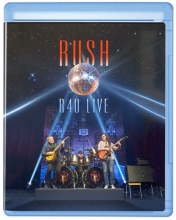 Sirius XM's Classic Rewind (Channel 25) will be airing the entire audio from Rush's upcoming R40 Live CD this coming Monday at 6PM according to some on-air promotions that have run over the last few days. There hasn't been any kind of online announcement that I'm aware of as of this post, so we are still waiting for an official confirmation. Rush's R40 Live concert film will be released on November 20th just in time for the Holidays, and will be available as 2 DVDs, 1 Blu-ray disc or 3 Audio CDs along with various combo packages. The Rush Backstage Club includes an optional t-shirt (seen here) with any purchase, and Best Buy's package includes a Rush Starman flashlight. Yesterday the band released a preview of Tom Sawyer from the video online which you can check out below or on YouTube, and the digital single is also now available for purchase (Amazon, iTunes). Previews of The Spirit of Radio, Roll the Bones, Closer to the Heart, and Jacob's Ladder are also available, along with a 2-minute trailer for the film here. R40 Live's tracklisting mirrors the Friday, June 19th Toronto show setlist, with One Little Victory, Distant Early Warning and Red Barchetta from the June 17th Toronto show as bonus material on the DVD/Blu-ray. The CD will also include audio for Clockwork Angels, The Wreckers, The Camera Eye and Losing It with Jonathan Dinklage as bonus material. Digital versions of Roll the Bones (Amazon, iTunes) and Closer to the Heart (Amazon, iTunes) from the CD are available for purchase. There will also be a special London, UK screening of the film on November 17th. You can pre-order R40 Live at the following links:
[3-disc CD/Blu-ray Combo]
[3-disc CD/DVD Combo]
[3 Audio CDs]
[Blu-ray only]
[DVD only]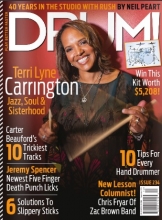 The December, 2015 issue of DRUM! magazine contains a multi-page feature written by Neil Peart for their Plugged In series titled Magnetic Memories: Four Decades in the Studio with Rush. Peart reminisces about his four decade career in the recording studio, from his time with J.R. Flood up through Rush's Clockwork Angels album. He offers this bit of parting advice to aspiring drummers:
... Other than "practice, practice, practice," the only unqualified advice I can give to beginning drummers is to play live, in front of people, as often as you can. Nothing teaches you more about where the nexus lies between what makes you excited as a player, and what excites an audience. If the ideal is to play music you like, and have other people like it too, then the definition of luck fits perfectly: where preparation meets opportunity. ...
You can check out the entire article online here beginning on page 102, and also at Cygnus-X1.net.
Rush's vinyl re-issue campaign continues today with the release of Counterparts and Test for Echo. Rush has been releasing their entire back catalog on vinyl throughout 2015. Next up are Grace Under Pressure and Power Windows which are slated to release in 4 weeks on December 4th. All titles are high-quality vinyl with a 320kbps MP4 Digital Audio download code, and you can order/pre-order all the various Mercury-era and Atlantic-era reissues using the links below:
AVAILABLE FOR PURCHASE

Fly By Night (01/27/15) - Vinyl | Blu-ray Audio
Caress of Steel (02/17/15) - Vinyl
2112: Hologram Edition (03/17/15) - Vinyl
All the World's a Stage (03/17/15) - Vinyl
A Farewell to Kings (04/21/15) - Vinyl | Blu-ray Audio
Hemispheres (05/19/15) - Vinyl
Permanent Waves (06/16/15) - Vinyl
Moving Pictures (07/24/15) - Vinyl | Vinyl + Large t-shirt | Vinyl + XL t-shirt
Signals (08/14/15) - Blu-ray Audio
Exit ... Stage Left (09/25/15) - Vinyl
Signals (10/09/15) - Vinyl
Presto (10/23/15) - Vinyl
Roll the Bones (10/23/15) - Vinyl
Counterparts (11/6/15) - Vinyl
Test for Echo (11/6/15) - Vinyl

AVAILABLE FOR PRE-ORDER

Grace Under Pressure (12/4/15) - Vinyl
Power Windows (12/4/15) - Vinyl
Hold Your Fire (12/11/15) - Vinyl
A Show of Hands (12/11/15) - Vinyl
Feedback (1/15/16) - Vinyl
Snakes & Arrows (1/15/16) - Vinyl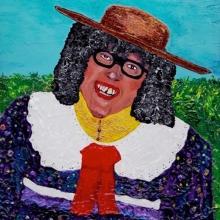 Alex Lifeson is once again participating in The Kidney Foundation of Canada's annual A Brush of Hope charity auction this year. As they have for several years running, Alex Lifeson along with dozens of other Canadian celebrities have donated paintings to be auctioned off to raise money for the charity. Alex has participated in the fundraiser nearly every year since 2006, including last year with his photorealistic rendering of himself enjoying some wine with Geddy Lee which ended up selling for a whopping $10,100! Alex's painting for this year is titled Blind Date Picnic and you can check it out and place your bid here (as of this post the bidding has surpassed $3000). The Rush Facebook page posted the following message from Alex Lifeson earlier this week regarding the auction:
Greetings, all!

I wanted to reach out to all of you to ask for your support of the Kidney Foundation's Brush Of Hope auction to raise funds or kidney research.

This year's installment is titled, "Blind Date Picnic" and you can find it at the eBay link below. It's a rather strange painting that has been described in some early circles as: "weird, horrid, ugly, familiar, hilarious, terrifying and ridiculous", all the same thoughts I had when I painted it. When my wife saw it just as I completed it, her helpful comment was, "Oh my God!"...then she started crying.

Now, who can resist such an exciting conversation piece? Imagine your friends dropping by to view your latest art acquisition and leaving immediately in tears and a queasy stomach.

If that one doesn't spark emotion, you can also get signed prints of previous paintings "Self Portrait #1" and "Greek Salad". Each print is numbered and signed personally by me.

I've supported this special programme for many years and my paintings have done well, thanks to the kind generosity of friends and good citizens so please consider helping out with this latest installment or a signed print.

Every penny counts and your support is truly appreciated.

Thank you!

Alex
The Brush of Hope live eBay auction runs through Tuesday, November 10th, and for all the latest news and information be sure to follow A Brush of Hope on Facebook. You can also check out this CBC News video clip about the event which features Alex Lifeson's painting.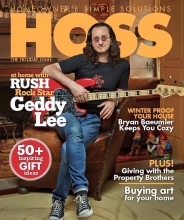 The Holiday edition of HOSS (Home Owner's Simple Solutions) magazine will hit newsstands on November 19th and features a cover feature with Rush's Geddy Lee. From the HOSS magazine Facebook page:
Closer to the heart with Geddy Lee of RUSH coming this November in HOSS magazine! Our feature story with Lee reveals his passion for collecting vintage bass guitars, some of which line the walls of his studio and home, and how his passions extend to wine, baseball and his commitment to philanthropy. Our Holiday issue hits newsstands November 19th! Mark your calendars!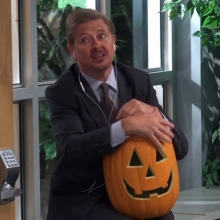 There was a brief Rush reference on last Friday night's episode of the ABC sitcom Dr. Ken (Season 1, Episode 5 - Halloween-Aversary). Towards the beginning of the show Pat (played by Dave Foley) is dosed with a painkiller lollipop and begins behaving drunk/high. At one point he is sitting in a windowsill at the office listening to some headphones and air-drumming. A couple of doctors walk by and Pat says:
Hey! Do you like Rush? Do you like Rush!? This drum solo is sick! I mean good sick. Not sick sick. If it was sick sick I'm sure you guys could heal it... 'cuz you're doing great work out there! ...
You can watch the entire episode online at this location with the Rush reference coming at about the 11:30 mark.
BlogTO.com posted their list of the top 10 rock songs about Toronto this past week and Rush's YYZ made the cut:
Though there are a few Rush songs that reference the band's hometown, none do it in quite the way "YYZ" does. From their 1981 album Moving Pictures, the cover itself is a great nod to Toronto with the parliament buildings on display. "YYZ" is an all-instrumental track that references Pearson's airport code not only in title but the letters are played out in morse code at the song's beginning. Very clever!


Reader Kristin let me know that Trader Joe's is selling a chocolate holiday Advent Calendar titled, The Letter to Santa - The Story of Young T.J. and his Quest to Learn some Sweet Drum Beats. On the reverse side, it has a fill-in-the-blanks game with the names of some famous drummers including Rush's Neil Peart. You can check out some images by clicking on the thumbnails.
Here's Tom Sawyer (Live) from Rush's upcoming R40 Live concert video.
That's all for this week. Have a great weekend everyone!