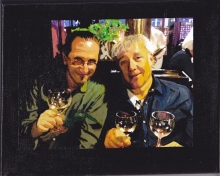 As he has done for the past several years, Alex Lifeson once again participated in The Kidney Foundation of Canada's annual A Brush of Hope charity auction earlier this month. Alex Lifeson along with dozens of other Canadian celebrities donated paintings to be auctioned off to raise money for the charity. Alex's painting for this year was a photorealistic rendering of himself enjoying some wine with Geddy Lee which ended up selling for a whopping $10,100! The Kidney Foundation of Canada just announced today that they now are offering limited-edition signed prints of 2 of Lifeson's paintings from previous auctions, namely his 2009 Greek Salad painting and last year's self portrait:
Now, the Kidney Foundation of Canada - Atlantic Branch and Alex have teamed up to produce these two limited edition set of prints. Only 300 prints have been made of Self Portrait #1 and only 200 prints have been made of Greek Salad. Each print is numbered and Alex Lifeson has personally signed each individual print. That's right, each print has Alex Lifeson's ORIGINAL signature on it. The print is on high quality, heavy stock. In addition, each print comes with a Certificate of Authenticity, signed by the Executive Director of the Atlantic Canada Branch of The Kidney Foundation of Canada, confirming that the print that you have purchased is one of only 300. The certificate also shows the print number (eg. Print No. 33 Limited Edition of 300). The certificate is printed on linen paper, making it ideal for framing with the art print or for displaying on its own.
For all the latest news and information be sure to follow A Brush of Hope on Facebook.