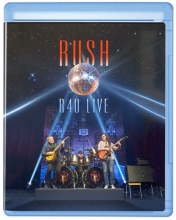 Rush's R40 Live concert film will be released on November 20th just in time for the Holidays, and will be available as 2 DVDs, 1 Blu-ray disc or 3 Audio CDs along with various combo packages. The Rush Backstage Club includes an optional t-shirt (seen here) with any purchase, and Best Buy's package includes a Rush Starman flashlight. Earlier this week the band released an online preview of The Spirit of Radio (Live) to YouTube which you can check out below or at this location. R40 Live's tracklisting mirrors the Friday, June 19th show setlist, with One Little Victory, Distant Early Warning and Red Barchetta from the June 17th show as bonus material on the DVD/Blu-ray. The CD will also include audio for Clockwork Angels, The Wreckers, The Camera Eye and Losing It with Jonathan Dinklage as bonus material. Digital versions of Roll the Bones (Amazon, iTunes) and Closer to the Heart (Amazon, iTunes) from the CD are available for purchase, and videos of both songs are available to watch on YouTube (Roll the Bones, Closer to the Heart), along with an online preview of Jacob's Ladder (Live) at this location and a 2-minute trailer for the film here. We also learned last week that there will be a special London, UK screening of the film on November 17th. You can pre-order R40 Live at the following links:
[3-disc CD/Blu-ray Combo]
[3-disc CD/DVD Combo]
[3 Audio CDs]
[Blu-ray only]
[DVD only]

Earlier this week Geddy Lee and Alex Lifeson visited the set of the NBC drama Chicago Fire to film a scene for an upcoming episode of the show that will air on November 17th. The show's creators are Michael Brandt and Derek Haas, and last Friday Haas tweeted out a photo of the cast sheet from the episode and confirmed that Geddy and Alex would appear, and also revealed the episode's title - 2112. The show follows the lives of firefighters and paramedics working at the Chicago Fire Department, and the title of the episode is likely a reference to the NFPA 2112: Flash Fire Protection Standards. On Monday Brandt tweeted out a photo from the show's set of himself and Haas with Geddy Lee and Alex Lifeson. Alex is wearing an R40 laminate in the photo, which probably means that Geddy and Alex will be playing themselves in some kind of backstage concert scene on a tour stop in Chicago.
Rush's vinyl re-issue campaign continued last week with the release of Presto and Roll the Bones. Rush has been releasing their entire back catalog on vinyl throughout 2015. Next up are Counterparts and Test for Echo which are slated to release next Friday on November 6th. All titles are high-quality vinyl with a 320kbps MP4 Digital Audio download code, and you can order/pre-order all the various Mercury-era and Atlantic-era reissues using the links below:
AVAILABLE FOR PURCHASE

Fly By Night (01/27/15) - Vinyl | Blu-ray Audio
Caress of Steel (02/17/15) - Vinyl
2112: Hologram Edition (03/17/15) - Vinyl
All the World's a Stage (03/17/15) - Vinyl
A Farewell to Kings (04/21/15) - Vinyl | Blu-ray Audio
Hemispheres (05/19/15) - Vinyl
Permanent Waves (06/16/15) - Vinyl
Moving Pictures (07/24/15) - Vinyl | Vinyl + Large t-shirt | Vinyl + XL t-shirt
Signals (08/14/15) - Blu-ray Audio
Exit ... Stage Left (09/25/15) - Vinyl
Signals (10/09/15) - Vinyl
Presto (10/23/15) - Vinyl
Roll the Bones (10/23/15) - Vinyl

AVAILABLE FOR PRE-ORDER

Counterparts (11/6/15) - Vinyl
Test for Echo (11/6/15) - Vinyl
Grace Under Pressure (12/4/15) - Vinyl
Power Windows (12/4/15) - Vinyl
Hold Your Fire (12/11/15) - Vinyl
A Show of Hands (12/11/15) - Vinyl
Feedback (1/15/16) - Vinyl
Snakes & Arrows (1/15/16) - Vinyl

This past weekend Neil Peart updated the news page on his website with the second installment in his BubbaGram series. If you recall from his first BubbaGram update from last month, Neil indicated that he'd be working on a book to chronicle the R40 Live tour, and in lieu of his regular news updates over the next year or so he'd periodically post a BubbaGram. He explains in last month's update:
In recent months it became apparent that my experiences on the R40 tour in 2015 were much too vast and deep to fit into a couple of website stories. Plus I had far too many scenic and narrative photographs to fit in my usual format here. It would have to be a book. Yet I did not want to neglect this forum and its audience-just "go dark" on everybody for the year or so it might take to put together a book. A fun solution to that conundrum might be . . . this! During the tour I had been sending occasional images of the day's travels to my circle of friends under the BubbaGram title, so I will continue that theme here. At semi-regular intervals I will post a photograph or two and an anecdote, to represent the work in progress. ...
So for BubbaGram #2, Neil showcases a few photos from his ride between Buffalo and Chicago which you can check out here.

Speaking of Neil Peart, the Holt Renfrew Men's store at 100 Bloor Street in Toronto is currently featuring a Rush R40 photo exhibit, and this coming Wednesday, November 4th from 5-9PM they are hosting an event where people can have their photo taken behind Neil Peart's DW Hockey Drum kit for a $10 donation to The Children's Wish Foundation of Canada. For details and to RSVP, visit the Holt Renfrew website here.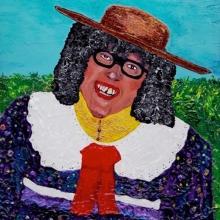 Alex Lifeson will once again be participating in The Kidney Foundation of Canada's annual A Brush of Hope charity auction this year. As they have for several years running, Alex Lifeson along with dozens of other Canadian celebrities have donated paintings to be auctioned off to raise money for the charity. Alex has participated in the fundraiser nearly every year since 2006, including last year with his photorealistic rendering of himself enjoying some wine with Geddy Lee which ended up selling for a whopping $10,100! Alex's painting for this year is titled Blind Date Picnic and you can check it out here. The 2015 "Charmed" A Brush of Hope Launch Party and silent auction took place last night at the Quartermain House B&B in Fredericton, NB. The live eBay auction kicks off tomorrow at 12PM and runs through Monday, November 9th. For all the latest news and information be sure to follow A Brush of Hope on Facebook.
Thirty years ago yesterday on October 29th, 1985 Rush released their 11th studio album - Power Windows. The album marked the band's first collaboration with producer Peter Collins and was recorded at The Manor in England, Air Studios in Montserrat and Sarm East in London in the spring and summer of 1985. It was certified Gold by the RIAA on December 18, 1985 and Platinum on January 27, 1986, and peaked at #10 on the Billboard album charts. The first single off the album was The Big Money which charted at #45 on the US Hot 100 and #4 on the US Mainstream Rock chart. You can read a transcription of the album's tourbook including Neil Peart's Looking Through Power Windows writeup at this link. The album featured more synthesizers than any other previous Rush album, and veteran keyboardist Andy Richards was brought in to provide extra keyboard programming and performances. Richards was the guest on the latest edition of the RushCast podcast and spoke at length about his involvement with the album and on the subsequent Hold Your Fire album. You can listen to that interview online at this location, and check out a photo of Richards with the synthesizers used on the album. Power Windows will be reissued on vinyl on December 4th and can be pre-ordered here. Rush's Exit ... Stage Left and Hemispheres were also released on this date - Exit ... Stage Left in 1981 (34 years ago) and Hemispheres back in 1978 (37 years ago).
A new, independently-published book on Rush from author Jude Joseph Lovell was officially released earlier this week. It's titled Random Samples: Demystifying the Magic Music of Rush and you can order it on Amazon at this location. From the book's description:
"This compelling book focuses mainly on three Rush albums from different eras - none of which are considered canonical - and explores how each record informed the writer as he developed from a bookish youth to a grown man with family responsibilities and wild literary ambitions. In the process, intriguing discoveries are made about the role of music and creativity; the arduous process of finding and then trusting in one's own voice; the necessity of ignoring detractors; and the enduring power of friendship - and even love. RANDOM SAMPLES will stand as both a tribute to a great rock n' roll band and a thoughtful examination of how art adds clarity and meaning to our complicated lives."
Music Radar recently interviewed drummer Chad Smith (Red Hot Chili Peppers, Chickenfoot) and asked him what song most reminds him of high school (thanks RushFanForever):
"That would be the whole Rush 2112 album. I would listen to that in the parking lot. I used to smoke a lot of pot with my friends who were in my band. I was in 10th grade and they were in 12th grade. I would get too high and never actually go into class, so I got kicked out of that school. How do you get kicked out of school when you don't even go?"
The Bulletin in Bend, Oregon posted an article/interview with Ruggs Ranch chef John "Cookie" Kulon earlier this week. At one point in the article Kulon - who is also a bass player - tells a story about meeting Rush:
... "I was working at The Point at Squaw Peak in Phoenix, Arizona, in the Cantina. I think it was 1985 and Rush had played in Phoenix and they came in our little place for breakfast." Alex Lifeson, Rush's guitarist and Geddy Lee had plates in hand, coming through the line. "And I said, 'Hello, fellow bass player.'" That landed him a one-hour impromptu jam session with Rush and a lesson with the master. ...

Last month the ABC '80s sitcom The Goldbergs introduced a new recurring character named Johnny Atkins. He's a cocky band geek who goes to school with Erica and is always shown wearing various Rush t-shirts with a saxophone around his neck. He first appeared in the 2nd episode of the current season (A Chrous Lie) where he was Erica's potential date to homecoming. In that episode he was shown wearing three separate Rush t-shirts at different points in the show; a Moving Pictures shirt, a Fly By Night shirt and a Hold Your Fire shirt. He also made appearances over the last few weeks in episodes four (I Caddyshacked the Pool) and six (Boy Barry). You can watch The Goldbergs on ABC or online at the ABC website here. Thanks to Etan G for the heads up.
The Sixty Symbols YouTube channel is a collection of videos by physics and astronomy experts from The University of Nottingham. A couple of weeks ago the channel featured this video with regular contributor Professor Phil Moriarty, who is an eminent physicist, an enthusiastic communicator, a drummer and a huge Rush fan. He explains in this video and this blog post how he is looking for drummers to contribute to scientific research based around the hi-hat pattern in Rush's Tom Sawyer. For all the details check out Professor Moriarty's blog post here. Thanks to Andy S for the heads up.
Loudwire.com featured some video of the drummers on their list of the 10 Best Rock and Metal Drummers earlier today and Neil Peart came in at #3.
Here's The Spirit of Radio (Live) from Rush's upcoming R40 Live concert video: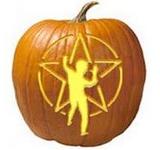 It's Halloween tomorrow and - like they've done in years past - the folks over at RushCon are having a little Rush-themed jack-o-lantern Twitter contest to celebrate the holiday. Just go check out the RushCon twitter feed for all the details. That's all for this week. Have a great weekend and a happy Halloween everybody!!