UPDATE - 10/23@9:40PM: NOTE: You can also purchase the Closer to the Heart (Live) digital single on Amazon and iTunes.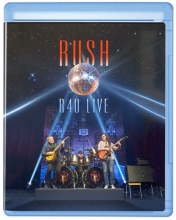 Rush's R40 Live concert film will be released on November 20th just in time for the Holidays, and will be available as 2 DVDs, 1 Blu-ray disc or 3 Audio CDs - along with various combo packages and an optional t-shirt (seen here). Yesterday the band released an online preview of Closer to the Heart (Live) to both YouTube and SoundCloud, and on Wednesday they announced that there will be a special London, UK screening of the film on November 17th. R40 Live's tracklisting mirrors the Friday, June 19th show setlist, with One Little Victory, Distant Early Warning and Red Barchetta from the June 17th show as bonus material on the DVD/Blu-ray. The CD will also include audio for Clockwork Angels, The Wreckers, The Camera Eye and Losing It with Jonathan Dinklage as bonus material. A digital version of Roll the Bones (Live) from the CD is available for purchase (Amazon, iTunes) and the video for the song is available to watch on YouTube, along with an online preview of Jacob's Ladder (Live) at this location and a 2-minute trailer for the film here. You can pre-order R40 Live at the following links:
[3-disc CD/Blu-ray Combo]
[3-disc CD/DVD Combo]
[3 Audio CDs]
[Blu-ray only]
[DVD only]
Rush's vinyl re-issue campaign continues today with the release of Presto and Roll the Bones. Rush has been releasing their entire back catalog on vinyl throughout 2015. Next up are Counterparts and Test for Echo which are slated to release in two weeks on November 6th. All titles are high-quality vinyl with a 320kbps MP4 Digital Audio download code, and you can order/pre-order all the various Mercury-era and Atlantic-era reissues using the links below:
AVAILABLE FOR PURCHASE

Fly By Night (01/27/15) - Vinyl | Blu-ray Audio
Caress of Steel (02/17/15) - Vinyl
2112: Hologram Edition (03/17/15) - Vinyl
All the World's a Stage (03/17/15) - Vinyl
A Farewell to Kings (04/21/15) - Vinyl | Blu-ray Audio
Hemispheres (05/19/15) - Vinyl
Permanent Waves (06/16/15) - Vinyl
Moving Pictures (07/24/15) - Vinyl | Vinyl + Large t-shirt | Vinyl + XL t-shirt
Signals (08/14/15) - Blu-ray Audio
Exit ... Stage Left (09/25/15) - Vinyl
Signals (10/09/15) - Vinyl
Presto (10/23/15) - Vinyl
Roll the Bones (10/23/15) - Vinyl

AVAILABLE FOR PRE-ORDER

Counterparts (11/6/15) - Vinyl
Test for Echo (11/6/15) - Vinyl
Grace Under Pressure (12/4/15) - Vinyl
Power Windows (12/4/15) - Vinyl
Hold Your Fire (12/11/15) - Vinyl
A Show of Hands (12/11/15) - Vinyl
Feedback (1/15/16) - Vinyl
Snakes & Arrows (1/15/16) - Vinyl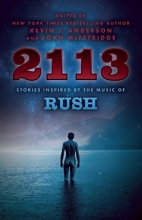 Clockwork Angels author Kevin J. Anderson announced back at RushCon 14 last year plans for an anthology of Rush-based stories that he'd be co-editing with John McFetridge for ECW Press (publisher of Clockwork Angels and Neil Peart's books). They lined up a team of award-winning and bestselling authors to contribute short stories based on Rush songs, with Anderson himself contributing a novella titled 2113 which he completed earlier this year. The book is close to completion with a tentative release date of April 12, 2016 and is now available for pre-order:
The music of Rush, one of the most successful bands in music history, is filled with fantastic stories, evocative images, thought-provoking futures and pasts. In this anthology, notable, bestselling, and award-winning writers each chose a Rush song as the spark for a new story, drawing inspiration from the visionary trio Geddy Lee, Alex Lifeson, and Neil Peart.

From stark dystopian struggles to uplifting triumphs of the human spirit, the characters populating 2113 find strength while searching for hope in a world that is repressive, dangerous, or just debilitatingly bland. Most of these tales are science fiction, but some are fantasies, thrillers, even edgy mainstream. Many of Rush's big hits are represented, as well as deeper cuts . . . with wonderful results. This anthology also includes the seminal stories that inspired the Rush classics "Red Barchetta" and "Roll the Bones," as well as Kevin J. Anderson's novella sequel to the groundbreaking Rush album 2112.

2113 contains stories by New York Times bestselling authors Kevin J. Anderson, Michael Z. Williamson, David Alan Mack, David Farland, Dayton Ward, and Mercedes Lackey; award winners Fritz Leiber, John McFetridge, Steven Savile, Brad R. Torgersen, Ron Collins, David Niall Wilson, and Brian Hodge, as well as many other authors with their imaginations on fire.
You can pre-order your copy of 2113 here.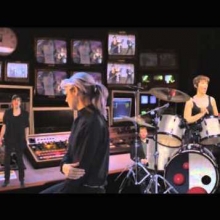 Washington D.C. based rock band Caustic Casanova released their new album Breaks back on September 25th, and this past Monday debuted the music video for the album's 2nd track Show Some Shame. The video is of interest to Rush fans because it is a not-so-subtle tribute to Rush's iconic music video for Time Stand Still, and is a detailed reproduction of the Rush video right down to the band's outfits and choreography, the floating band special effects, and the frustrated camerawoman (originally played by backup vocalist Aimee Mann in the Rush video). It even includes a Chronicles-inspired title placard and exit screen with the following message:
We thank Geddy, Alex and Neil for over 40 years of timeless music. Freeze this moment a little bit longer
You can watch the video on YouTube at this location and find out more about Caustic Casanova via their website, Facebook page and Twitter page. The band defines their sound as eclectic heavy space rock and they are currently on an extensive US tour. You can also read bass player Francis Beringer's essay about the video and his love of Rush in this post.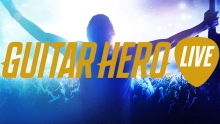 Guitar Hero Live was released this past Tuesday and includes Rush's Limelight as one of the songs available in the game's TV mode. The game is available for several different platforms and can be ordered here. Check out the website for more details. Several Rush songs have been included in previous versions of Guitar Hero. Thanks to Eric at Power Windows for the heads up.
DāM-FunK (pronounced Dame-Funk) is an American modern-funk musician, vocalist and producer from Pasadena, California. He recently released his new album Invite the Light and sat down with Thump.vice.com for an interview. He mentions Rush when talking about his influences:
... When I got into other stuff, that I found and liked on my own, Rush was the band for me. I loved Neil Peart's drumming. I played Moving Pictures from beginning to end over and over on the drums. I swear to God I emulated everything...I don't try to play like him now, but when you're a kid and you're naive, you don't even think about what you're doing. You're open to learning. I learned that album. ... With the rebellion thing, you have to be yourself. ... I was ordering [from Columbia House] Kiss records, Devo records, Rush stuff. I picked things based on their covers. That and the radio ...
Speaking of Moving Pictures Cassie Hyde wrote a piece for Mancunion.com's Fish out of Water series this past week where she agreed to listen to some prog rock and give her opinion. One of the album's she checked out was Rush's Moving Pictures. You can read what she thought about it online here.
The Georgia Strait celebrated Throwback Thursday yesterday by featuring 9 badass rock 'n' roll Straight covers from 1982, one of which featured Geddy Lee on the cover.
Halloween is just around the corner and in celebration of the holiday, Ultimate Classic Rock is running a Rock's Scariest Song bracket contest. Rush's Witch Hunt is in the running and is currently up against Alice Cooper's Welcome to my Nightmare. So go vote for Rush!
October was another big month for Rush releases, 2 of which celebrated an anniversary this past week. Rush's 15th studio album Counterparts celebrated its 22nd anniversary on Monday, and the band's 5th live album and 1st live concert DVD Rush in Rio celebrated its 12th anniversary on Wednesday. This coming Thursday, October 29th Power Windows, Exit ... Stage Left and Hemispheres all celebrate anniversaries as well. And today is the anniversary of Rush's performance at the SARS benefit concert back in 2003 in Toronto, as detailed in this RollingStone.com story.

It's hard to believe, but today marks the 10TH anniversary of my first official post on rushisaband.com. I started the site because I noticed that despite the rich online Rush community, there weren't any sites at the time (there certainly are now though of course) which provided an unfiltered Rush news feed/blog. I had the ability and the means, so I decided to take on the endeavor myself and was amazed at where it took me. I just want to take a moment to thank all of the Rush fans who have visited my site over the years and have helped me out by offering words of encouragement, contributing links, posting comments and sending me Rush-related news and information. A special thank you to everyone who has clicked on an ad, purchased products through my Amazon links or made a donation to the site. I wouldn't be able to keep the site up and running without your help. THANKS!!!
Here's the video for Closer to the Heart (Live) from the upcoming R40 Live concert video:
That's all for this week. Have a great weekend everybody!!