UPDATE - 10/3@10:35AM: Tom Mead - the Mastermind contestant who chose Rush as his special subject last week - was interviewed for TeamRock.com yesterday to talk about Rush and his experience on the show.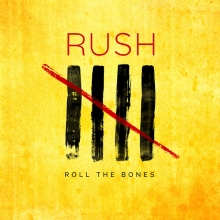 Rush's R40 Live tour ended in Los Angeles back in early August and the band filmed their back-to-back shows in their hometown of Toronto for a future live DVD release. A couple of weeks ago we learned that Zoe/Rounder Records/Concord Music Group will be releasing the as-yet-unnamed live CD/DVD on November 20th, just in time for the holiday season. As a preview they released a digital version of Roll the Bones (Live) from the CD last Friday which you can download via Amazon, iTunes, and other services. You can also listen to the track on YouTube, and read the official Rush.com press release here. Other than the release date, no further details about the CD/DVD itself have yet been revealed.

Rush was the specialist subject chosen in last Friday's episode of the BBC quiz show Mastermind by contestant Tom Mead. Mead was drilled for two minutes on a series of fourteen questions about the band by host John Humphrys, and ended up missing only two. He missed a question about the real name of keyboard tech Jack Secret (Tony Geranios - he answered Howard Ungerleider) and another asking about who conducted the string arrangements on Clockwork Angels (David Campbell - unsure of his answer). Mead also went on to be the ultimate winner of the night. You can watch the entire show on YouTube here with the Rush portion beginning at about the 7:20 mark.



There was a major Rush t-shirt appearance on this past Wednesday night's episode of the ABC '80s sitcom The Goldbergs (Season 3, Episode 2 - A Chrous Lie). Erica's potential date to homecoming is a Rush fan and is shown wearing three separate Rush t-shirts at different points in the show; a Moving Pictures shirt, a Fly By Night shirt and a Hold Your Fire shirt. You can watch the episode online at the ABC website here.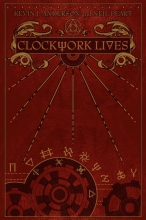 Kevin J. Anderson and Neil Peart's follow-up to their best-selling Clockwork Angels novel is titled Clockwork Lives and officially released via ECW Press back on September 15th. It is described as a steampunk Canterbury Tales and further explores some of the people and places from the Clockwork Angels universe. From the book's description:
... Marinda Peake is a woman with a quiet, perfect life in a small village; she long ago gave up on her dreams and ambitions to take care of her ailing father, an alchemist and an inventor. When he dies, he gives Marinda a mysterious inheritance: a blank book that she must fill with other people's stories-and ultimately her own. ...
Anderson was a guest on the Michael Artsis webshow on BeTerrific!! TV this past week to talk about the novel and some of his other collaborations with Neil Peart. You can watch the half-hour interview on YouTube at this location, and order your copy of Clockwork Lives via Amazon at here.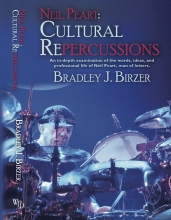 Author Bradley J. Birzer's new book Neil Peart: Cultural Repercussions officially released last month via Wordfire Press and is available for order online here. The book is a biographical, in-depth examination of the words, ideas and professional life of Neil Peart. Birzer recently conducted a book signing at the Broad Street Market in Hillsdale, MI and was interviewed by the Hillsdale Collegian to talk about the book:
...Birzer's book attempts to offer a more holistic portrait of Neil Peart. It assesses his overall intel­lectual and cultural impact. "The book is basically an expla­nation of Peart as a writer," Birzer said. "He has written a number of travel books and some fiction in addition to his lyrics. I tried to tie all of that together to suggest that there is a coherent man of letters behind the drummer. He does so much more." ...

The Foo Fighters tweeted out a promo poster for their Oklahoma City show earlier this week that paid homage to Rush. The poster/image depicted a red Foo Fighters logo on a black background with a Starman-inspired white silhouette of Dave Grohl on crutches in the foreground as seen here.
Loudwire.com posted their list of the Top 50 Hard Rock and Metal Bassists of All Time, and Rush's Geddy Lee came in at #3 (thanks Chris):
A Rock and Roll Hall of Fame statuette is little more than a doorstop in Geddy Lee's proverbial trophy room, jam-packed with accolades bestowed over the decades by grateful Rush fans. Lee's accomplished and busy attack always gave Rush much more than a reliable backbeat and inspired countless bassists to leave their mark on the music, not "Beneath, Between and Behind" it as the song goes.
Pop diva Rihanna headlined Rock in Rio this past weekend and at one point in her set her backing band broke into some of Rush's Tom Sawyer as seen in this YouTube video at about the 10:30 mark (thanks Rafael F).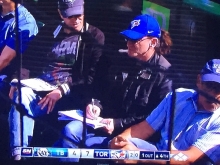 It's no secret that Geddy Lee is a huge baseball fan and can often be seen in his regular seats behind home plate at the Rogers Centre in Toronto, cheering on the Toronto Blue Jays. The Blue Jays recently clinched a playoff berth for the first time in 22 years, so it's been an exciting few weeks for the Jays. Geddy has been to several games over the past couple of weeks and was interviewed during last Saturday's game against the Rays by SportsNet. He spoke about how pleased he is to be seeing the hometown team clinch the AL East title and get into the playoffs. You can watch the interview below or on YouTube. Ged was also interviewed via phone for MLB Network yesterday to talk about the Jays.
That's all for this week. Have a great weekend everybody!