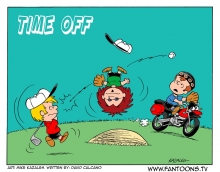 Can you hear the crickets chirping? That about sums up the Rush news for the past week or so. Not much at all has been happening since the R40 Live tour ended earlier this month in Los Angeles. No doubt Geddy, Alex and Neil are busy taking some well-deserved time off for some rest and relaxation with their families. Hopefully some news and/or interviews will begin to trickle in after the upcoming Labor Day holiday, but until then we'll just have to be content with the crickets. We did at least have a birthday to celebrate this past week, with our favorite guitarist Alex Lifeson turning 62 years young yesterday. Happy birthday Lerxst! Geddy Lee turned 62 last month and next up is the old man of the band Neil Peart, who will turn 63 on September 12th.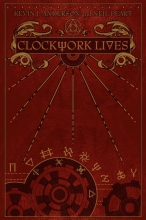 Kevin J. Anderson and Neil Peart's follow-up to their best-selling Clockwork Angels novel is titled Clockwork Lives and is due to release via ECW Press on September 15th. It is described as a steampunk Canterbury Tales and will further explore some of the people and places from the Clockwork Angels universe. Anderson already has several signed, hard copy editions available for order via his Wordfire Press website here for $35, and the Rush Backstage Club has made a new sample chapter (The Pickpocket's Tale) from the book available for free download here. You can pre-order Clockwork Lives at this location. The complete graphic novel version of Clockwork Angels is also due to release on September 15th and can be pre-ordered here. A signed, hard copy edition of this book can also be purchased via Anderson's Wordfire Press website here.
Over the last month or so Kevin Hale of the SHOOTING FromThe LIP podcast has been running a Rush 40 for 40 Super Fan Series where he plans on talking to 40 Rush superfans. There are now 8 episodes in the books, including the inaugural episode featuring myself and Donna Halper. The subsequent seven episodes feature Julie Porter, Jon Gregory, Donald Gadziola, Dan Bell, Teresa Marillo, Alec Pulianas, and the latest episode features John Patuto of Cygnus-X1.net which you can listen to at this location. And you can listen to all of the Rush 40 for 40 Super Fan Series episodes here.

Alex Lifeson's new Lerxt Chi amplifier made Guitar World's list of 20 of the Best 1x12 Guitar Amps on the Market Today this past week (thanks RushFanForever):
The Lerxst Chi is Alex Lifeson's new signature, 15-watt handwired combo amplifier. The amp has all the growl and tone of the company's Omega head, but in a combo loaded with a Celestion G12M-65 Creamback speaker. Other features include turret board construction, carbon comp resistors, Mojotone Dijon coupling capacitors, Heyboer transformers, three JJ 12AX7 preamp tubes and two JJ 6V6 power tubes, shared three-band EQ and serial effects loop.
Rush tribute band Distant Signals gets a mention in this Pittsburgh Post-Gazette article on the rise of tribute bands:
... Distant Signals ... in its sixth year, plays locally and tours in Ohio and western New York. "I love creating original music, but I personally had a difficult time getting anywhere going that route," says Mike Moscato, the guitarist who stands in for Alex Lifeson. "I just love to perform, and fell into the tribute thing. We get big enthusiastic crowds, no complaints here." Interestingly, it takes five guys to do what Rush does with three. "Hard to find a guy like Geddy!," says the guitarist, referring to Rush frontman, Geddy Lee, who triples on vocals, bass and keyboards. ...

Speaking of Rush tribute bands, the Rush Brazil Festival will take place tomorrow, August 29th at Gillan's inn Rock Bar in Sao Paulo, Brazil. This celebration of Rush will include four Rush tribute bands, and you can get all the details at this location.
There's an interesting Rush-related tidbit regarding Neil Peart's Slingerland kit (aka Chromey) in this press release announcing that Phantogram drummer Chris Carhart will be teaching at NYC's BANG! The Drum School:
... BANG! The Drum School was founded in 2009 by drummer Mark Feldman (http://www.markfeldman.org), using funds he generated through selling the famed drum kit, "Chromey," which was owned and played by Rush's legendary Neil Peart on his first albums and tours with Rush, the famed progressive rock band. Mark earned possession of the drum kit when he entered Modern Drummer magazine's first drum solo contest, judged by Mr. Peart. Three of Peart's drum kits were given away to the winners, and Mark's drum solo earned him "Chromey," the massive Slingerland drum kit that can been seen on the cover of Rush's first live album, "All The World's A Stage." ...
Feldman sold the kit back in 2009 for $25,100. Thanks to RushFanForever for the heads up.
Reader Alan let me know of a brief Neil Peart reference on the July 29th episode of Tiny House Nation at about the 12 minute mark (You have to log in with your cable provider to see it).

Rush was the subject of Dave Whamond's Reality Check comic strip this past Monday as seen here (thanks Kevin W). The strip features Dave dancing in front of Neil Peart's drum kit with the caption:
Dave danced to the beat of his own drummer. Luckily for him, it was Neil Peart from Rush ...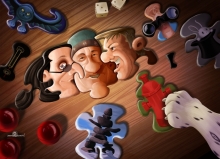 Speaking of Rush and comics, if you follow rushisaband on Facebook and/or Twitter, you've likely run across some of the amazing Rush-themed comic art from FANTOONS that I've shared over the last couple of years. FANTOONS is an on-going comic strip based on Rush and some other great bands that was created by David Calcano back in 2012. You can check out some samples of their work on Facebook and at fantoons.tv. They've released a couple of books already, but their latest is their most ambitious project to date. It's a 170-page Rush Toons book all about our favorite band Rush that was partially funded by a highly successful Kickstarter project. The book began shipping this past week and can now be ordered via the Rush Toons Etsy store. I had the honor of writing the book's foreword and highly recommend it to any Rush fan. From the Etsy store description:
A 170-page fantoons book packed with RUSH comic strips, parodies, art and illustrations about the mother of ALL power trios. Created by David Calcano and launched in 2012, FANTOONS is an on-going comic strip that brings you comedy and art based on the greatest rock bands on the planet. We've released two books so far, and for this book, we're exclusively going to cover the mighty RUSH! We've created comics, art, and parodies with their rich history, covers, and of course ourselves ... the obsessive fans. You know... the guys that crashed their site when the R40 tour was announced; if you clicked & refreshed the page more than 4 times you are one of us.
Here's a short animated video from FANTOONS featuring Jedi Lee:
The month of September kicks off this coming Tuesday, September 1st. September was a HUGE month for Rush releases over the years so there are several upcoming anniversaries to mention including A Farewell to Kings (September, 1977), Roll the Bones (September 3, 1991), Hold Your Fire (September 8, 1987), Signals (September 9, 1982), Test for Echo (September 10, 1996), Caress of Steel (September, 1975), and All the World's a Stage (September 29, 1976). Neil Peart and his wife Carrie Nuttall also are celebrating their 15th wedding anniversary this coming month; they were married back on September 9, 2000. And we can't forget about Neil's upcoming 63rd birthday on September 12th! Have a great weekend everybody!