What now? The Rush fan community woke up from their collective R40 hangover this past Sunday morning after three months of overindulging in rocket sauce consumption courtesy our three favorite bartenders - Geddy, Alex and Neil. Rush played the final show of their North American R40 Live tour this past Saturday night to a sold out crowd at The Forum in Los Angeles. Fans have spent the past week in online group therapy, with a lot of crying, reminiscing about past Rush tours and wondering what the future holds for the band. What now? seems to be the common question being asked by fans. However, it's unlikely that even the band knows the answer to that question for the time being. The last interview where any member of Rush addressed the band's future plans was Alex Lifeson's interview with Eddie Trunk last month:
... I think in my gut that this is probably the last major tour that we'll do. I'd like to think that we'll do specialty gigs, maybe a week in New York or something like that. But we haven't even discussed that. We just want to get through this tour and see where we're at. We want to discuss whether we want to make another record anytime soon. ... Whatever this tour is, it's not the end of the band. It's just kind of reviewing where we're at in terms of major tours. ... Whatever it is - if it is the end of touring - I feel good that we're at least playing as well as we are, that we've developed a show that's really quite something in terms of our historical story and it's nice to go out on a note like that. ...
It's good to hear Alex say that the tour ending is NOT the end of the band, but what's next for Rush? What now?? No doubt the band will spend the rest of the summer relaxing with their families, so I doubt we'll hear anything until next month at the earliest, although it's possible we'll get a new blog post from Neil Peart before then. From the vibe that's been put out by members of the road crew and others close to the Rush camp, as well as the band themselves, it seems less and less likely that Rush plans to extend the R40 Live tour in any way. The band filmed both Toronto shows for a live DVD that might be released as early as this coming Christmas. There's also the Rush fan documentary that may be released with the live DVD or possibly as a separate entity. And Rush's vinyl reissue campaign will continue through the remainder of this year. Outside of that it's really anybody's guess. Although no more major tours are expected, fans are at least hopeful that we may still get some new music from Rush at some point. Here's what Alex had to say about the subject in his Eddie Trunk interview:
... "[We don't do any writing] while we're on the road. I've got a ton of stuff that I've been writing over the last couple of years... well, more than that. And I know if Geddy and I sit down together, we'll start that engine up fairly quickly. And we've talked a little bit about doing that. And I wouldn't doubt that, in the fall, we would get together and maybe start jamming or just playing together. He's really in an interesting space right now. He loves being on the road, he loves working. He's very healthy, feels great. And he's had a bit of a renaissance, I think, with the whole idea of playing in the band and everything that it means. So he's raring to go. It's a little bit of a, you know, tug both ways." ...
So what do you think is going to happen? Let us know in the comments.
Saturday night's show at The Forum saw the band bring out former Clockwork Angels stringer Jonny Dinklage to play electric violin on Losing It (watch video). This was Dinklage's third performance playing the song with the band, having also done it back in Newark and New York City. Original Losing It studio musician Ben Mink handled the duties for the band's second show in Toronto (which was filmed) and also in his hometown of Vancouver last month. Here's some more on Dinklage's performance from a Classic Rock magazine review of the show:
... Dinklage used to jam in his bedroom to the song when he was a teenager and once - between shows on the Clockwork Angels tour - he told the band it was his dream to join them onstage and play it live. And as Geddy Lee told us earlier that day, "We thought, fuck it, let's make his dream come true". It's a moment of intractable, pure joy, filled with both highs and lows, inexpressibly beautiful, the violin's high, keening song reaching out to the distant, circular ceiling. It does something to an already charged crowd who are suddenly moist-eyed and hopeless, as if they suddenly realise what they're about to lose or have already lost. ...
There were no other real surprises in the show until at the very end when Neil Peart decided to join Geddy and Alex to wave goodbye to the crowd at the end of the show rather than doing his usual sprint to the door. Neil snapped a few photos from behind his kit before the band broke into the Garden Road riff at the end of Working Man. Geddy then started his goodbye speech as Neil snuck out onto the stage from behind his kit to hug his bandmates and wave to the crowd. Here's what Geddy said:
Thank you so much Los Angeles! On behalf of the greatest crew and organization in the world ... **pauses to hug/pose with his bandmates** ... On behalf of our whole organization - thank you United States of America for 40 awesome years. And I do hope we'll meet again sometime. Bye bye!
You can watch a video of the show's closing performance of Working Man along with Geddy's speech and the group hug in this video. Several rock celebrities were in attendance at the LA show including a number of Neil Peart's drumming peers as reported in this article from Alternative Nation:
A legendary group of drummers including Jethro Tull's Doane Perry, Red Hot Chili Peppers' Chad Smith, Foo Fighters' Taylor Hawkins, The Police's Stewart Copeland, and Tool's Danny Carey all gathered to watch the legendary Neil Peart and Rush perform the final show of their last major tour at the Forum in Los Angeles over the weekend. ...
A few other celebrities were also in attendance as described in this review from the Hollywood Reporter:
... It is that kind of across-the-board fandom that represents Rush and its legion of dedicated and intensely loyal fans, among them: a slew of artists and celebs who turned out for the Forum show including the Red Hot Chili Peppers' Chad Smith, Tool's Danny Carey, Foo Fighters' Taylor Hawkins, (all there to honor legendary Rush drummer Neil Peart), Robby Krieger and South Park creator Trey Parker. At one point during "Red Barchetta," Jack Black -- who was surprisingly left alone on the floor -- danced around playing air guitar. Indeed, if there's one concert where air playing is encouraged -- air guitar, air bass, air drums -- its a Rush show. ...
Here's a photo of Jack Black as he entered the venue. For more on the band's LA Forum show, check out the LA open thread, and for complete coverage of the R40 Live tour, see the tour section.
The RushCon 15 Rush fan convention also took place this past weekend in Los Angeles and was a resounding success as usual. Check out the RushCon Facebook and Twitter pages for complete coverage of the event. The Globe and Mail also ran a great video news story covering the event and featuring many of the awesome women of RushCon.
Last Wednesday on the evening before Rush's Thursday night show in Irvine, the Canadian Consulate in Los Angeles held a special reception for Rush where the band was honored with the first ever award for Canadian Excellence in Los Angeles in recognition of the many times the band has played there over the years. The Consulate tweeted out some photos of the event along with a short, 20-second video of Geddy Lee and his bandmates saying a few words.

Sabian is giving away a free Neil Peart R40 t-shirt with the purchase of any Paragon cymbal between now and the end of September. The t-shirt is an exclusive R40 shirt designed by Neil Peart himself. Just purchase a Paragaon cymbal and fill out the form at paragontshirt.sabianrebate.com.
Rush fan Christopher Buttner received a special tour of Geddy Lee's tour gear during the Tampa show a couple of months ago and recorded it all. It's now available for viewing online at NoTreble.com.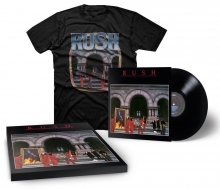 Rush's 12 Months of Rush vinyl reissue campaign continued a couple of weeks ago with the release of the band's most commercially successful album, Moving Pictures. The Moving Pictures reissue includes an LP plus vintage t-shirt combo option, where you'll get the vinyl reissue along with a vintage t-shirt as seen here. The LP plus vintage t-shirt combo is available with either a Large or Extra-Large t-shirt, and you can also just get the LP itself here. Rush is releasing all of the Mercury-era Rush albums on vinyl along with a few select titles on Blu-ray audio throughout 2015, although the planned August release dates for Exit...Stage Left and Signals have been pushed back to September. So it looks like it will only by the 11 Months of Rush? All titles are reissued on high-quality vinyl with a 320kbps MP4 Digital Audio download code, with Fly By Night, A Farewell to Kings and Signals also having a Blu-ray Audio release. All the titles up through Moving Pictures are now available, with Exit ... Stage Left through A Show of Hands becoming available over the next few months. You can order/pre-order the various titles using the links below:
AVAILABLE FOR PURCHASE

Fly By Night (01/27/15) - Vinyl | Blu-ray Audio
Caress of Steel (02/17/15) - Vinyl
2112: Hologram Edition (03/17/15) - Vinyl
All the World's a Stage (03/17/15) - Vinyl
A Farewell to Kings (04/21/15) - Vinyl | Blu-ray Audio
Hemispheres (05/19/15) - Vinyl
Permanent Waves (06/16/15) - Vinyl
Moving Pictures (07/24/15) - Vinyl | Vinyl + Large t-shirt | Vinyl + XL t-shirt

AVAILABLE FOR PRE-ORDER

Exit ... Stage Left (09/18/15) - Vinyl
Signals (09/11/15) - Vinyl | Blu-ray Audio
Grace Under Pressure (09/18/15) - Vinyl
Power Windows (10/20/15) - Vinyl
Hold Your Fire (11/17/15) - Vinyl
A Show of Hands (12/1/15) - Vinyl
In the lead up to Rush's show at the LA Forum last weekend, James S. Fell of the LA Times interviewed Geddy Lee for their Health & Fitness section's 5 Questions column to talk about his training routine:
... I have to say I don't enjoy training. For me it's a necessary evil because I'm an active person whether I'm preparing for a tour or not. My wife and I do a lot of travel and walking and biking, and I refuse to give into the ravages of time. ... It's been night and day for the stage performances. Working out has been such a benefit to my life in general, but on stage I have much more energy and flexibility to do the activity I like to do on stage. And, more importantly, at the end of a show I'm not completely done in like I used to be.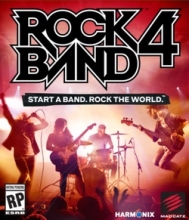 Harmonix Games announced earlier this week some new tracks that will be included in the upcoming release of their new music video game Rock Band 4, one of which is Rush's A Passage to Bangkok. Several Rush songs have been included in previous versions of Rock Band and its earlier cousin Guitar Hero. Rock Band 4 will release on October 6, 2015 for the Playstation 4 and XBox One. You can view the complete list of included songs here, and pre-order Rock Band 4 at this location.
The eBay charity auction sponsored by DW Drums and Rush that ran through the end of last month ended up raising over $25,000 CAD. Rush auctioned off an autographed snare drum and cymbal to raise funds for the Princess Margaret Cancer Foundation. They also toured Neil Peart's hockey kit around the R40 Live Canadian shows, allowing fans to sit behind the kit with a donation.
Last month I had the honor of appearing on the SHOOTING FromThe LIP podcast with the one and only Donna Halper. This was the first episode in the podcast's Rush 40 for 40 Super Fan Series, where host Kevin Hale plans on talking to 40 Rush superfans. Donna and I talk about 41 years of Rush, our thoughts on what defines a superfan, the R40 Live tour and what the future may hold for Rush. You can listen to the podcast online at this location. Over the past few weeks Kevin posted the 2nd, 3rd and 4th episodes in the series. In the 2nd episode he speaks with Rush Superfan Julie Porter from Canton, OH. Julie is an admin for the Facebook fan page Clockwork Angels (Rush Fans United) and owns and operates Julie Porter Photography. You can listen to her interview online here. A couple weeks ago Kevin posted the 3rd episode where he chats with Jon Gregory - a New Jersey based Rush fan who is an Art Director at Concepts TV Productions who is putting together an amateur Rush fan documentary. You can check out his episode online here. In the latest episode of the series Kevin talks to amateur photographer Donald Gadziola, and you can listen to his interview here.
CNBC posted a list of 10 aging rock stars strutting their entrepreneurial side last week and Alex Lifeson made the cut based on his ownership of Toronto's Orbit Room nightclub (thanks Duane Rubinowits):
... Alex Lifeson ... is also co-founder of the Toronto nightclub The Orbit Room. Founded in 1994 by Lifeson and Tim Notter, the club's official website says that it "harkens back to the mid-'60s when clubs like Le Coq D'or, the Colonial, Club Bluenote and others hosted live entertainment that had their own sound, their own vibe, and their faithful followers."
Former Rush producer Rupert Hine (Presto, Roll the Bones) was recently profiled for Prog magazine (thanks RushFanForever) and spoke a little about his work with Rush:
... [Hine] is especially proud of his work with The Fixx, the British band who became prophets without honour in their own land, yet enjoyed huge success in the States with their Hine‑enhanced attack. "I came up with an entirely new guitar sound," he asserts, marking the transition from the traditional "big, heavy, dumpy, lumpy rock guitar sound" to something "far more shiny but no less exciting". It was a sound mimicked by countless acts. "It had a huge appeal to rock bands," he marvels. Rush, for example. "Doing The Fixx led to Rush [1989's Presto and 1991's Roll The Bones] - they required constant sonic refreshment and they loved The Fixx. Neil Peart also loved the thinking behind my early 80s solo albums and thought that would be good for Rush." ...
Reason magazine posted an article this past week on 4 Prominent Ayn Rand Recanters, one of whom is Neil Peart:
... Peart clearly vibed with a general anti-authoritarianism he saw in Rand, and with her objection to enforced equality. But a more nuanced attempt to distance himself from Randian libertarianism in an interview Peart did for a feature in the libertarian magazine Liberty in 1997 (by the Institute for Justice's Scott Bullock) made it clear that Peart's attraction to Rand was more about her underlying sense of individualism and the nobility of the artist and his intentions than it was about all the complicated policy implications that Rand, and her libertarian fans, drew from her philosophy. ...
Here's Rush's performance of Working Man from the LA Forum show including Geddy's goodbye speech and the band's group hug:
That's all for this week. Have a great weekend everyone!