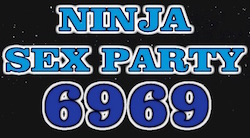 Musical comedy duo and YouTube sensation Ninja Sex Party released their new album Attitude City a couple of weeks ago. The popular duo's YouTube page has over 500,000 subscribers and nearly 55 million views, and their videos have been featured on the front pages of Funny or Die, CollegeHumor, and Dailymotion. Attitude City is their third album and includes a song titled 6969 which is a parody of Rush's 2112. The song is split into 6 parts, containing lyrical nods to 2112 such as, I know it's most unusual to come before you so and also mirroring some of the themes included in the story of 2112. From the Genius.com description of the track:
The song follows Danny Sexbang and Ninja Brian as they travel to the future in hope of getting laid... future-style. They instead, however, stumble on a dark dystopia where sex is outlawed and the human population is controlled by some really big dicks.
You can listen to the entire track (if you dare) below or on YouTube at this location, and purchase Attitude City here.