UPDATE - 7/27@2:47PM: Here's a review from Spectrum Culture.
UPDATE - 7/24@1:52PM: Here's a Facebook photo gallery from Neil Peart News.
UPDATE - 7/23@9:33PM: Here's a review from Willamette Week.
UPDATE - 7/22@2:50PM: Here's an article from The Oregonian talking about Moda Center sound issues reported by Rush fans at last night's show.
UPDATE - 7/22@9:57AM: Here's a photo gallery from Cygnus-X1.net.
UPDATE - 7/22@6:57AM: Here's a review from The Oregonian.
UPDATE - 7/21@10:54PM: The show has started! According to this photo of the setlist, it looks like Portland will be getting setlist A rather than C. I've updated the setlist page to reflect this, but will change it later if anything changes. Have fun Portland!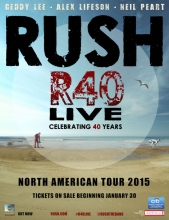 Date/Time: Tuesday, July 21st @ 7:30PM
Show Number: 30
Venue: Moda Center
Place: Portland, OR
Twitter: #R40PDX | #R40Live
Instagram: #R40PDX
YouTube: Portland Rush R40 Live Tour
Setlist: Version A
Photos: Cygnus-X1.net | Neil Peart News
Reviews: The Oregonian | Willamette Week | Spectrum Culture
Rush's R40 Live tour rolls into the Moda Center in Portland tonight for show #30 of the tour. After tonight begins the final stretch of 5 shows in San Jose, Las Vegas, Phoenix, Irvine and the final show in Los Angeles a week from this coming Saturday. After treating the Vancouver crowd to their special G setlist Friday night, Rush pulled out the standard B set for Seattle fans on Sunday. We aren't expecting any special surprises for tonight's show, so that means Rush will likely pull out their standard C set this evening (UPDATE: looks like A actually). For more discussion on the potential setlist along with a preview of the show, check out the pre-show SPOILER review below the fold. Deborah Kennedy wrote a preview of the show for The Oregonian titled 21 ways to geek out on what may be the band's last tour. There will be an informal Rush fan pre-show gathering at the Spirit of 77 sports bar, which opens at 3PM. Tonight's show has a listed start time of 7:30PM, so the lights should go down around 7:45-ish (PST, 10:45PM EST). For everyone going to the show, have fun, stay safe and be sure to share your reports, reviews, photos and video with us. Ruusshhhhhh!!!!!
*** WARNING ***
*** SPOILERS BELOW ***
...
...
...
...
*** pre-show SPOILER review *** Rush treated Vancouver with a new G setlist Friday night including a special appearance by Vancouver resident Ben Mink who played electric violin on Losing It for the 2nd time on the tour; he also played on the song in Toronto. The G setlist was just a variation of C, with Clockwork Angels swapped out for Losing It. So we had expected the Seattle crowd to get the standard A set. Rush surprised us a bit and instead pulled out their B set, which means that tonight we will probably get C (although A would be another possibility). We aren't expecting Losing It tonight, but we will likely see it again for the final show in LA.
Photos from Instagram using hashtag #R40PDX: