UPDATE - 7/21@9:38AM: Here's a Facebook photo gallery from Neil Peart News.
UPDATE - 7/21@8:23AM: Here's a review from Seattle Music Insider.
UPDATE - 7/20@7:37PM: Here's a review from GeekWire.
UPDATE - 7/20@10:06AM: Here's a photo gallery from Cygnus-X1.net.
UPDATE - 7/19@11:02PM: Although we expected A, it looks like the Seattle crowd is getting B instead. I've updated the setlist page to reflect this. Rush!!
UPDATE - 7/19@9:39PM: Rush will be hitting the stage in about an hour from now. We are expecting setlist A. Have fun Seattle!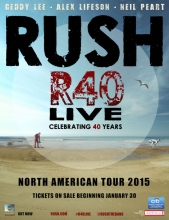 Date/Time: Sunday, July 19th @ 7:30PM
Show Number: 29
Venue: Key Arena
Place: Seattle, WA
Twitter: #R40SEA | #R40Live
Instagram: #R40SEA
YouTube: Seattle Rush R40 Live Tour
Setlist: Version B
Photos: Cygnus-X1.net | Neil Peart News
Reviews: GeekWire | Seattle Music Insider
Rush played the last Canadian date of the R40 Live tour Friday night in Vancouver and tonight will head back to the US for the final stretch of 7 dates, starting off with a show at the Key Arena in Seattle. After tonight they'll head to Portland, San Jose, down through the American Southwest and then finish things up with a couple of shows in SoCal. The band treated the Vancouver crowd to one of their special setlists complete with guest musician, playing a new G setlist variation of their standard C set. We don't expect any special surprises for tonight's crowd in Seattle, so Rush will likely pull out their standard A set this evening. For more discussion on the potential setlist along with a preview of the show, check out the pre-show SPOILER review below the fold. The Rush RatCon West Rush fan gathering is going on this weekend and the festivities continue today with a pre-show gathering at Ozzie's. Tonight's show has a 7:30PM start time listed, so the band will probably hit the stage around 7:45-ish (PST, 10:45PM EST). For everyone going to the show tonight, have fun, be safe and make sure to share your reports, reviews, photos and video with us. Rush on!!!!!
*** WARNING ***
*** SPOILERS BELOW ***
...
...
...
...
*** pre-show SPOILER review *** Rush treated Vancouver with a new G setlist Friday night including a special appearance by Vancouver resident Ben Mink who played electric violin on Losing It for the 2nd time on the tour; he also played on the song in Toronto. The G setlist was just a variation of C, with Clockwork Angels swapped out for Losing It. So the Seattle crowd should expect to see the standard A set tonight. We are still expecting the band to do something special for the final show in LA, so it's very likely we'll get to see Losing It again for that show.
Photos from Instagram using hashtag #R40SEA: