UPDATE - 7/15@8:09AM: Here's a review from the Daily Herald.
UPDATE - 7/14@9:18AM: Here's a photo gallery from Cygnus-X1.net.
UPDATE - 7/14@7:39AM: Here's a review from The Salt Lake Tribune.
UPDATE - 7/13@8:28PM: The show should be getting started in a little over an hour from now. We're expecting setlist A but I'll let everyone know if anything changes. Hello SLC!!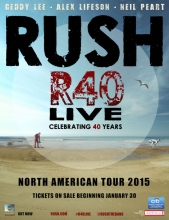 Date/Time: Monday, July 13th @ 7:30PM
Show Number: 26
Venue: Maverik Center
Place: Salt Lake City, UT
Twitter: #R40SLC | #R40Live
Instagram: #R40SLC
YouTube: Salt Lake City Rush R40 Live Tour
Setlist: Version A
Photos: Cygnus-X1.net
Reviews: Salt Lake Tribune | Daily Herald
Rush continues their trek westward tonight, bringing their R40 Live tour to the Maverik Center in Salt Lake City for stop #26 (only 10 more shows to go!) of the tour. After tonight the band will make their way up into western Canada and the Pacific Northwest, then back down through the American Southwest before finishing things up with a couple of shows in SoCal. The band played their standard C setlist Saturday night in Denver, so we are expecting setlist A for the SLC crowd this evening. I've entered that set into the Salt Lake City setlist page for now but will update it if anything changes and finalize it once the show is over. For more discussion on the potential setlist along with a preview of the show, check out the pre-show SPOILER review below the fold. Randy Harward of the SLC Weekly wrote an article last week in the lead up to the show where he reflects on his on-again, off-again relationship with Rush. Tonight's show has a 7:30PM start time listed, so Rush will be hitting the stage around 7:45-ish (MST). For everyone going to the show tonight, have fun, be safe and make sure to share your reports, reviews, photos and video with us. Rush!!!!!
*** WARNING ***
*** SPOILERS BELOW ***
...
...
...
...
*** pre-show SPOILER review *** Rush looks to have settled back into their A-B-C 3-setlist rotation for the 3rd leg of the tour, playing sets B and C for the last couple of shows in KC and Denver respectively. So tonight they will likely reset and play setlist A. They haven't played Losing It yet this leg, and there's no indication that they'll be playing it tonight. That said, there are rumblings that Ben Mink will be playing it in Vancouver this coming Friday (Mink lives in Vancouver), and we'll likely see it in LA for the final show as well. So we expect A tonight, B in Calgary on Wednesday, and one of the D-E-F sets in Vancouver Friday.
Photos from Instagram using hashtag #R40SLC: