UPDATE - 7/16@3:38PM: Here's a gallery of photo from the Power Windows site.
UPDATE - 7/15@9:31AM: Here's Eddie Trunk's review of the show. He also sat down with Alex Lifeson for an interview that will air this weekend on Trunk's radio show and podcast.
UPDATE - 7/13@8:18AM: Here's a review from Hey Reverb.
UPDATE - 7/12@12:11PM: Here's a photo gallery from Cygnus-X1.net.
UPDATE - 7/11@9:37PM: The show should be getting started any minute now. Expecting setlist C.
UPDATE - 7/11@5:07PM: Eddie Trunk is going to the show and interviewing Alex Lifeson for his podcast. He tweeted the following earlier today:
My schedule today: see @rushtheband soundcheck, interview Alex Lifeson for radio/podcast, watch @rushtheband @PepsiCenterCO . Awesome!

- Eddie Trunk (@EddieTrunk) July 11, 2015
----- snip -----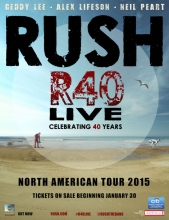 Date/Time: Saturday, July 11th @ 7:30PM
Show Number: 25
Venue: Pepsi Center
Place: Denver, CO
Twitter: #R40DEN | #R40Live
Instagram: #R40DEN
YouTube: Denver Rush R40 Live Tour
Setlist: Version C
Photos: Cygnus-X1.net | Power Windows
Reviews: Hey Reverb | Eddie Trunk
Rush heads up into the Rocky Mountains this evening, bringing their R40 Live tour to the Pepsi Center in the Mile-High city of Denver for show #25 of the tour. After tonight the band will make their way west to Salt Lake City, up into western Canada and the Pacific Northwest, then back down through the American Southwest before finishing things up with a couple of shows in SoCal. The band played their standard B setlist to kick off the tour's third leg in Kansas City Thursday night, so we are expecting setlist C for the Denver crowd. I've entered that set into the Denver setlist page for now but will update it if anything changes and finalize it once the show is over. For more discussion on the potential setlist along with a preview of the show, check out the pre-show SPOILER review below the fold. There will be a pre-show party at Brooklyn's at the Pepsi Center beginning at 2PM this afternoon. For all the details visit the Facebook event page. Tonight's show has a 7:30PM start time listed, so Rush should be hitting the stage around 7:45-ish (Mountain time!). For everyone going to the show, have fun, stay safe and make sure to share your reports, reviews, photos and video with us. RUUSSSHHHH!!!!!
*** WARNING ***
*** SPOILERS BELOW ***
...
...
...
...
*** pre-show SPOILER review *** For the last 2 shows of the 2nd leg in Newark and New York City a couple of weeks ago, Rush played variations of their B and A sets respectively, inserting Losing It with Jonny Dinklage on electric violin in the first set. They didn't play Losing It in KC the other night, and there's no indication that they'll be playing it tonight or at any of the next few shows. That said, there are rumblings that Ben Mink will be playing it in Vancouver next week (Mink lives in Vancouver), and we'll likely see it in LA for the final show as well. Since the show in NYC featured a variation of their A set (setlist F), they decided to go with standard B set in KC Thursday night. So tonight we are expecting C.
Photos from Instagram using hashtag #R40DEN: