UPDATE - 6/22@11:45AM: Here's a photo gallery from Cygnus-X1.net.
UPDATE - 6/22@8:26AM: Here's a review from the Montreal Gazette, and another (French) from Le Journal de Montreal (thanks Sylvain F).
UPDATE - 6/21@10:48PM: The show's over! They played setlist A as anticipated. Bonne nuit Montreal!
UPDATE - 6/21@8:59PM: It's intermission! Setlist A all the way so far.
UPDATE - 6/21@7:09PM: Rush should hit the stage in about a half hour from now. Reader Von Trousers reports the good news that they soundchecked that one song again, so that means they likely plan on playing it again at some point. I'm still expecting the A set tonight though. If anything changes I'll let everyone know. Happy Father's Day to all the dads out there!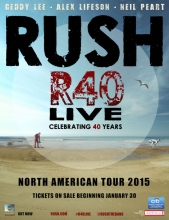 Date/Time: Sunday, June 21st @ 7:30PM
Show Number: 19
Venue: Bell Centre
Place: Montreal, QC
Twitter: #R40MTL | #R40Live
Instagram: #R40MTL
YouTube: Montreal Rush R40 Live Tour
Setlist: Version A
Photos: Cygnus-X1.net
Reviews: Montreal Gazette | Le Journal de Montreal
Rush heads north from Toronto to Montreal tonight to play the 3rd Canadian date of the R40 Live tour. It'll be interesting to see what the band has in store for the fans of Montreal after Friday night's historic performance in Toronto for the DVD filming. That show saw the first appearance of the band's D setlist, which looks like it was prepared specifically for the filming, and consisted of a mix of their B and C setlists along with an extra special new song (complete with guest musician). It's not at all clear whether we'll see that song again on the tour (I think we will though), or whether it was just a one-off performance. My guess is that the Montreal crowd will be treated to the A setlist tonight, and for the time being I've entered that set into the Montreal setlist page. I'll update it if anything changes and finalize it once the show is over. For more discussion on the possible setlist along with a preview of the show, check out the pre-show SPOILER review below the fold. Neil Peart's Commemorative Hockey Drum Kit will also be on display tonight and at the 2 remaining Canadian dates on the tour. Fans will have the opportunity to sit behind the kit with a $10 donation to the Princess Margaret Cancer Foundation. The doors for tonight's show open at 6PM with a 7:30PM start time listed, so Rush will likely get things going at 7:45-ish. For everyone going to tonight's show, have fun, stay safe and be sure to share your reports, reviews, photos and video with us. Bonjour Montreal!! RUSH!!!!!
*** WARNING ***
*** SPOILERS BELOW ***
...
...
...
...
*** pre-show SPOILER review *** What setlist will Montreal see tonight? Rush played their A setlist on Wednesday for the 1st of the 2 Toronto shows being filmed, but on Friday they mixed things up, playing a new setlist that consisted of a combination of their B and C setlists along with the addition of Losing It with Ben Mink - what I'm calling setlist D. My guess is that this was just a special, one-off adjustment specifically for the filming and that they'll return to their standard 3-setlist rotation for tonight's show and play their A setlist. However, I do think we'll see Losing It again at some point in the tour - but probably not tonight. Ben Mink resides in Vancouver so it's very likely we'll see it then. I also keep hearing that the band will do something special for the shows in New York City and Los Angeles as well, so that could mean we'll see Losing It there too. If they play A tonight, that would mean Boston would get B, Philly C and Newark A. That would then set things up for them to finish off in New York City with a repeat of the D setlist with Losing It and Ben Mink once again. Or they could have some other surprise(s) up their sleeve. We'll find out soon enough!
Photos from Instagram using hashtag #R40MTL: