UPDATE - 6/15@10:49AM: Here's a gallery of photos from Cygnus-X1.net, and a review from the Macomb Daily.
UPDATE - 6/14@10:57PM: The show is over and the A setlist was played as expected. Good night Detroit!
UPDATE - 6/14@6:32PM: The show should be getting underway in a little over an hour from now. Rush is expected to play their Version A setlist as shown here. If anything changes, I'll let everyone know.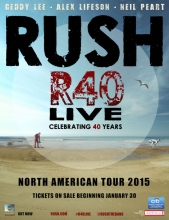 Date/Time: Sunday, June 14th @ 7:30PM
Show Number: 16
Venue: The Palace of Auburn Hills
Place: Auburn Hills, MI (outside Detroit)
Twitter: #R40DET | #R40Live
Instagram: #R40DET
YouTube: Detroit Rush R40 Live Tour
Setlist: Version A
Photos: Cygnus-X1.net
Reviews: Macomb Daily
Rush rolls into the Motor City tonight to play the Palace of Auburn Hills in Detroit for show #16 of the R40 Live tour. The band is expected to play their Version A setlist for the crowd tonight, and I've already entered that setlist into the Detroit setlist page for now. I'll be sure to update it if anything changes, and finalize it once the show is over. Despite the expectations of the A set, there's always that unlikely possibility that they'll mix in something new. For more discussion on that along with a preview of the show, check out the pre-show SPOILER review below the fold. Doors for tonight's show open at 6PM with a 7:30PM start time listed, so Rush will probably hit the stage around 7:45-ish. For everyone going to the show, have fun, be safe and make sure to share your reports, reviews, photos and video with us. RUUSSSHHHH!!!!!
*** WARNING ***
*** SPOILERS BELOW ***
...
...
...
...
*** pre-show SPOILER review *** Rush is expected to play their Version A setlist tonight, and - although it's unlikely - they could always surprise us with something different. They've been consistently soundchecking Losing It but have yet to include it in the live set. From all the rumors floating around, they do plan on playing it at some point, but only at a few select shows centered around the inclusion of a guest violinist (Ben Mink? Clockwork Angels stringer?). The first show where we expect to see it is later this week in Toronto where they'll be filming both shows for later DVD release. It also could make an appearance in NYC (last show of 2nd leg, last eastern show), Vancouver (last Canadian show) and Los Angeles (last US show, last show of tour) being the likely candidates. The only other question is whether it would replace Subdivisions in the set or be added in before or after it. In his recent Classic Rock interview Alex had this to say about the setlist and tour:
"... We've dug deep. We've pulled out some songs that we haven't played in a very long time. We've pulled out some real fan favourites. And we're enjoying playing them. We've revisited every era except maybe the mid-eighties era, which we covered in a good portion of the set on the last tour. We've not included anything from Power Windows or Hold Your Fire, but there's something from just about every other record. ... We're bringing the Hemispheres Prelude and Jacob's Ladder and Cygnus X-1. It's fun and exciting to play these old songs. Jacob's Ladder sounds amazing! For years we've discounted it, although it was always a fans' favourite. We've got three sets - A, B, C - which we'll be rotating throughout the tour. ... Ged and I have gone crazy on bringing out all of our old instruments and buying up vintage gear all over the place. His goal is to play a different bass for every song in the show. ..."
Here are some other quick notes about the setlist and the show:
* The opening video (The World Is ... The World Is ...) depicts cartoon versions of the band that evolve as time moves forward in a time lapse sort of progression - with outfits, hair styles, backdrops and music to match. It ends with silhouettes of the band being dumped onto the stage as the screen rises up to introduce the band playing the opening track.
* The entire setlist is played in reverse chronological order, beginning with Clockwork Angels, and ending in the encore with a short snippet of the unreleased, early '70s track Garden Road.
* As the show progresses back in time, the stage props and instruments also devolve to coincide with the songs being played. Props are swapped out by roadies in red, R40 mover outfits.
* Photos of fans (submitted by fans via Rush.com prior to the tour) are shown on the big screen at multiple points throughout the show.
* During the rap section of Roll The Bones a video is played with the following celebrities lip-syncing the rap: the Trailer Park Boys, Paul Rudd & Jason Segel, Jay Baruchel, Les Claypool, Tom Morello, and Peter Dinklage.
* The intermission video (No Country for Old Hens) shows outtakes from the intermission videos from all of the band's recent tours, ending with the South Park Tom Sawyer video that segues into the band playing Tom Sawyer to open the 2nd set.
* For the 2nd set, Neil Peart's R40 drum kit is replaced with a retro, late '70s-era replica kit dubbed El Darko featuring double bass drums.
* Every show/setlist so far has been identical from Jacob's Ladder on through the encore.
* Jacob's Ladder makes its first live appearance since 1980.
* Cygnus X-1 Book Two: Hemispheres - Prelude had not been played since 1994.
* Cygnus X-1 Book One - The Voyage: Part 3 was last played live in 1980, although Prologue was played in 2002.
* Xanadu includes both Alex Lifeson and Geddy Lee using doubleneck guitars.
* The Mel's Rock Pile skit before the encore reprises Eugene Levy's character from an old SCTV skit as seen here.
* Lakeside Park was last played live in 1978, and this performance is truncated, leaving out the bridge/last verse.
* What You're Doing was last played live in 1977.
* The closing video (Exit Stage Left) shows video of the band exiting the stage taken from various live DVDs. It then shows the 3 band members trying to get into their dressing room and being thwarted by the puppet from A Farewell to Kings, who is having a party with all the other characters from Rush's album covers. He says Rush isn't on the list and sends them away. The band then walks off into the sunset down the hall, wondering what they should do now. ...
Photos from Instagram using hashtag #R40DET: