UPDATE - 6/17@9:43AM: Here's a photo gallery from the Illinois Entertainer.
UPDATE - 6/15@10:47AM: Here's an article from Stereo Embers titled This Is Not a Review: Rush Live in Chicago on June 12, 2015.
UPDATE - 6/13@9:43AM: Here's a photo gallery from Cygnus-X1.net.
UPDATE - 6/12@11:47PM: The show is over and the C setlist was played as expected. Kelly D spotted pitcher/photographer Randy Johnson at the show, and he was reportedly photographing the Buffalo show on Wednesday too. There's also a couple of other fun, post-show SPOILER tidbits to report below the fold.
UPDATE - 6/12@7:24PM: The show should be getting underway in a little over an hour from now. Rush is expected to play their Version C setlist as shown here. If anything changes, I'll let everyone know.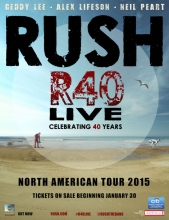 Date/Time: Friday, June 12th @ 7:30PM
Show Number: 15
Venue: United Center
Place: Chicago, IL
Twitter: #R40CHI | #R40Live
Instagram: #R40CHI
YouTube: Chicago Rush R40 Live Tour
Setlist: Version C
Photos: Cygnus-X1.net | Illinois Entertainer
Reviews: Stereo Embers
Rush takes the R40 Live tour machine from Buffalo to the shores of Lake Michigan tonight to play the United Center in the Windy City of Chicago for show #15 of the tour. Rush is expected to play their Version C setlist for the show tonight, and I've already entered that setlist into the Chicago setlist page for now. I'll be sure to update it if anything changes, and finalize it once the show is over. Despite the expectations of the C set, it's still fun to speculate as to whether they'll throw us a curveball and mix things up. For more discussion on that along with a preview of the show, check out the pre-show SPOILER review below the fold. Doors for tonight's show open at 6PM with a 7:30PM start time listed, so Rush will probably hit the stage around 7:45-ish. For everyone going tonight, have fun, stay safe and be sure to share your reports, reviews, photos and video with us. RUSH ON!!!!
*** WARNING ***
*** SPOILERS BELOW ***
...
...
...
...
*** Post-show SPOILER report *** Neil Peart reportedly wore a small, fake mustache at one point during the show (the cheap, plastic kind) as seen in this Tweet. Geddy also made a few references to the Blackhawks being in the Stanley Cup Finals, and a roadie came out wearing a Blackhawks jersey during 2112. Also during 2112 (in Buffalo as well), they placed an inflatable, Canadian flag-themed, flailing-arm, tube-guy thing on stage. :) Kelly D reports that due to a glitch of some kind, they were unable to show the closing video. :(
*** pre-show SPOILER review *** Rush is expected to play their Version C setlist tonight, and - although it's unlikely - they could always surprise us with something different. They've been consistently soundchecking Losing It but have yet to include it in the live set. This lends support to the current rumor that they will only be playing it at a few select shows centered around the inclusion of a guest violinist (Ben Mink? Clockwork Angels stringer?), with Toronto (where the DVD will be filmed), NYC (it's NYC), Vancouver (last Canadian show) and Los Angeles (last US show, last show of tour) being the likely candidates. The only other question is whether it would replace Subdivisions in the set or be added in before or after it. In his recent Classic Rock interview Alex had this to say about the setlist and tour:
"... We've dug deep. We've pulled out some songs that we haven't played in a very long time. We've pulled out some real fan favourites. And we're enjoying playing them. We've revisited every era except maybe the mid-eighties era, which we covered in a good portion of the set on the last tour. We've not included anything from Power Windows or Hold Your Fire, but there's something from just about every other record. ... We're bringing the Hemispheres Prelude and Jacob's Ladder and Cygnus X-1. It's fun and exciting to play these old songs. Jacob's Ladder sounds amazing! For years we've discounted it, although it was always a fans' favourite. We've got three sets - A, B, C - which we'll be rotating throughout the tour. ... Ged and I have gone crazy on bringing out all of our old instruments and buying up vintage gear all over the place. His goal is to play a different bass for every song in the show. ..."
Note that he says that nothing from Power Windows will be played which would count out The Big Money despite it being listed in the tourbook credits. However, it's possible that the tourbook credit refers to the fact that a snippet of the song was included in the opening video. Some other quick notes about the setlist and the show:
* The entire setlist is played in reverse chronological order, beginning with Clockwork Angels, and ending in the encore with a short snippet of the unreleased, early '70s track Garden Road.
* As the show progresses back in time, the stage props and instruments also devolve to coincide with the songs being played.
* During the rap section of Roll The Bones a video is played with the following celebrities lip-syncing the rap: the Trailer Park Boys, Paul Rudd & Jason Segel, Jay Baruchel, Les Claypool, Tom Morello, and Peter Dinklage.
* For the 2nd set, Neil Peart's R40 drum kit is replaced with a retro, late '70s-era replica kit dubbed El Darko featuring double bass drums.
* Every show/setlist so far has been identical from Jacob's Ladder on through the encore.
* Jacob's Ladder makes its first live appearance since 1980.
* Cygnus X-1 Book Two: Hemispheres - Prelude had not been played since 1994.
* Cygnus X-1 Book One - The Voyage: Part 3 was last played live in 1980, although Prologue was played in 2002.
* Xanadu includes both Alex Lifeson and Geddy Lee using doubleneck guitars.
* The Mel's Rock Pile skit before the encore reprises Eugene Levy's character from an old SCTV skit as seen here.
* Lakeside Park was last played live in 1978, and this performance is truncated, leaving out the bridge/last verse.
* What You're Doing was last played live in 1977.
Photos from Instagram using hashtag #R40CHI: