UPDATE - 6/3@9:28AM: Here's a review from Hokeyblog!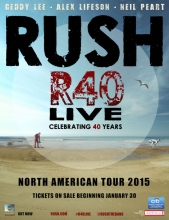 Date/Time: Sunday, May 24th @ 7:30PM
Show Number: 9
Venue: Amalie Arena
Place: Tampa, FL
Twitter: #R40TPA | #R40Live
Instagram: #R40TPA
YouTube: Tampa Rush R40 Live Tour
Setlist: Version C
Photos: Tampa Bay Times | Cygnus-X1.net
Reviews: Tampa Tribune | Tampa Bay Times | Hokeyblog!
UPDATE - 5/25@8:22AM: Here's a review and photo gallery from the Tampa Bay Times, a review from the Tampa Tribune, and a huge photo gallery from Cygnus-X1.net.
UPDATE - 5/24@11:40PM: The show ended about an hour ago, and the Version C setlist was played as expected. Good night Tampa!
UPDATE - 5/24@6:37PM: The show will be getting underway in a little over an hour from now. Rush is expected to play their Version C setlist as shown here. If anything changes, I'll let everyone know. Have a blast Tampa Rush fans!
Rush takes the R40 Live tour machine into the Eastern timezone tonight, playing the Amalie Arena in Tampa, FL for the 9th show of the tour. They'll then finish off the 1st leg of the tour next week after 3 shows in Atlanta, Greensboro and Washington D.C. Rush should be completing their 3rd full rotation of their A-B-C setlists at tonight's show where they are expected to roll out their Version C set which was also played in St. Paul and Dallas. I have entered the Version C setlist into the Tampa setlist page for now, but will update it if anything changes, and finalize it once the show is over. Despite the expectations of the C set, there's always that outside chance that Rush might surprise us with something new. For more discussion on that, check out my pre-show SPOILER review below the fold. If there are any deviations from the expected Version C setlist, I'll be sure to let everyone know about it. Here's a preview article from the Bradenton Herald. The show has a 7:30PM start time, so The Holy Triumvirate should be hitting the stage around 7:45-ish ... Eastern time now. Today also happens to be the 24th of May - Queen Victoria's birthday and the historical basis for the Victoria Day holiday in Canada. The date holds special significance to Rush fans because of its mention in Caress of Steel's Lakeside Park:
Everyone would gather
On the twenty fourth of May
Sitting in the sand
To watch the fireworks display
Dancing fires on the beach
Singing songs together
Though it's just a memory
Some memories last forever
For everyone going to tonight's show, have fun, stay safe and be sure to share your reports, reviews, photos and video with us. Rush on!!
*** WARNING ***
*** SPOILERS BELOW ***
...
...
...
...
*** pre-show SPOILER review *** As mentioned above, Rush is expected to play their Version C setlist tonight - the same that was played in St. Paul and Dallas. There's always that outside possibility that they will throw something new into the mix though. The most likely candidate is Losing It which the band has played in soundcheck a few times now as seen in this video from the band's Austin soundcheck:
The band will seldom play a song in soundcheck that they aren't at least considering playing live. From the rumors I've been hearing they definitely do plan on playing it at some point, but rather than inserting into the set as a regular addition with recorded/triggered violin parts, they will only be playing it at a few select shows centered around the inclusion of a guest violinist (Ben Mink? Clockwork Angels stringer?). Rumors currently floating around point to the song being played in Toronto (where the DVD will be filmed), NYC, Vancouver and Los Angeles so we will likely not see it played tonight (you never know though!). The only other question is whether it would replace Subdivisions in the set or be added in before or after it. In his recent Classic Rock interview Alex had this to say about the setlist and tour:
"... We've dug deep. We've pulled out some songs that we haven't played in a very long time. We've pulled out some real fan favourites. And we're enjoying playing them. We've revisited every era except maybe the mid-eighties era, which we covered in a good portion of the set on the last tour. We've not included anything from Power Windows or Hold Your Fire, but there's something from just about every other record. ... We're bringing the Hemispheres Prelude and Jacob's Ladder and Cygnus X-1. It's fun and exciting to play these old songs. Jacob's Ladder sounds amazing! For years we've discounted it, although it was always a fans' favourite. We've got three sets - A, B, C - which we'll be rotating throughout the tour. ... Ged and I have gone crazy on bringing out all of our old instruments and buying up vintage gear all over the place. His goal is to play a different bass for every song in the show. ..."
He specifically confirms the A-B-C rotations and also says that nothing from Power Windows will be played - which counts out The Big Money. So despite it being listed in the tourbook credits it looks like The Big Money probably was dropped from the setlist at some point during rehearsals, and we likely won't see it. Tonight's performance of Lakeside Park in the encore will hold special significance since it's the 24th of May. This despite the fact that Rush has been playing a truncated version of the song that doesn't include that particular verse. Maybe they'll pull it out tonight to mark the occasion?
Photos from Instagram using hashtag #R40TPA: