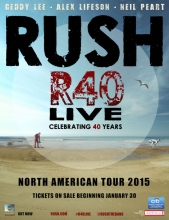 Rush has been hunkered down in band rehearsals at an undisclosed location in Los Angeles for the past 3 weeks, and will kick off the R40 Live tour in just 3 weeks from today on Friday, May 8th at the BOK Center in Tulsa. Information on a meet and greet contest emerged this past week, with the Rush Backstage Club announcing a contest where they are giving away one pair of meet and greet passes for each show on the tour. You can get all the details and enter the contest here. For those of you who don't want to take your chances with a contest and have some extra cash (a LOT of extra cash) on hand, Stuart House charity benefit is running an auction where the winning bidder will get 2 tickets to Rush's show in Irvine on July 30th along with a meet and greet and a backstage tour including a view of the sound check. The auction runs through May 6th and you can get all the details and place your bid (currently at $5,112) at this location. There will likely be other meet and greet contests from radio stations, charities, etc. popping up between now and the tour kickoff as well, so keep an eye out. On a ticket-related note, I'm happy to report that over the last few weeks fans have started receiving Tickets Today fan pre-sale tickets for many of the upcoming Rush shows in the mail. If you haven't received yours yet, just be patient; they should arrive in plenty of time for the show. I continue to get questions about a potential European/UK or additional North American leg for the R40 Live tour. Unfortunately I haven't heard any new information on that front, and still see it as very unlikely that any additional dates/legs will be added. Hopefully I'm wrong though!

Dan Dauz of Dauz Electronic Drums has been supplying drum pads to Neil Peart for several years now, and recently posted some nice photos to Facebook of the new bullseye drum pad he created for Neil's new R40 kit. There's this photo of the pad mounted on the kit, and this photo of a drum pad Neil Peart personally autographed for Dan, along with several others.
Rush will be continuing their 12 Months of Rush vinyl reissue campaign this coming Tuesday, April 21st with the release of A Farewell to Kings on vinyl and Blu-ray Audio. Rush is releasing all of the Mercury-era Rush albums on vinyl along with a few select titles on Blu-ray audio throughout 2015. The 12 Months of Rush will see the band releasing one or two titles a month throughout the year. They started with Fly By Night in January (Vinyl, Blu-ray Audio), Caress of Steel in February, and both 2112 and All the World's a Stage last month on vinyl. This past Friday evening Rush released a 15-second promotional video for the 12 Months of Rush via their YouTube channel which you can watch at this link. The 2112 vinyl reissue is a special Hologram Edition as described in this Rush.com press release and seen in this 1-minute demo video. Sales from the vinyl edition of 2112 ended up propelling the album back into the Billboard 200 in its first week of release at #149; it was also #2 on the Vinyl Albums chart. All titles are reissued on high-quality vinyl with a 320kbps MP4 Digital Audio download code, with Fly By Night, A Farewell to Kings and Signals also having a Blu-ray Audio release. The rest of the reissue titles will be released throughout the remainder of the year and can be ordered/pre-ordered at the links below:
AVAILABLE FOR PURCHASE

Fly By Night (01/27/15) - Vinyl | Blu-ray Audio
Caress of Steel (02/17/15) - Vinyl
2112: Hologram Edition (03/17/15) - Vinyl
All the World's a Stage (03/17/15) - Vinyl

AVAILABLE FOR PRE-ORDER

A Farewell to Kings (04/21/15) - Vinyl | Blu-ray Audio
Hemispheres (05/19/15) - Vinyl
Permanent Waves (06/16/15) - Vinyl
Moving Pictures (07/21/15) - Vinyl
Exit ... Stage Left (07/21/15) - Vinyl
Signals (08/18/15) - Vinyl | Blu-ray Audio
Grace Under Pressure (09/15/15) - Vinyl
Power Windows (10/20/15) - Vinyl
Hold Your Fire (11/17/15) - Vinyl
A Show of Hands (12/1/15) - Vinyl


Details for both RushCon 15 and Rush RatCon 2015 were announced over the past week. Both of these Rush fan gatherings will take place in multiple locations over the summer to coincide with dates on the R40 Live tour, and focus on celebrating Rush fandom and the band's 40th anniversary. The 15th annual RushCon will take place July 31st to August 2nd in Los Angeles along with a mini-con held in Toronto on June 19-20. Earlier this week they posted detailed event and registration information and a call for street team volunteers, charity auction items, sponsors and submissions for tribute band of the month. The festivities for the main Los Angeles convention will include a Friday evening welcome party at the Club Nokia VIP Lounge, with Saturday's events taking place at the Belasco Theater and including Rush-themed games and prizes, guest speaker Kevin J. Anderson, a charity auction, and buses to and from Rush's Saturday, August 1st show at the LA Forum (tickets NOT included). On Sunday attendees will be treated to a Star Map of Hollywood bus tour of Hollywood, and a closing reception at the Grammy Museum. The Rush mini-con in Toronto will include a pre-concert party upstairs at the Hard Rock Cafe at Dundas Square before Rush's concert at the Air Canada Centre Friday night. The party will include games, vendors, a silent auction, drinks, snacks, and then a bus ride to and from the show. Saturday attendees will be taken on a bus tour of the Rush landmarks of Toronto, finished off with a closing party at Alex Lifeson's Orbit Room. There will also be a few bonus events for folks who get in town early. For all the details check out the RushCon website, and be sure to follow RushCon on Facebook and on Twitter for all the latest news and info. Rush RatCon 2015 will be celebrated on multiple dates and in multiple locations around the US and Canada. RatCon 2015 East will take place May 29-30th at Club Xanadu in Severna Park, MD, culminating with Rush's show in Bristow on May 30th. The event will begin on Friday at Club Xanadu and be capped off with a show at the Fish Head Cantina with Rush tribute band kRUSH. The festivities continue at Club Xanadu on Saturday before heading off to the venue in the afternoon for a huge preshow tailgate party. RatCon 2015 West will take place July 18-19th in Seattle, culminating with the Rush show at the Key Arena on Sunday night. The festivities will kick off on Saturday at the Muckleshoot Casino in Auburn, WA with a Rush tribute show at Club Galaxy with Anthem Rush Tribute. Sunday's festivities will begin with a pre-show party at Ozzie's in downtown Seattle and be capped off by the Rush show at the Key Arena. In addition to the two main events, several smaller RatCon on the Road parties will be held around the country, with details coming at a later date. You can read the entire press release here, and be sure to keep up on all the latest news by following RatCon on Facebook and Twitter.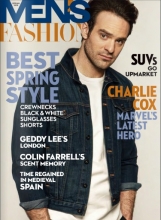 Geddy Lee was interviewed for a short, 1-page feature in the Spring 2015 issue of Men's Fashion magazine titled Stopover: London. Geddy talks about all of his favorite things to do in London, England including his favorite places to eat, drink and see music.
... I spend more time going to the theatre in London than to concerts. But I love Royal Albert Hall (Kensington Gore, royalalberthall.com), and recently saw Jeff Beck and his band there. My wife and I love comedy and end up at the Leicester Square Theatre (6 Leicester PL, leicestersquaretheatre.com) quite often. ...
The entire magazine is available online at this location and you can read the Geddy Lee feature on page 28.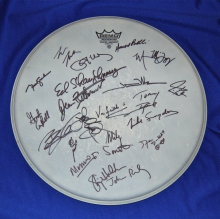 DrumsForCures, Inc. is a non-profit charity organization that produces Drumstrong events to raise awareness and funds for cancer survivorship, education and research globally that support people with cancer and those who love them. They currently have an autographed Neil Peart drum head up for auction to raise money for the charity. From the auction listing
:
Up for auction we have a 14" drum head that was mounted on Neil Peart's first drum kit with Rush (1974 chrome Slingerland). The head features the signatures of 19 celebrities who played on this drum head at PASIC 2009. The head was later signed by Neil Peart himself on 9/26/2010. Please note that this head is not original to the kit, it was placed on the kit during the Pasic International Drum Show in Indianapolis where it was played and signed.
The auction runs through Sunday evening and you can place your bid here
.

Earlier this week the San Antonio Spurs NBA basketball team posted a satirical video to their YouTube channel titled Spuran Spuran. The video describes a fictional San Antonio rock band called Spuran Spuran comprised of members of the team, and teases their new music video which was released the next day. Small forward Kawhi Leonard is depicted as the drummer of the band and in his portion of the video (starting at the 0:40-second mark) he is seen behind a drum kit wearing a Rush t-shirt with the caption Kawhi "I fought the claw and the claw won" Leonard, and he says, "I grew up idolizing guys like Keith Moon and Lars Ulrich". You can watch the video on YouTube.
I had the honor of being the guest on the latest episode of the excellent Rushcast podcast this past week. I spoke with host Jay Mantis last Wednesday about the origins of the Rush is a Band website, Rush's upcoming R40 Live tour, meeting Geddy & Alex, setlist wishlists, my love of Caress of Steel, Cleveland sports and more for about 40 minutes. The interview was made available online earlier this week and you can check it out at this location.
Ultimate Classic Rock posted a short video interview with drummer Mike Portnoy (Dream Theater, Winery Dogs) earlier this week where he talks about the influence that Rush and Neil Peart had on him as a musician:
... I can't possibly overstate how much influence Rush had on me as a young teenager ... I would say from about 1981 to 1987, they were my gods. Neil Peart was my god at that point, and was a huge, huge influence on my drumming. ... The size of the drum set, the way I approached the drums, the odd time signatures, the progressive-styled instrumental music - I mean, just everything about Rush at that point, when I was a developing teenager, was huge ... I've seen them on every tour since then. ...

Earlier this week puppeteer and musician Ricky Syers posted a video titled Chops Sawyer to YouTube and other social media sites. In the video Syers pulls the strings on a puppet drummer named Chops playing along with near flawlessness (for a puppet at least) to Rush's Tom Sawyer on a tiny drum set constructed of tin cans. The video quickly went viral, garnering nearly 350 thousand views on YouTube to date and being picked up by The A.V. Club, Ultimate Classic Rock, Funny or Die and a number of other sites. If you are one of the 3 people who haven't seen the video yet, you can check it out on YouTube. :)
Alex Lifeson made Loudwire.com's list of the Top 50 Hard Rock and Metal Guitarists of All Time a couple of weeks ago, coming in at #28:
How do three guys generate so much sound? Part of that answer lies in the nimble fingers of Rush guitar great Alex Lifeson, who handles a majority of the band's stringed instruments with pure brilliance.
Brad Birzer at Progarchy.com announced this past week that he's writing a book on the words and ideas of Neil Peart. The working title of the book is The Neil Peart Generation and it is due out sometime this fall via Kevin J. Anderson's Wordfire Press publishing company. Included with the announcement is an excerpt from the book titled Testing for Echo: Rush's Odd but Brilliant 1996 Masterpiece.
VH1 posted their list of the Top 10 Hard Rock and Heavy Metal Songs Inspired by TV Shows this past week, and coming in at #1 is Rush's Twilight Zone:
Rush pay tribute to TV's crowning sci-fi achievement in "Twilight Zone," a mesmerizing meditation on the immortal CBS series that appears on the band's 1976 magnum opus, 2112. In fact, Rush were such fans of The Twilight Zone that they had already dedicated their 1975 album Caress of Steel to TZ creator Rod Serling.

Rush's loving homage invokes Serling's opening introduction to the show's world of imagination, then conjures images from some specific episodes, including "Will the Real Martian Please Stand Up?" ("A pleasant faced man steps up to greet you/He smiles and says he's pleased to meet you/Beneath his hat the strangeness lies/Take it off, he's got three eyes) and "Five Characters in Search of an Exit" ("Look up to see a giant boy/You've just become his brand new toy"). What a trip!
Tomorrow marks the 2nd anniversary of Rush's 2013 induction into the Rock and Roll Hall of Fame. Here's Rush's acceptance speech from the ceremony including Alex Lifeson's legendary blah speech:
That's all for this week. Have a great weekend!