UPDATE - 4/1@8:37PM: APRIL FOOLS!!!! ... in case you hadn't already figured it out. Hopefully everyone enjoyed the joke and had some fun with it. Thanks for playing along and being good sports. Once again I teamed up with John at Cygnus-X1.net and Eric at the Power Windows site for this year's joke, and Kevin J. Anderson himself even got in on the fun. John gets most of the credit for this one as he came up with the idea and created the poster. Who knows? Maybe the joke's on us, and there actually will be a Clockwork Angels movie at some point in the near future. Let's hope so! In the meantime, we still have the Clockwork Angels complete graphic novel coming out next month, and Clockwork Lives releasing this fall.
UPDATE - 4/1@1:51PM: There's also a short video trailer now available! The film really looks like it's going to be amazing. Watch the trailer below. Kevin J. Anderson has also posted a higher resolution image of the poster to his Facebook page.
----- snip -----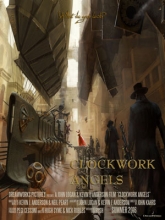 Kevin J. Anderson and Neil Peart's novelization of Rush's Clockwork Angels album was first released back in late 2012 and the story of Owen Hardy and the steampunk world of Albion resonated with Rush and sci-fi fans alike, propelling the novel onto the New York Times bestseller list. A graphic novel version of the story soon followed a couple of years later and next up is a companion novel titled Clockwork Lives, due to release later this year. Author Kevin J. Anderson has also been hinting at another big development involving the story for some time now, with many fans speculating that the next logical step would be a film adaptation. This no longer seems to be speculation and an official announcement of a full-length animated feature film based on Clockwork Angels from DreamWorks Pictures is expected within the next few days. This information comes from an independently verified source with ties to DreamWorks, and is backed up by a leaked, low-res copy of the working movie poster seen here. Although it's difficult to make out, the poster indicates that the movie will release in the Summer of 2016 with a screenplay by Kevin J. Anderson and screenwriter John Logan, best known for his work on The Aviator, Star Trek: Nemesis, The Time Machine and Hugo. The director is listed as John Kahrs with graphic novel artist Nick Robles and Hugh Syme as art directors. It also seems that Rush will be heavily involved in the film. The poster lists music from Rush with Anthem's Pegi Cecconi as executive producer. The image on the poster seems to depict a scene of passengers boarding an airship, with a sinister-looking figure in the foreground (perhaps the Anarchist?). More information as we learn it. Stay tuned!