UPDATE - 3/14@9:11AM: Here's another short interview from Billboard Canada with Alex Lifeson talking about the band's Juno Award and Rush's charitable endeavors over the years.
UPDATE - 3/13@1:12PM: The folks at RushCon have posted travel and hotel details for the main convention in Los Angeles as well as the mini-con in Toronto. Details here.
Both Rush and their manager Ray Danniels will be honored at the 2015 Juno Gala Dinner & Awards ceremony tomorrow evening in Hamilton, ON. Rush will be the recipient of the 2015 Allan Waters Humanitarian Award which recognizes outstanding Canadian artists whose contributions have positively enhanced the social fabric of Canada, and Ray Danniels will be presented with the 2015 Walt Grealis Special Achievement Award recognizing individuals who have made a significant impact on the Canadian music industry. Alex Lifeson gave a couple of interviews this past week in the lead-up to the Juno Awards ceremony this weekend. He said the following to Nick Patch of the Canadian Press regarding Rush's charitable endeavors and what the Award means to the band:
... "It's a way that you can do it as a unit, which Rush is, without making really a big deal about it," guitarist Alex Lifeson said recently from Toronto. "This is really great to get this award - it's always very humbling - but this is just something that you're supposed to do. We don't make a big deal out of it." ...
Lifeson was also interviewed by Jane Stevenson of the Toronto Sun and mentioned that only Geddy Lee will be representing the band at tomorrow's ceremony. He also revealed some details about the band's rehearsal plans for the upcoming R40 Live tour:
... [Neil] Peart is in Los Angeles - where the band will start rehearsing March 30 for their upcoming R40 tour ... and Lifeson is away with his grandkids. But Lee will be on hand Saturday night to accept the honour in Hamilton. "We're prepping for the tour; we're at that stage where we've just started playing. You don't want to hear us," says Lifeson. ... "We're nuts," says Lifeson. "We rehearse for six weeks before the rehearsals. I'm serious. I've been rehearsing for three weeks now. I spend four hours, three times a week, and then the rest of the time I play for an hour to two hours. And that's just to get ready for rehearsals." ...
Ray Danniels was also recently interviewed by Larry LeBlanc of Celebrity Access to discuss his Award, Rush, and his 40-year career in the music business. Ray had a lot to say about recent deals with Roadrunner Records and Ole, the current state of the music industry and how Rush fits in to it all. At one point Danniels is asked about Rush's upcoming tour and whether he thinks the band will hit the road again in the future:
... Somewhere between possible and probable. There are some of us who would keep going forever, and there are some of us who wouldn't. So it's a process of working that out. And what somebody thinks today may not be what they think in a month. ... I am focused on making this as good as it can be, and then seeing where we are. I did not want to do a farewell tour. There was no one in the band who wanted to do that because there is nobody who thinks it is that final or thinks that they won't make music or do something. But I will tell you this. I am probably not going to be able to get a band full of 65 year olds out again on the road--which is what would happen next time with any potential tour--they all would be 65-ish. Neil is as much an athlete as he is a musician, but with these 2 1/2 and 3 hour length sets, I don't know if it possible to keep up with that (physical) demand. And they each want to go out on top in every single way. From their status....well, that is more me-the status-than it is them; and still having the ability to be at their best. To play at the level that they have been able to play. ...
Throughout 2015 Rush will be releasing all of the Mercury-era Rush albums on vinyl along with a few select titles on Blu-ray audio. They are calling it the 12 Months of Rush, as they will be releasing one or two titles a month each month. They started with Fly By Night in January (Vinyl, Blu-ray Audio), and last month they released their vinyl reissue of Caress of Steel which you can order at this location. Next up are 2112 and All the World's a Stage which will release this coming Tuesday, March 17th. The 2112 vinyl reissue will be a special Hologram Edition as described in this Rush.com press release and seen in this 1-minute demo video. All titles will be reissued on high-quality vinyl with a 320kbps MP4 Digital Audio download code, with Fly By Night, A Farewell to Kings and Signals also having a Blu-ray Audio release. Fly By Night (Vinyl, Blu-ray Audio) and Caress of Steel are already available, and you can pre-order All the World's a Stage, 2112 and all of the other titles at the links below (NOTE: Power Windows, Hold Your Fire and A Show of Hands are now available for pre-order too):
2112: Hologram Edition (03/17/15) - Vinyl
All the World's a Stage (03/17/15) - Vinyl
A Farewell to Kings (04/21/15) - Vinyl | Blu-ray Audio
Hemispheres (05/19/15) - Vinyl
Permanent Waves (06/16/15) - Vinyl
Moving Pictures (07/21/15) - Vinyl
Exit ... Stage Left (07/21/15) - Vinyl
Signals (08/18/15) - Vinyl | Blu-ray Audio
Grace Under Pressure (09/15/15) - Vinyl
* Power Windows (10/20/15) - Vinyl
* Hold Your Fire (11/17/15) - Vinyl
* A Show of Hands (12/1/15) - Vinyl

* just recently made available for pre-order
Clockwork Angels String Ensemble cellist Jacob Szekely was a guest on the Rushcast podcast this past week and had a lot of interesting things to say about touring with Rush. From the podcast description:
Performer and educator Jacob Szekely joins us to talk about his experience recording for Clockwork Angels and touring with the band. He discusses everything from his preparation before the tour to the gear he uses on stage. He also had some interesting words about Losing It, and its exclusion from the Clockwork tour. Jacob was a fantastic guest, and you're sure to enjoy this one! Check out String Project Los Angeles, and his solo jazz material on iTunes!
He also revealed that the string section actually recorded strings for 3 songs on the Clockwork Angels album that originally didn't have strings, but had string arrangements on the tour. This was apparently done at Ocean Way Studios around the band's stop in Los Angeles. So maybe we'll see these released as bonus tracks at some future point. You can listen to the 45-minute interview at this location. Back in 2013 Szekely released a CD with his Jacob Szekely Trio project which is available both on iTunes and from Amazon.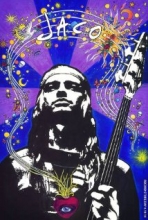 Jaco is a documentary film on legendary bassist Jaco Pastorius produced by Metallica bassist Robert Trujillo and directed by Paul Marchand and Stephan Kijak. Geddy Lee is one of the many musicians interviewed for the film and a short snippet of Geddy discussing fusion music from the documentary can be seen on YouTube here. The film was first screened last year at the Mill Valley Film Festival on October 6th and at the Grammy Museum on December 8th. They hope to have it available for purchase on Record Story Day this coming April, and earlier this week the news came out that it will be headlining the Asbury Park Music in Film Festival next month. The documentary is being partially funded through a crowdsourcing project at Pledge Music. Follow the film on Facebook and on Twitter for all the latest news.
TheChive.com posted posted their list of 26 legendary guitar players earlier this week and Alex Lifeson made the cut at #19 (thanks MikeD).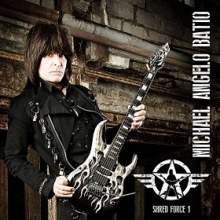 Pioneering shred guitarist Michael Angelo Batio is set to release his first-ever career retrospective album Shred Force 1: The Essential Michael Angelo Batio on April 14th via Rat Pak Records. The album will include a cover of Rush's What You're Doing featuring Queensrÿche vocalist Todd LaTorre, Metal Church guitarist Kurdt Vanderhoof, Alice Cooper bassist Chuck Garric, Metal Church/TSO drummer Jeff Plate and guitarist Craig Blackwell. The band has released an official stream of the track which you can check out below or on YouTube here. Thanks to Brave Words for the heads up.
Just a quick note on the removal of yesterday's post regarding the NAMM interview with DW's John Good, I thought I owed everyone a short explanation as to why it disappeared. Myself and a few other Rush site admins were asked by the powers that be (DW, Anthem, Drum Talk TV) to take down the post as a courtesy, since it contained information that was not supposed to get out. As a general rule I comply with these types of requests just to maintain a good working relationship with the band and their management. 'Nuff said on that. On to a more pleasant topic - yesterday was Alex Lifeson and his wife Charlene's 40th wedding anniversary. Happy anniversary!! That's it for this week. Have great weekend everyone!