UPDATE - 9/17@9:45AM: The band has also released this 1:30-minute trailer for the box set:
----- snip -----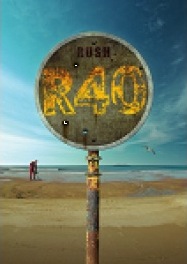 UPDATE - 9/17@8:06AM: Rush has finally put out an official press release regarding the R40 box set. The release includes the full track list for the Laura Secord Secondary School set, which will include the 2 unreleased tracks I've Been Runnin' and The Loser, along with their cover of Bad Boy.
We learned this past week that Rush will be releasing a special R40 video box set on 6 Blu-ray discs or 10 DVDs this coming November to celebrate their 40th anniversary. The set will contain Rush's 5 most recent live videos (Rush in Rio, R30, Snakes & Arrows Live, Time Machine, Clockwork Angels Tour) along with an R40 bonus disc. The bonus disc will include the Laura Secord Secondary School 1974 footage, the Passaic, NJ Capitol Theatre show from 1976, Lock and Key live from 1988, Rush at the Molson Amphitheatre in 1997, the I Still Love You Man video from 2011 and the Rush portion of the Rock & Roll Hall Of Fame Induction in 2013. From the product description:
... The 6 Blu-ray discs are contained in a stunning 56 page hardback book measuring 305mm x 225mm with the 6 discs contained in 5 additional rigid insert pages. The 56 pages of the book are filled with memorabilia and photographs documenting 40 years of Rush live in concert. This is the ultimate collection of Rush live performances, beautifully presented.
The R40 box set is now listing at Amazon.com with a slated release date of Tuesday, November 11th, and you can pre-order it on 6 Blu-ray discs or 10 DVDs. Here are the bonus disc details:
Disc Six - R40 Bonus Disc

Laura Secord Secondary School 1974: 1) Need Some Love 2) Before and After 3) Best I Can 4) I've Been Runnin' 5) Bad Boy 6) The Loser 7) Working Man 8) In the Mood (partial)

Capitol Theatre 1976: 1) Bastille Day 2) Anthem 3) Lakeside Park 4) 2112 5) Fly By Night/In the Mood

Lock and Key 1988

Molson Amphitheatre 1997: 1) Limelight 2) Half the World 3) Limbo 4) Virtuality 5) Nobody's Hero 6) Test for Echo 7) Leave That Thing Alone/Drum Solo 8) 2112 (all seven parts)

I Still Love You Man 2011

Rock & Roll Hall of Fame Induction 2013: 1) 2112 featuring Dave Grohl, Taylor Hawkins, Nick Raskulinecz 2) Tom Sawyer (3) The Spirit of Radio