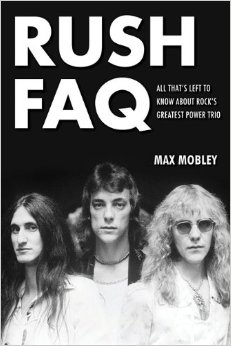 Although we didn't see any new music or touring from Rush in 2014, there were several new Rush books published along with a few new writing projects from Neil Peart. Back in June, Max Mobley's Rush FAQ: All That's Left To Know About Rock's Greatest Power Trio was released. Mobley has written for a number of music magazines including Crawdaddy! and Premier Guitar, and has interviewed Rush guitarist Alex Lifeson twice. He's also a huge Rush fan and has seen countless Rush shows dating back to the A Farewell to Kings tour. The book comes in at 250 pages and includes a foreword from Donna Halper. You can check out a copy of the introduction in this post and order your copy of Rush FAQ at this location.
Later in the year 2 new books analyzing the philosophy behind Rush and Neil Peart's lyrics were released. Author, journalist, communications professional and keeper of the Rush Vault Robert Freedman released his Rush: Life, Liberty, and the Pursuit of Excellence book back in August. Here's an excerpt from the book's foreword which I had the honor of writing:
... [Freedman's book] brings together all the different treatments of Rush's music into one grand, unifying theme, Aristotelian individualism, and shows the historical context into which the band falls. Whether he's looking at Aristotle, Ayn Rand, humanism, or critics' responses to Rush over the years, Freedman brings it all together in a comprehensive history of Rush's lyrical philosophy and does so in an accessible, down-to-earth manner that I think any Rush fan will enjoy. ...
You can purchase the book directly from the publisher, or from Amazon and other online retailers. In October, music scholar Durrell Bowman released his book Experiencing Rush: A Listener's Companion. Bowman is a cultural musicologist, musician, IT consultant and accomplished author who coedited the 2011 book Rush and Philosophy: Heart and Mind United. The book aims to guide readers through Rush's long career, explaining through the artful combination of biography, history, and musical exegesis how best to listen to Rush's unique brand of music. You can order your copy of Experiencing Rush: A Listener's Companion at this location.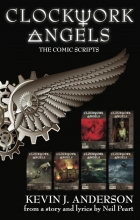 Neil Peart also kept busy with his various writing projects in 2014 with the release of Far and Near: On Days Like These back in September. The book is a follow-up to Peart's 2011 book Far and Away: A Prize Every Time and is another collection of his NeilPeart.net blog posts since that last book was released. In addition to that, the Clockwork Angels graphic novel series he co-wrote with Kevin J. Anderson was released in six issues between March and November, and will be getting a release as a single-volume graphic novel next April. And earlier this month Anderson also released a companion book to the graphic novel series via his Wordfire Press publishing label titled Clockwork Angels: The Comic Scripts. Peart and Anderson are also working on a new companion novel to Clockwork Angels titled Clockwork Lives which will expand on the stories of some minor characters from Clockwork Angels and should be released next year. The paperback edition of the original Clockwork Angels novel was also made available earlier this year. All of these books would make a great addition to any fan's library of Rush books, in addition to being great gift ideas for any of the Rush fans on your holiday shopping list.