UPDATE - 11/8@9:56AM: NOTE: The R40 box set is now listed at Amazon as releasing on Monday, November 10th rather than Tuesday - one day sooner than before.
UPDATE - 11/7@4:33PM: Reader Kelly D attended the Geddy Lee appearance in NYC and has been sharing some of the details via her Twitter feed.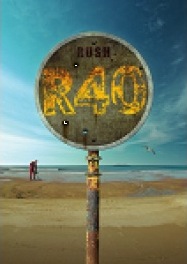 The upcoming week will be a busy one for Rush with their upcoming Tuesday release of the R40 40th Anniversary Collectors Box Set (6 Blu-ray discs or 10 DVDs) along with Geddy's speaking appearance later this afternoon in New York City and his guest appearance at The Who's benefit concert next week in London. The R40 box set releases in the UK on Monday and in North America on Tuesday. The set will include Rush's 5 most recent live videos (Rush in Rio, R30, Snakes & Arrows Live, Time Machine, Clockwork Angels Tour) along with an R40 bonus disc, all contained in a 52 page hardback book measuring 305mm x 225mm (12" x 9"). The bonus disc will include the full Laura Secord Secondary School 1974 footage including the 2 unreleased tracks I've Been Runnin' and The Loser, along with their cover of Bad Boy. Geddy Lee recently sat down with Radio.com to discuss the box set and also preview a clip of The Loser, which you can watch below or on YouTube. Here's what Geddy had to say about the track:
... I honestly don't remember that song, and I didn't remember it until I actually saw the footage of us playing it. And I didn't remember it was called 'The Loser." So much for my memory! We wrote so many songs in the early days, and half of them fell by the wayside. A while back, Alex uncovered a demo tape that he and I had done for copyright purposes. Since we couldn't write music, the only way you could submit a song for copyright in those days was, you'd record it. Alex would play guitar and I would sing onto a tape. We found one of these very basic tapes. I just could not remember half of the songs that were there. It was just teenage ramblings. ...
You can read the entire interview at Radio.com here. Last week, Radio.com previewed I've Been Runnin' along with a short Alex Lifeson interview which you can check out here. As I'd mentioned above, the R40 bonus disc will include the full Laura Secord Secondary School 1974 footage. It will also include the Passaic, NJ Capitol Theatre show from 1976; Lock and Key live from 1988; Rush at the Molson Amphitheatre in 1997; the I Still Love You Man video from 2011; and the Rush portion of the Rock & Roll Hall Of Fame Induction in 2013. The Rush Backstage Club (and Best Buy it looks like) will also be offering a special edition of the set that includes an extra R40 Completist disc (in addition to the bonus disc), although there's a lot of confusion as to what this disc will contain. It looks like this extra disc will contain different content based on whether it's the Blu-ray or DVD version, with the ultimate goal being to ensure that the same content is included in both the DVD and Blu-ray packages. It looks like the extra Completist DVD bonus disc will contain the eight songs not included on the original R30 DVD release, the Anthem Castle Session video and three songs from the Molson Amphitheatre show which are not included on the standard R40 bonus disc. The Blu-Ray Completest disc looks like it also includes the Anthem Castle Session video and the three extra Molson Amphitheatre tracks, but instead of the eight extra R30 tracks (which already are included on the R30 Blu-Ray), it includes all the bonus features originally included on the R30 Deluxe Edition DVD, which were not included on the original R30 Blu-Ray release but are already included in the R40 DVD set (but not included in the standard R40 box set Blu-Ray). A tad confusing to say the least. So, in short, if you already own the R30 Deluxe Edition DVD and the 2009 R30 Blu-ray, then the only extra content that you are getting on the Completist disc are the 3 additional Molson Amphitheatre songs. It's unclear why they just couldn't include those 3 songs, and all the additional R30 content on both sets to begin with, but it is what it is. You can pre-order the R40 box set on 6 Blu-ray discs or 10 DVDs.

Geddy Lee will be taping a special episode of Speakeasy with his friend and author, Michael Chabon at the McKittrick Hotel (542 W 27th St, New York, NY 10001) in New York City this afternoon from 2:30-4:30PM. 50 tickets for fans were made available last week but quickly sold out. For all the details check out the Rush.com press release. Also happening in New York City today and through the weekend is the first annual New York Festival of Light where longtime Rush lighting director Howard Ungerleider is one of the featured artists. The Festival's goal is to enhance New York City's architecture through interactive, static and projected lighting installations. To learn more about the Festival you can follow them on Facebook and Twitter, and visit the website at nyfol.org.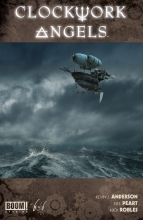 The sixth and final issue of the graphic novel version of Clockwork Angels will be released this coming Wednesday, November 12th via BOOM! Studios. In addition to the standard cover that will be available in comic and book stores, there will be an exclusive, limited edition cover available via BOOM! Studios and the Rush Backstage Club. The first issue of the graphic novel was released back on March 19th and there were a number of different covers and subscription options made available as described in this post. The subsequent 4 issues are currently available in both the standard and limited edition covers and can be purchased via the Rush Backstage Club, BOOM! Studios, Amazon.com, or your local comic/book store. Comicbook.com has posted a preview of the cover art and first 5 panels from issue #6 at this location. BOOM! Studios will also be releasing all six issues of the graphic novel in one complete edition this coming spring on April 7, 2015. You can pre-order your copy of the complete Clockwork Angels graphic novel at this location.
Jeff Woods spoke with Neil Peart yesterday for his Legends of Classic Rock syndicated radio show and posted this photo of the message Neil wrote in his copy of Far and Near to Facebook last night. The interview will air the weekend of Nov 15/16 on his Legends radio series. On a related note, Fox Sports Radio host and Black Crowes drummer Steve Gorman announced on his radio show Tuesday that he'd be having Neil Peart on as a guest later in the week. As of yesterday no interview has aired, so I would assume it will be on tonight's show.
Speaking of Neil, his drumming performance on last year's Clockwork Angels Tour video is up for voting in the 2015 Modern Drummer Readers Poll Recorded Performance, Video category (thanks Peter A). So go vote for Neil!

And in some cow-related Neil Peart news (yes... I said cow-related), a cow resembling our favorite drummer appears in the 2015 edition of Chick-Fil-A's Cow Calendar. The photo for May is captioned as Veal "The Hoof" Girth and shows a cow wearing a Neil Peart style Kofia hat seated behind a drum kit made of wash tubs, trash cans, milk containers and - of course - cow bells. You can check out the complete calendar at chick-fil-a.com (thanks Eric at Power Windows).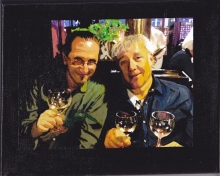 Alex Lifeson is once again participating in The Kidney Foundation of Canada's annual A Brush of Hope charity auction this year. As they have for several years running, Alex Lifeson along with dozens of other Canadian celebrities have donated paintings to be auctioned off to raise money for the charity. Alex has participated in the fundraiser a number of times in the past, including his contribution of a self-portrait that sold for $7600 last year. Alex's painting for this year is a photorealistic rendering of himself enjoying some wine with Geddy Lee which you can check out on eBay at this link. The auction runs through the weekend and as of this post the bidding is already closing in on $7000! For all the latest news and information be sure to follow A Brush of Hope on Facebook. Speaking of eBay charity auctions, there's a signed Rush Feedback lithograph with a certificate of authenticity currently up for auction to raise money for The St. Clair College Foundation. You can check it out and make your bid at this location. This auction also runs through the weekend.
Music Times published a couple more lists over the past week that include Rush. In celebration of Halloween, they posted a list of 10 Great Songs Named After Horror Films and included Rush's Twilight Zone at #2:
Technically, The Twilight Zone is a TV show and not a movie (at least there wasn't a movie in 1976), but it's still caused plenty of nightmares. For their 1976 album 2112, prog-rock band Rush wrote a song named after the TV series, with lyrics inspired by two episodes: "Will The Real Martian Please Stand Up?" and "Stopover in a Quiet Town."
They also published a list of 7 Albums Named After Years They Weren't Released In and coming in at #5 was Rush's 2112:
Seeing as how the year 2112 is nearly 100 years in the future, it should be obvious that Rush's 2112 did not come out in the year it is named after. Instead, the album is named after its opening, 20-minute, prog-rock suite, about a dystopian society in the year 2112.
As part of their special 101 Greatest Drum Intros issues, Rhythm magazine posted their list of the 10 greatest ever drum intros last week and coming in at number 2 was Rush's The Spirit of Radio (thanks ou812112):
Here's where things really start to get tricky! Neil Peart joins this Rush classic with a crash and then proceeds to roll around the kit with some challenging tom fills. He caps it all off by entering the verse with a tempo change.
The Hollywood Reporter posted the first promotional still from Kevin Smith's latest horror film Yoga Hosers this past week. The film is a spinoff of Tusk and stars Johnny Depp as a Quebec police detective who is enlisted by two convenience store clerks played by Smith's and Depp's daughters, Harley Quinn Smith and Lily-Rose Depp, both 15. In the promo image, Lily-Rose is pictured wearing a Rush t-shirt underneath her store vest as seen here (thanks Eric at Power Windows).
Here's the video clip of The Loser from the upcoming R40 box set:
That's all for this week. Have a great weekend!