Alex Lifeson dominated the Rush news cycle this past week with his appearance at the 7th annual Scott Medlock-Robby Krieger Invitational Golf Tournament and All-Star Concert to benefit St. Jude Children's Research Hospital this past Monday at the Moorpark Country Club in Moorpark, CA. The event was hosted by sports artist Scott Medlock and legendary Doors guitarist Robby Krieger. Alex Lifeson is pictured in this photo from the KISS Facebook page with fellow attendees Patrick Warburton, Dan Dutton, Paula Trickey, Tommy Thayer and Alice Cooper. Alex also participated in an all-star concert the evening of the tournament where he performed a number of songs including Rush's Working Man (video) and The Spirit of Radio (video) with an all-star lineup including Krieger, Sebastian Bach, Tommy Thayer and many others. He also played on I'm a Man (video) and The Doors' Hello I Love You. More videos can be seen on YouTube here and there's also this recap and photo gallery of the concert from Concertologist.com.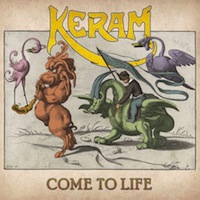 Alex also performed at the official CD release party for Canadian-born actor and musician Keram Malicki-Sanchez's Come to Life album last month at the Supermarket Restaurant and Bar in Toronto. Alex executive-produced the album and plays guitar on the 11-minute track The Devil Knows Me Well and also on Mary Magdalene. Earlier this week Keram posted a great quality video from the CD release party of Alex performing The Devil Knows Me Well with Keram's band which you can check out on YouTube at this location. There are also several photos from the event posted here. The album is available for digital purchase via a number of outlets including iTunes, Amazon, Bandcamp, and eMusic; and physical copies can be purchased via Amazon or via CDBaby.

And continuing with the Alex Lifeson news, hand-crafted acoustic guitar maker Loucin Guitars of Oakville, ON announced earlier this week that they've added Rush's Alex Lifeson as their newest client. They are currently crafting him a custom LD model made out of a beautiful Indian Rosewood set with tons of gorgeous sapwood as seen here. Loucin Guitars founder Garren Dakessian was featured in an InsideHalton.com article Wednesday where he talks about getting the opportunity to make a guitar for Lifeson:
... "I am a huge Rush fan. It was a dream to do something for Alex Lifeson," said Dakessian. "I heard about it last Thursday and I haven't slept since. My wife said to me, 'What are you, 12?'" ... "The band gets hundreds of offers a week. 'Use my guitar, my pedal.' I told him, I didn't want an endorsement. I just wanted to build him a guitar for his personal collection. He loved that idea." ...
You can follow their progress with the guitar on Twitter and Facebook and learn more about Loucin Guitars by checking out their website at loucinguitars.com.
Although it has been listed with an October 14th release date for some time now, Neil Peart's next book Far and Near: On Days Like These already began shipping from Amazon and other retailers earlier this week, and you can order your copy at this location. The book is a follow-up to Peart's 2011 book Far and Away: A Prize Every Time and is another collection of his NeilPeart.net blog posts since that last book was released. A limited edition hardcover version of the book was made available back in August but quickly sold out.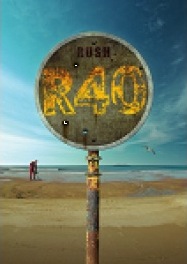 Last week Rush posted an official announcement at Rush.com regarding the planned November 11th release of their R40 40th Anniversary Collectors Box Set (6 Blu-ray discs or 10 DVDs). The set will include Rush's 5 most recent live videos (Rush in Rio, R30, Snakes & Arrows Live, Time Machine, Clockwork Angels Tour) along with an R40 bonus disc, all contained in a 52 page hardback book measuring 305mm x 225mm (12" x 9"). The bonus disc will include the Laura Secord Secondary School 1974 footage (the FULL show including the 2 unreleased tracks I've Been Runnin' and The Loser, along with their cover of Bad Boy), the Passaic, NJ Capitol Theatre show from 1976, Lock and Key live from 1988, Rush at the Molson Amphitheatre in 1997, the I Still Love You Man video from 2011 and the Rush portion of the Rock & Roll Hall Of Fame Induction in 2013. For complete details of what's contained in the set, just read the Rush.com press release. You can also check out this higher resolution image of the cover. The R40 box set has a slated release date of Tuesday, November 11th, and you can pre-order it on 6 Blu-ray discs or 10 DVDs. Along with the official press release announcement, the band also released a 1:30-minute trailer which you can check out at this location.


The fifth of six issues of the graphic novel version of Clockwork Angels was released last week and is now available for purchase. In addition to the standard cover that is available in comic and book stores, there is an exclusive, limited edition cover available via BOOM! Studios and the Rush Backstage Club. The first issue of the graphic novel was released back on March 19th and there were a number of different covers and subscription options made available as described in this post. The second, third and fourth issues are also available in both the standard and limited edition covers and can be purchased via the Rush Backstage Club, BOOM! Studios, Amazon.com, or your local comic/book store. The sixth and final issue in the series should be available sometime next month.
JamBase featured Black Prairie's bluegrass-inspired cover of Rush's Limelight for their Cover Alert series this past week (thanks Adam R):
Portland, OR's Black Prairie recently completed a tour in which they regularly performed their own inventive spin on Rush's 1981 hit "Limelight." The band, which features members of The Decemberists and plays acoustic-based instruments, aren't exactly the kind of act you'd expect to cover a prog-rock classic, yet they pull off "Limelight" with aplomb. Fiddle player Annalisa Tornfelt handles vocals on "Limelight" and is backed by the instrumentation of dobro, acoustic guitar, upright bass, drums and accordion. ...
Here's a YouTube video of the band playing the song during their recent set at the Bristol Rhythm & Roots Reunion. And speaking of Rush covers, Pittsburgh-based Rush tribute band Distant Signals is featured in this Cleveland Scene article leading up to the band's 5th anniversary show this Saturday at Brothers Lounge in Cleveland.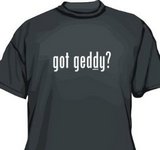 Scott Dalrymple, Ph.D., is the president of Columbia College in Columbia, Missouri and apparently is also a big Rush fan. The president recently made headlines (thanks Michael M) for offering to pay for students' text books for an entire year if they can beat him at the Madden 25 video game. He put forth the challenge in this video where he is proudly wearing a Got Geddy? t-shirt.
Craig Calcaterra of NBC.com's HardballTalk penned an article earlier this week titled Geddy Lee's baseball obsession makes it really hard for me to hate Rush:
I mean, I'll continue to hate Rush, as it's one of the organizing principles of my life.* But I can't hate Rush's lead singer and bass player, Geddy Lee. The guy just seems too genuine. And he love, love, loves baseball. ...
Speaking of Geddy, he made NOW Toronto's Music Notes Spotted column yesterday, where they reveal that Geddy was spotted having dinner with friends at DaiLo on College on Saturday night.
Ultimate Classic Rock posted their list of Rock's 10 Best Long Songs earlier this week and Rush's Cygnus X-1 Book I: The Voyage made the cut at #3:
While '2112' saved Rush's career and is viewed as the pinnacle of their '70s output, 'Cygnus X-1 Book I: The Voyage' is everything great about the band in a much more concise package. The sci-fi lyrics, about an interstellar explorer being sucked into a black hole, are as frightful as they are fanciful. The music, meanwhile, is as aggressive as any the band ever recorded. When Geddy Lee wails "Sound and fury drown my heart; every nerve is torn apart," you would swear you were on board the Rocinante as it was pulled into oblivion.
I mentioned in last week's Friday updates post that Rapper Pharrell Williams was seen sporting a Rush Test For Echo t-shirt at a recent concert at the Stockholm Globe Arena. One fan on the RIAB Facebook page managed to capture a photo of himself with Williams where he's sporting the shirt as seen here (thanks Will P).
Rush's Hemispheres made WBAB 102.3's list of Clunker Free Albums earlier this week - which they describe as albums where you can hit Play and let it rock your world until the very last note. You can check out the full list here (thanks RushFanForever).
Here's video of Alex Lifeson performing Working Man with Sebastian Bach on vocals from Monday night's Scott Medlock-Robby Krieger Invitational Golf Tournament All-Star Concert:
I'd mentioned in last week's updates post that I'd be implementing a new, more robust commenting system for RIAB which utilizes Disqus. The switchover took place this morning and the new commenting system is in place. The system I had in place was a bit outdated and clunky, so I think everyone will like this new system once they get used to it. It has all the bells and whistles of most modern-day commenting systems such as real-time updates, voting up/down of posts, integration with social media sign-ins, flagging, etc. It'll allow folks to use their existing social media logins (Facebook, Twitter, Google) to post on RIAB. All the old comments have been imported into the new system, and it will allow for you to link up your old comments with the new account based on email address if you so desire. To do this - after you sign in with whatever social media account you want to use - just go to your Disqus profile and Edit Settings. Then click on the Merging tab. The system will locate any existing RIAB comments which used your email address (assuming it's the same as your email for whatever account you signed in with) and ask you whether you want to merge these into your new account. These comments will then be listed as belonging to you from that point on. Don't be shy! Try out the new comments and let us know what you think. There are bound to be a few hiccups at first, so let me know of any issues you run into. Have a great weekend!