UPDATE - 9/21@10:53AM: Phil Simon has collected 40 questions for Neil and is asking fans to vote for the best ones. So go vote!
UPDATE - 9/20@11:02AM: I mentioned below that Phil Simon will be interviewing Neil Peart for a piece in the Huffington Post next week. Phil has asked fans to help him come up with a list of questions for Neil:
On Wednesday, I'll be interviewing Neil Peart of Rush, my favorite band. Our interview will run in The Huffington Post next Wednesday. I've drawn up some questions but would love to hear your suggestions. Just put them in the comments. I'll put the top six or seven up for a Wedgies vote and then create a poll. I'll ask him the two questions with the most votes, time permitting.
----- snip -----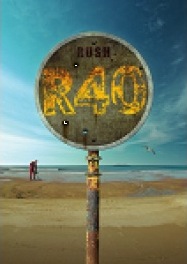 This past Wednesday Rush posted an official announcement at Rush.com regarding the planned November 11th release of their R40 40th Anniversary Collectors Box Set (6 Blu-ray discs or 10 DVDs) which we had first heard about via a SpincCDs listing last week. The announcement contained a few more details that hadn't been in the SpinCDs listing, such as the full track list for the Laura Secord Secondary School set, which will be the FULL show including the 2 unreleased tracks I've Been Runnin' and The Loser, along with their cover of Bad Boy. The set will include Rush's 5 most recent live videos (Rush in Rio, R30, Snakes & Arrows Live, Time Machine, Clockwork Angels Tour) along with an R40 bonus disc, all contained in a 52 page hardback book measuring 305mm x 225mm (12" x 9"). The bonus disc will include the Laura Secord Secondary School 1974 footage, the Passaic, NJ Capitol Theatre show from 1976, Lock and Key live from 1988, Rush at the Molson Amphitheatre in 1997, the I Still Love You Man video from 2011 and the Rush portion of the Rock & Roll Hall Of Fame Induction in 2013. Here are the bonus disc details:
Disc Six - R40 Bonus Disc

Laura Secord Secondary School 1974: 1) Need Some Love 2) Before and After 3) Best I Can 4) I've Been Runnin' 5) Bad Boy 6) The Loser 7) Working Man 8) In the Mood (partial)

Capitol Theatre 1976: 1) Bastille Day 2) Anthem 3) Lakeside Park 4) 2112 5) Fly By Night/In the Mood

Lock and Key 1988

Molson Amphitheatre 1997: 1) Limelight 2) Half the World 3) Limbo 4) Virtuality 5) Nobody's Hero 6) Test for Echo 7) Leave That Thing Alone/Drum Solo 8) 2112 (all seven parts)

I Still Love You Man 2011

Rock & Roll Hall of Fame Induction 2013: 1) 2112 featuring Dave Grohl, Taylor Hawkins, Nick Raskulinecz 2) Tom Sawyer (3) The Spirit of Radio
For complete details of what's contained in the set, just read the Rush.com press release. You can also check out this higher resolution image of the cover. The R40 box set has a slated release date of Tuesday, November 11th, and you can pre-order it on 6 Blu-ray discs or 10 DVDs. Along with the official press release announcement, the band has also released a 1:30-minute trailer which you can check out at this location. And speaking of Rush Blu-rays, CEPro.com Senior Editor Robert Archer recently reviewed SnapAV's Episode subwoofers and utilized Rush's Clockwork Angels Tour Blu-ray in his testing:
... LFE information was also impressive considering the subwoofer's comparatively small cabinet when placed against competitive 12-inch woofer models. The sub's speed was probably most evident during Rush's Clockwork Angels Blu-ray disc. In tandem with the B&Ws, the combination clearly delineated Geddy Lee's bass and Neil Peart's drums with nice separation and punch. ...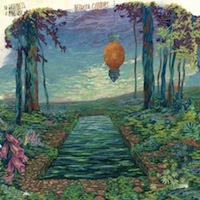 Alex Lifeson makes a guest appearance on Toronto-based folk rock trio The Wilderness of Manitoba's Between Colours album which was released this past Wednesday in Canada. The track that Alex plays on is titled Shift and you can give it a listen on SoundCloud at this location. Between Colours is now available in Canada and can be purchased in the US via import. The band will be having an album release party at Lee's Palace on October 16th in Toronto, and will be embarking on a month-long Canadian tour in support of the album on September 19th. Pop Matters posted this review of the album saying the following about Shift:
... There are guest stars from Canada's rock past on Between Colours, and none is bigger than the presence of Rush's Alex Lifeson shredding some solo guitar on "Shift". Even if you didn't know Lifeson was on this album, you would listen to the virtuoso guitar solo on the song and go, yep, that's Alex Lifeson. ...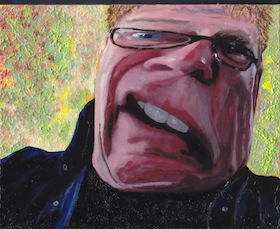 The Kidney Foundation of Canada has made available a limited edition, signed print of Alex Lifeson's A Brush of Hope painting from last year. Each of the 300 signed and numbered prints can be purchased for $250 CDN at this location (plus shipping and handling). Alex's painting for last year was a self portrait that ended up being sold for a whopping $7,600! Alex regularly participates in the auction and is an active supporter of the Kidney Foundation as seen here.

The 7th annual Scott Medlock-Robby Krieger Invitational Golf Tournament and All-Star Concert to benefit St. Jude Children's Research Hospital will take place this coming Monday, September 22nd at the Moorpark Country Club in Moorpark, CA. The event is hosted by sports artist Scott Medlock and legendary Doors guitarist Robby Krieger. Rush's Alex Lifeson will be among the many celebrities attending the tournament, and will also be participating in an all-star concert taking place that evening. The concert will also feature Krieger, Alice Cooper, Sebastian Bach, Tommy Thayer (KISS), Danny Seraphine (Chicago), David Sikes (Boston), Lita Ford and many others. For the all the details and ticket information, check out medlockkriegerinvitational.com.
Author, Rush fan, tech consultant, and RIAB reader Phil Simon tweeted out yesterday that he will be interviewing Neil Peart next week for a piece in the Huffington Post:
Looks like I'll be interviewing @Praetorianx1 for @HuffingtonPost next week.
Neil will likely talk about his upcoming book Far and Near, due out next month, along with the band's upcoming R40 box set release. Hopefully he'll also reveal some more details about the Clockwork Angels sequel Clockwork Lives that he's in the process of writing with Kevin J. Anderson, along with the band's plans for a 2015 tour. Speaking of Clockwork Angels, Woot.com is currently offering the Clockwork Angels: Watchmaker's Edition audiobook for the low price of $44.99. The sale is for 1 day only or while supplies last so get yours now (thanks Brent N). Also, Neil Peart was one of the drummers featured for Drum Heroes Week at MusicRadar.com this past week. The feature includes a photo gallery of Neil along with several snippets from past interviews. You can check it out online here.
There are also a couple of silly Neil Peart news items to report. According to CheeseNewsWire.com Neil will apparently be consulting the Green Bay Packers football team in order to help their offense find their rhythm. Also, The Soup posted this YouTube video of an enthusiastic church band drummer that's been making the social media rounds along with the following commentary (thanks barboy2112):
"Quick! Church starts in 20 minutes and we don't have a drummer! Who do we know who can drum in the background of a ballad?"

"I know a drummer from a Rush cover band."

"Get him in here!"
Rapper Pharrell Williams was seen sporting a Rush Test For Echo t-shirt at a recent concert at the Stockholm Globe Arena. You can check out a couple of photos in this Guardian article.
American alt-rock group Wheatus recently performed a show at the Gramercy Theatre in New York City on August 19th and performed a cover of Rush's The Trees as seen in this YouTube video (thanks Sean).
Reader Count Floyd let me know of a Rush mention on the most recent episode of Jim Rome's show on Showtime (Season 3, Episode 8). At about the 25 minute mark of the episode, the Sklar Brothers are riffing on the back dated National Hockey League where "They still play tons of Rush, and everyone has a mullet."
Here's the video trailer for Rush's R40 box set:
Some changes are in store for rushisaband.com in the near future. I'll be implementing a new, more robust commenting system over the next several weeks utilizing Disqus. The final switchover is likely at least a couple weeks away but I thought I'd give everyone a heads up. It'll allow folks to use their existing social media logins (Facebook, Twitter, Google) to post on RIAB. All the old comments will be getting imported into the new system, and it will allow for you to link up your old comments with the new account based on email address if you so desire. Disqus has all sorts of neat features built into it, so I think everyone will really like it. That's all for this week. Have a great weekend!