During his speaking appearance at RushCon this past Sunday, Clockwork Angels author Kevin J. Anderson broke the news that he is working on 2 new Rush-related writing projects. The first project is a new companion novel to Clockwork Angels titled Clockwork Lives (as in the plural of life) that he and Neil Peart are about a third of the way finished with. The book will feature minor characters from Clockwork Angels and expand on their stories. The other project he's working on is an anthology of Rush-based stories that he'll be co-editing with John McFetridge for ECW Press (publisher of Clockwork Angels and Neil Peart's books). They have a team of award-winning and bestselling authors lined up to contribute short stories based on Rush songs, with Anderson himself contributing a novella titled 2113. You can watch a short video of Anderson making the Clockwork Lives announcement on the RushCon Facebook page at this link. No further details or release dates are available at this time.


Guitarist John Wesley's latest album Disconnect released back in April and Alex Lifeson makes a guest appearance, playing a guitar solo on the track Once a Warrior. Wesley is best known to Rush fans as the touring guitarist for Porcupine Tree. A live video of Wesley and his band performing Once a Warrior - including Wesley's tackling of Lifeson's solo - can be viewed on YouTube at this location. Wesley is the subject of an interview feature by Anil Prasad in the upcoming October, 2014 issue of Guitar Player magazine. The feature includes a short sidebar interview with Alex Lifeson where Alex talks about his involvement with Disconnect. When asked why he wanted to contribute to the album Alex says the following:
I could tell that John and I shared the same discipline in our guitar playing in terms of context and content; that's evident throughout Wes' songs on the album. The dynamics employed in his songwriting, and the strong vocal and guitar performances on every track make Disconnect cohesive and meaty. It was a privilege to be a part of it.
The October, 2014 issue of Guitar Player should be hitting newsstands next week, but you can see some preview scans of the feature by clicking the thumbnails above. You can learn more about John Wesley by visiting his website or following him on Facebook, and you can order your copy of Disconnect here.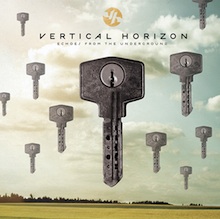 Vertical Horizon's latest album Echoes from the Underground released late last year, and Neil Peart plays drums on the tracks Instamatic and South For The Winter. You can check out a video of Neil Peart in the studio tracking Instamatic at this location. There's also some older video of Neil in the studio with the band from back in early 2012. Neil had also made a guest appearance on Vertical Horizon's 2009 album Burning the Days, playing drums on three of the tracks along with penning the lyrics for one. Vertical Horizon frontman and Neil Peart's good friend Matt Scannell was recently interviewed for Guitar Player (thanks RushFanForever) and spoke about what it was like to work with Neil:
... It's a testament to how incredible he is to be able to say that recording with Neil Peart, the legend, is actually just like recording with Neil Peart, one of your best friends. He's one of my favorite human beings. But what you quickly realize with Neil is that he's just a guy who has a job, and he's really good at his job. ... One thing people might not realize about Neil's drumming is how much he plays for the singer. It's uncanny how sensitive he is to the voice. He wants to build you up as a singer and build up the vocal performance. As the singer in the band, it's really incredible to hear him propel me forward and raise me up. "Instamatic," to me, is one of the greatest performances of his incredible career. It's a master class in rock drumming and I was thrilled beyond belief to have him appear on our record. ...
Speaking of Neil, former Rage Against the Machine and Audioslave drummer Brad Wilk was recently interviewed by Music Times and revealed his 5 favorite drum solos, one of which is Neil Peart's YYZ solo from Exit...Stage Left:
"I played that drum solo at my talent show in high school," Wilk said. "I think Neil Peart has such an incredible mind to have created that drum solo. It's an iconic drum solo! That's not an easy thing to do. Every piece of that drum solo is a beautiful piece of work, and is executed with mass precision. That drum solo probably meant more to me than all the other drum solos that we're talking about, because when I was 12 or 13 it was the first drum solo that I saw that made me say, 'I want to do that.'"
Billy Corgan (Smashing Pumpkins) is a huge Rush fan, as he demonstrated in the Rush documentary Rush: Beyond the Lighted Stage and in his speech at Rush's Hollywood Walk of Fame induction a few years back. Corgan was recently interviewed for the Chicago Sun-Times and discusses how Rush continues to inspire him (thanks Eric at Power Windows):
.... the Canadian rock giants [Rush] have taught him that "the right way to get older is no apologies, do your thing, and when you get out there, you can still walk off the stage feeling you're one of the best at what you do. You don't feel they're leaving anything on the table or phoning it in," he says. "That's the spirit that made you love them in the first place." ...
BBC Radio 2 has revealed their list of the Top 20 Greatest Guitar Riffs in musical history (in no particular order) as voted for by listeners, and Rush's The Spirit of Radio made the cut (thanks Runkerry).
Metro Weekly posted their list of the 50 Best Rock Albums of the '90s earlier this week and Rush's 1993 album Counterparts made the cut at #13:
Rush never really went away, but they did have a controversial synth-heavy period in the '80s that some fans love and some fans loathe. They'd gone back to a straightforward rock style with Presto (1989) and Roll the Bones (1991), but it was Counterparts, with those massive opening drums on "Animate," that got Rush fans really excited again. The album blasted all the way to #2 on the Billboard Album Chart, their highest placement ever. The hard-rocking single "Stick it Out" was major hit at rock radio, spending several weeks at the top, and the follow-up "Cold Fire" hit #2. Counterparts builds on the positive steps taken on Presto and Roll the Bones, and one-ups them with a whip-smart collection of songs that are - - of course - performed with Godlike precision. There is still nobody in rock today who can touch Rush for pure musicianship, and they've been doing it for 40 years. Amazing.
Listverse posted a list of 10 Artists You Didn't Realize Were One-Hit Wonders earlier this week and Rush topped the list (thanks Eric at Power Windows). Although initially this might sound like a slam on Rush, they actually praise the band for still being relevant after 40 years despite only having 1 top 40 hit:
... This Canadian prog-rock trio is fourth behind The Beatles, The Rolling Stones, and Aerosmith for the most gold and platinum albums by a band, yet critics were constantly all over their case for their pretentious, sci-fi themed lyrics and high-pitched vocals. But this scandal-free band never fell into the rock-and-roll stereotypes that plagued the longevity of countless acts before and after them. Rush's enduring popularity shows no indication that they only had one Top 40 hit.
And now we go from a perceived Rush slam to an actual Rush slam. Rush made Noisey's list of the 123 Worst Musicians of All Time, where they say that Rush is the soundtrack to being a f**king dork. Nice. Just for some perspective, The Beatles also made their list. I'd say this is probably the most mean-spirited and ignorant music list of all time. Thanks to Matt M for the heads up.
Hot Rod magazine is running a poll to determine the Greatest Car Song of All Time and Rush's Red Barchetta is one of the many choices provided. It's currently way out in front but if you haven't voted yet, you can vote here (thanks John at Cygnus-X1.net).
Ultimate Classic Rock posted their list of the Top 10 Nerdiest Rush Songs earlier this week, and 2112 came out on top with Subdivisions coming in at #2 (thanks LanceTheShred). You can check out the entire list at this location. And in celebration of Labor Day this coming weekend, they also ran a poll to determine which song better represents the working class hero; Styx's Blue Collar Man or Rush's Working Man. Rush is currently waaay out on top as you can see here.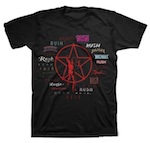 There are a couple of neat new Rush items available through Amazon to tell you about. Just in time for back to school, there's this cool new Rush Starman tin lunch box that I'd mentioned a couple weeks ago. These are selling fast so get one while you can; be cool or be cast out! Then there's this new Rush Logo Evolution t-shirt that showcases the band's name written with all of the various album logo fonts, surrounding the starman logo. You can grab one of these at this location (thanks John at Cygnus-X1.net).
The month of September kicks off this coming Monday, September 1st (also Labor Day). September was a HUGE month for Rush releases over the years so there are several upcoming anniversaries to mention including A Farewell to Kings (September, 1977), Roll the Bones (September 3, 1991), Hold Your Fire (September 8, 1987), Signals (September 9, 1982), Test for Echo (September 10, 1996), Caress of Steel (September, 1975), and All the World's a Stage (September 29, 1976). Neil Peart and his wife Carrie Nuttall also are celebrating an anniversary this coming month; they were married back on September 9, 2000. And we can't forget about Neil's upcoming 62nd birthday on September 12th! Have a great Labor Day weekend everybody!