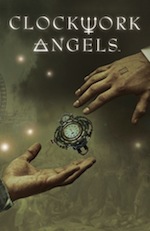 Summer is in full swing, and Rush is taking a break, so there's not much in the way of Rush news to report this week. Probably the biggest item of note was this past Wednesday's release of the third of six issues of the graphic novel version of Clockwork Angels. In addition to the standard cover that is available in comic and book stores, there is an exclusive, limited edition cover available via BOOM! Studios and the Rush Backstage Club. The first issue of the graphic novel was released back on March 19th and there were a number of different covers and subscription options made available as described in this post. The second issue was released on April 30th and is also available in both the standard and limited edition covers. According to a Boom! Studios representative, the graphic novel is supposed to be on a monthly release schedule but has seen several production delays.
MusicRadar.com posted an article earlier this week where they asked 40 well-known guitarists to name another guitarist who they count among their favorites and who is especially inspirational to them. Alex Lifeson named Dixie Dregs founder and current Deep Purple guitarist Steve Morse as a guitarist that he particularly admires:
... "I've come across many players over the years and I've learned a lot from a lot of players, but I think one of the most underrated players - and he's respected, but he just didn't get the recognition he deserved - is Steve Morse.

"I remember when we were playing with The Steve Morse band and he'd be there when we were there at soundcheck, at three or four o'clock in the afternoon, and I'd just watch him and he'd be wandering around the hall playing and warming up.

"They'd always play a different song every night for their soundcheck and he was just such an amazing player. He has such an amazing ability. I always thought that he should have been huge in whatever he did. He was definitely successful in whatever bands he worked in, but I don't think that he ever had the kind of recognition that he so deserved. So I'd have to say Steve Morse."
And speaking of Alex Lifeson, Satchel of the hair metal parody band Steel Panther was recently interviewed for MusicRadar.com and revealed Steel Panther's 10 Tips for Reaching Metal Glory. Coming in at #5 on his list was the very sage advice, Listen to Rush, and he had some kind words of praise for Lerxst:
"Lately I've been listening to Alex Lifeson from Rush. He's great. He's got a great tone. It's not heavy metal, it's more progressive rock, but everybody knows Rush. He's a great guitar player. Jeff Beck is great, he's not heavy metal but he's a great player with a really cool tone. He can do a lot with just one note and make it sound really cool."
Audio Fidelity's SACD version of Rush's Presto is slated for release this coming Tuesday, July 1st and is currently available for pre-order. This will be the 3rd Rush SACD release from Audio Fidelity; they've already released versions of both Counterparts and Hemispheres. Like these 2 previous releases, the Presto SACD was mastered by Kevin Gray at Cohearent Audio. You can pre-order your copy at this location.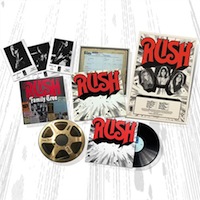 Rush celebrated the 40th anniversary of the release of their 1974 debut album with a special Rush ReDISCovered LP box set containing a re-mastered version of the album on 200g vinyl which released a couple of months ago. Prog magazine just opened up voting for their 2014 Progressive Music Awards and the box set is up for The Storm Thorgerson Grand Design Award. You can go vote for it at this location. And speaking of Prog magazine, they are also asking their readers to help determine the 100 Greatest Prog Albums Of All Time for an upcoming issue. They are asking folks to list their top 10 prog albums along with a sentence for each choice. For all the details visit the Prog magazine website (thanks RushFanForever).
Ready Player One is the critically-acclaimed, 2011 sci-fi book from author, self-described seventies/eighties protonerd and Rush fan Ernest Cline. Ready Player One makes reference to several bands/songs of the '70s/'80s including Rush, with a particularly significant reference to the 2112 album. The book is now one step closer to becoming a film with the news that Warner Brothers has hired comic book movie writer Zak Penn to rewrite the script so it can start being shopped around to a number of interested directors. It'll be interesting to see how many (if any at all) of the Rush references will make the cut in the final script. Thanks to Eric at Power Windows for the heads up.
Music Times posted their list of 7 Bands Whose Drummers Are Their Most Famous Member earlier this week and Rush came in at #1:
When a drummer becomes a band's most famous member, it's usually because they also sing, or were previously famous, or have a wild life off stage. However, Neil Peart has become the most famous member of Rush simply out of his sheer talents as a drummer, and nothing more. He also writes the band's lyrics, but only Rush fans and music journalists really know that.
The World Cup security team embarassed themselves this past week by inadvertently revealing their WiFi password after a photograph taken inside the security center, and showing the password on a whiteboard in the background, appeared in the newspaper Correio Braziliense. Written on the whiteboard was the SSID WORLD CUP with a password b5a2112014. Although the password is leet speak for Brazil 2014, Rush fans took note of the 2112 portion of the password.
This upcoming Sunday, June 29th is the 10th anniversary of the release of Rush's 2004, 8-song covers album/EP Feedback. The album features covers by 1960s-era bands that were influential to Rush such as The Yardbirds, The Who and Buffalo Springfield. The subsequent tour in support of the album was called the R30: 30th Anniversary Tour and here's the band's performance of The Who's The Seeker (track #4 on Feedback) from the R30 DVD:
That's all folks! Have a great weekend!