Last Thursday all three members of Rush were awarded Honorary Doctorate of Music degrees from Nipissing University in North Bay, Ontario. The band had planned to attend the ceremony but unfortunately their plane was forced to return to Toronto due to inclement weather. They then attempted to accept the awards via video, but that didn't work either due to technical issues. However, both Geddy Lee and Alex Lifeson did manage to record their acceptance speeches and post the video online (Geddy, Alex). Both Geddy and Alex hit the interview circuit late last week to discuss the honor and all the difficulties they encountered in trying to get there. There's this CBC Radio interview with Alex Lifeson, two separate radio interviews with Geddy and Alex from KISS 100.5, and this short interview with Geddy from the North Bay Nugget:
... [It is] very cool, I like it a lot," says Lee. "I can razz my son about it, who is a real doctor. He did it the hard way." ... "I'm very disappointed we weren't able to come," says Lee. "I was really looking forward to it. We asked 'why can't you drop us off at Sudbury?', but the pilot said we couldn't. By the time we got back it was too late for us to drive up." Lee also said was most disappointed about not being able to mingle with the students. ...
There's also this YouTube video of the Rush portion of the ceremony. So far Neil Peart hasn't posted any kind of acceptance speech, but I imagine he will at some point.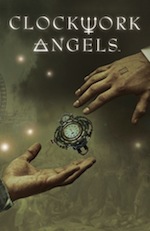 The third of six issues of the graphic novel version of Clockwork Angels is now available for pre-order and will release this coming Wednesday, June 25th. In addition to the standard cover that is available in comic and book stores, there is an exclusive, limited edition cover available via BOOM! Studios and the Rush Backstage Club. The first issue of the graphic novel was released back on March 19th and there were a number of different covers and subscription options made available as described in this post. The second issue was released on April 30th and is also available in both the standard and limited edition covers. According to a Boom! Studios representative, the graphic novel is supposed to be on a monthly release schedule but has seen several production delays.
Audio Fidelity's SACD version of Rush's Presto is slated for a July 1st release and is currently available for pre-order. This will be the 3rd Rush SACD release from Audio Fidelity; they've already released versions of both Counterparts and Hemispheres. Like these 2 previous releases, the Presto SACD was mastered by Kevin Gray at Cohearent Audio. You can pre-order your copy at this location.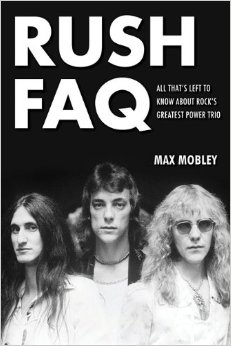 The new book from veteran music writer Max Mobley titled Rush FAQ: All That's Left To Know About Rock's Greatest Power Trio was released earlier this month. Mobley has written for a number of music magazines including Crawdaddy! and Premier Guitar, and has interviewed Rush guitarist Alex Lifeson twice. He's also a huge Rush fan and has seen countless Rush shows dating back to the A Farewell to Kings tour. The book comes in at 250 pages and includes a foreword from Donna Halper. You can check out a copy of the introduction in this post and read a couple of 5-star reviews of the book at Goodreads.com. Order your copy of Rush FAQ at this location.
We learned earlier this week that Alex Lifeson is one of the many Canadian celebrities that will be participating in the Smilezone Foundation's second annual charity golf tournament at Rattlesnake Point Golf Club next month on Monday, July 14th (Bastille Day!). You can get all the details in this article from insideHalton.com. Alex Lifeson is an avid golfer and is a part owner of Coppinwood Golf Club. For more information or to register for the event, visit www.smilezone.com. And speaking of Alex Lifeson and his charitable contributions, Alex is one of the 50 Canadians featured in the The Kidney Foundation of Canada's 50th Anniversary magazine. Alex shares his personal story of his father's struggles with kidney disease. You can read the magazine online at this location; Alex is featured on page 9 (thanks RushFanForever).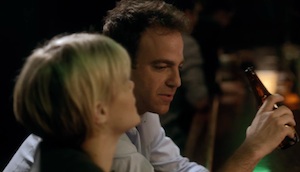 Return to Zero is a Lifetime original movie that first premiered on the network last month back on May 17th. The film is a drama written and directed by Sean Hanish and is based on a true story, where a successful couple named Aaron (Paul Adelstein) and Maggie (Minnie Driver) are expecting their first child, but their life gets devastated as they find that the child is dead in the mother's womb. About 40 minutes into the film the character Aaron is out at a bar with his female coworker Dana (Sarah Jones). Their conversation turns to a discussion about sex, which includes a bizarre reference to Geddy Lee. You can read the a transcript of the exchange in this post and watch it online at the Lifetime website. The Geddy Lee reference occurs at about the 40-minute mark and runs for a couple minutes.
Projection, Lights and Staging News (PLSN) announced earlier this week that longtime Rush lighting director Howard Ungerleider will be the 2014 recipient of the Parnelli Visionary Award. He'll be presented with the Award at the MGM Grand in Las Vegas on November 22nd. Congratulations Howard!

Reader RushMuppet let me know that Animal from the Muppets has his own official Spotify playlist and one of the featured tracks is Rush's YYZ. Animal is the drummer of Dr. Teeth and The Electric Mayhem, the fictional band from The Muppet Show.
Earlier this week WatchMojo.com posted a video where they run down their top 10 Rush songs. Not surprisingly, Tom Sawyer tops their list at #1. You can watch the countdown video at this location.
The Guardian's The Observer posted their list of The 10 best ... metal bands today and Rush made the cut at #4:
Polar opposites to AC/DC's monomania, Canadian trio Rush have ceaselessly evolved throughout their 40-year career, tend towards intricate musical arrangements, and have never shied away from Big Concepts in their lyrics. Indeed, the premise underlying the title track of their 1976 breakthrough album, 2112, so closely resembles the plot of Anthem by neocon poster girl Ayn Rand that NME denounced the band as "crypto-fascists". As much prog-rock as metal in the 70s, they alienated some of their more puritanical fans the following decade with their extensive use of synthesisers. Frontman Geddy Lee has such a distinctively high-pitched singing voice that Pavement once wondered whether "he speaks like an ordinary guy". Apparently so.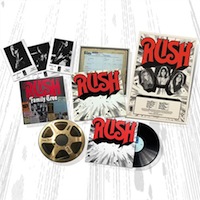 Max Webster frontman/founder and Q107 DJ Kim Mitchell posted a video to the Q107 website Monday where he unboxes Rush's recently released Rush ReDISCovered LP Box Set which celebrates the 40th anniversary of the release of Rush's debut album. He's been playing tracks off the LP on-air all this past week. Max Webster were early touring and label mates of Rush, and collaborated with the band for the track Battle Scar off of Max Webster's 1980 album Universal Juveniles. You can check out the video below or on YouTube at this location. If you haven't already, you can order your copy of Rush ReDISCovered here.
That's all for this week. Have a great weekend everyone!