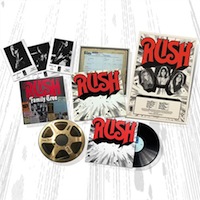 Earlier this week we learned that Rush would be celebrating the 40th anniversary of the release of their debut album with a special Rush ReDISCovered LP box set containing a re-mastered version of the album on 200g vinyl, along with several other extras. From the Rush.com press release:
... To mark the band's 40-year recording career, on April 15, 2013, Universal Music Enterprises (UMe) will celebrate with the vinyl reissue of the original Moon Records (pre-Mercury) release of Rush, as part of Universal's reDISCovered vinyl series. Housed in a sturdy, custom box with a lift-off top, this landmark album is pressed on 200g, audiophile grade vinyl, from the original 1974 analog stereo masters, cut to copper plates using the Direct Metal Mastering (DMM) process at the legendary Abbey Road Studios. Rush also features the original Moon Records jacket art, complete with the original MN-100-A/B Matrix etching, and will include a 16″x22″ reproduction of the first Rush promo poster, three 5″x7″ lithographs of Geddy Lee, Alex Lifeson and John Rutsey, a 12″x12″ Rush Family Tree poster, and a digital download card for a free digital copy of this newly remastered release. ...
You can check out a photo of the box set contents here and pre-order your copy at this location.
The month of March (exact date unknown) marks the 40th anniversary of the Moon Records release of Rush's debut album. Undoubtedly the biggest hit from that album was the closing track Working Man - the song that ultimately broke the band in the US back in 1974. So it was very timely that American Idol finalist Caleb Johnson decided to choose this very song for his Home Week performance on this past week's episode. In the beginning of his segment Caleb explains why he chose Rush's Working Man, telling stories about his hometown and the personal relevance of Rush and the song to him. He concludes his segment by saying that, I'm really excited and thrilled to sing some Rush on American Idol. He then gets introduced by Ryan Seacrest and reiterates that Rush is his favorite band of all time. He then belts out a truncated, 2-minute version of the Rush classic that the judges really liked for the most part. Here's the video including the intro segment and judge's remarks, and here's the higher-quality, official YouTube video of just the performance. Lyndsey Parker at Yahoo! TV had many great things to say about the performance and the judge's responses:
Last week, Caleb professed his love for Rush. That had me stoked, but I still never thought I'd hear a Rush song on "Idol." Ever. I just didn't think the powers-that-be would allow it, or Rush would clear it, or Caleb would take the risk. But this week, Caleb surprisingly took on Rush's "Working Man" - and he worked it, all right. I would have preferred "Tom Sawyer" or "Red Barchetta," but hey, it was A RUSH SONG ON "AMERICAN IDOL," belted with full-gale force, ending with a dramatic collapse to the floor, so I sure wasn't going to complain here. This was kind of awesome. I just wish Harry had thought so. Harry called the performance "predictable," despite the fact that, like I just said, I doubt anyone had ever predicted there'd be a Rush cover on this show. Harry also blasted Caleb for being too "consistent," which made no sense. What's wrong with Caleb being consistent, if he's consistently awesome? Thankfully, Keith and J.Lo were kinder. Keith told Caleb, "You're seriously one of the best singers I've heard in a long, long time," and Jennifer said, "I love you. You're what I've been waiting for all night." Now please excuse me while I (wait for it) rush to my phone to vote 50 times for Caleb.
Dave Holmes at Vulture magazine also chimed in with some comments of his own about Caleb's performance:
Rush! On American Idol! Weird, wonderful things are happening this season. Caleb is definitely the most committed to putting on a show, and he gives "Working Man" the big-personality treatment that Geddy Lee never could. ...
And here's a post-show interview with Caleb where he responds to the judge's comments and talks about his love of Rush.

In keeping with the Working Man theme, reader Brian let me know of a Rush reference in Marvel Comics Night of the Living Deadpool issue #2, which was released back on January 29th. In one scene Deadpool hums a couple of lines from Rush's Working Man as shown in this scan. And reader rushfanben let me know that Scandinavian metal band Grace.Will.Fall will be releasing a new album later this month titled No Rush. The album's cover is a tribute to Rush's debut album and uses the same Rush explosion font and background, spelling out the band's name. You can check it out on the band's website here.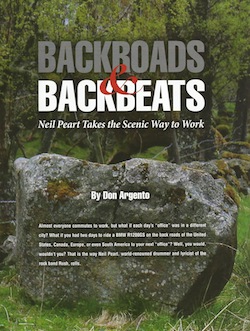 Neil Peart is featured in the March, 2014 issue of the BMW Owners News (BMW ON) for an interview feature conducted by Don Argento titled Backroads & Backbeats: Neil Peart takes the Scenic Way to Work. In it Neil Peart talks about his habit of traveling by motorcycle between shows on Rush tours, and why he prefers BMWs:
... Peart doesn't really love motorcycles as objects, but more like what Melissa Holbrook Pierson called "The Perfect Vehicle." He considers one motorcycle, his GS, to be all he needs. He turns them over every 50,000 miles, selling them to friends, and all are accounted for. He calls them the "GS Geezers," and is now riding "Geezer 7." What's so significant about 50,000 miles? He explains, "For me it's kind of the benchmark. Like cars, motorcycles have an arc. For a two-cylinder motorcycle to have a trouble-free 50,000 miles is pretty admirable to me." ...
He goes on to describe how he got into motorcycling in his 40s and goes over his typical daily routine when traveling on tour. John over at Cygnus-X1.net has transcribed and scanned the entire article and made it available online here.


A few weeks ago Boom! Studios released previews of 3 separate covers for the inaugural edition of the 6-part Clockwork Angels graphic novel series due out later this month. Last night Kevin J. Anderson posted an update to his blog explaining all the various covers that will be made available, including a couple of others that were not included in the Boom! Studios release:
BOOM! Studios will release the first issue (of six) of CLOCKWORK ANGELS: The Graphic Novel, scripted by me and with art by Nick Robles in a few weeks. The comic will debut at Emerald City Comic Con in Seattle on March 28, with a special exclusive cover for ECCC. There will be three variant covers in comic stores, an exclusive cover for the rush.com and BOOM! websites, and a limited cover for distribution with the Larry's Comics chain. All copies are about $4 retail.
The Boom! Studios press release previews look to have been the 3 A, B and C variant covers that will be available in comic stores. These can be pre-ordered via the Boom! Studios website here, as can the special, exclusive lyrics cover for the rush.com and BOOM! websites. There's also an exclusive Larry's Comics special cover, along with the Emerald City Comic Con cover here. Anderson also noted that the paperback release of Clockwork Angels: The Novel will be available on May 13th with a new Headlong Flight cover by Hugh Syme, and can be pre-ordered here.
Speaking of Kevin J. Anderson and Hugh Syme, this May ECW Press will release a special 25th anniversary paperback edition of his first novel Resurrection Inc., which was inspired by Rush's Grace Under Pressure album. This edition will include an extensive new introduction and afterword by Anderson along with a new cover by Hugh Syme. The book will release on May 13th and can be pre-ordered at this location.
Dustin Petzold at the sports blog Crooked Scoreboard wrote an article earlier this week titled Let's Start a Band: Sports Edition where he puts together a fictional band of well-known sports figures. Because of his baseball mega-fan status, Geddy Lee is assigned the bass guitar duties. Keeping on the baseball theme, reader The Clansman 2112 wanted me to let you all know that a few spots are open for his annual rushisaband Fantasy Baseball League. It's a 20 Team Roto League where they don't play for money - just for fun and bragging rights, so it's free to join. If you are interested email him at elwood2000@hotmail.com.
Laura Mazzuca Toops at National Underwriter website propertycasualty360.com recently wrote an article discussing driverless cars and their implications relating to the insurance industry. The article is titled Insuring the Red Barchetta and it opens up with a quote from Rush's Red Barchetta. You can check it out online here (thanks Don L).

Apparently internet cat sensation and YouTube star Lil BUB is a Rush fan as can be seen in this recent video. The video is from Lil BUB's winter cabin and there's a framed Rush picture hanging on the wall as shown here (thanks Rick L).
Andy Greene at Rolling Stone wrote a short piece for RollingStone.com earlier this week where he took a look back at Rush's emotional live return from their 5-year hiatus at their June 28, 2002 Hartford show.
The opening night of Rush's 2002 summer tour was perhaps the most emotional gig in the group's long history. The prog trio spent the previous five years in a state of suspended animation while drummer Neil Peart dealt with the devastating emotional aftermath of the loss of his wife and teenage daughter in the course of a single year. ... It was unclear if he'd ever want to play music again, but in early 2001 Peart was in a much better place with the help of his new wife, photographer Carrie Nuttall. ... Rush fans from all over the world flocked to the amphitheater to see the show, and some were in tears before it even started. The removal of a tarp from Peart's drum kit even caused thunderous applause. The show was a tremendous success and they've worked steadily ever since. ...
Here's Caleb Johnson's performance of Working Man from this past week's American Idol including the intro segment and judge's remarks:
That's all for this week. Have a wonderful weekend everybody!