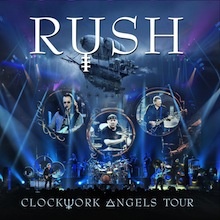 Rush's Clockwork Angels Tour CD/DVD/Blu-ray was released back on November 19th and debuted at #1 on the Billboard Video charts, with the CD debuting at #33 on the Billboard 200 Album Chart. The film had a one-night theatrical premiere across North America the night before its release, and 2 weekends ago it had its television premiere on VH1 Classic and Palladia. The TV version will be re-broadcast periodically over the next few weeks, so check your cable/satellite listings if you want to catch it. You can order your copy of Clockwork Angels Tour at this location (DVD, Blu-ray, CD). Rush is also offering a limited edition deluxe package exclusively available at the Rush Backstage Club for $99.99. Clockwork Angels Tour is also available for digital purchase on iTunes, and is available on Spotify and other online streaming services as well. The album made TMakWorld.com's list of the top 10 rock albums of 2013, coming in at #8 (thanks RushFanForever).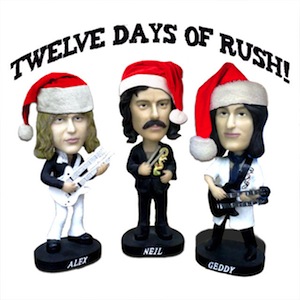 Rush announced yesterday that they'll running a 12 Days of Rush holiday promotion where they'll be giving away prizes each day from today on through Christmas. From the Rush.com newsletter:
Happy Holidays to all of our RUSH fans! We are getting in the holiday spirit and giving you 12 Days of Rush. Starting Friday December 13, we will be giving away a special RUSH prize each day until the 24th. What will be decking the halls? Check back on Rush.com, @rushtheband on Twitter or Rush on Facebook each day from December 13th to the 24th to see what new prize will be unveiled. Prizes may include a new RUSH DVD, a set of Bobblehead dolls or even something rare and collectible!

Since you're getting this email, you are already included in the list for the draw each day. However, we kindly ask you to update your info here so we can be better at sending area-specific emails to you for specific shows and events. Rush mailing list: http://www.rush.com/email/. Winners will be chosen at random. Please note, you only need to sign up once to be in the drawing each day. Good luck! ...

Back on Friday, November 29th Rush partnered with independent retail outlets to sell an exclusive 10" picture disc single of The Garden for a Record Store Day sponsored Black Friday event. The disc features artwork from the animated screen projections shown during the song's performance on the Clockwork Angels tour and includes both the studio version of the song and the live version from the Clockwork Angels Tour live release. The disc sold very well and if you missed getting a copy for yourself, there are plenty available for sale on Amazon and other online sellers. Ultimate Classic Rock included the single on it's list of the top 10 songs of 2013, coming in at #3:
This intricate, impressively warm ballad from 2012's 'Clockwork Angels' was given new life this year as a Black Friday 10" single, which in our books (and by your demand) makes it eligible for this year's list. As you can see from the video below, it's also the perfect showcase for the real-life string section the trio brought along on its most recent tour.
Alex Lifeson sat down with MusicRadar.com last month for a multi-part video interview to discuss Rush's Clockwork Angels Tour release, among other topics. They posted part one of the interview where Alex discusses the Clockwork Angels Tour video back on November 29th, and posted part 2 of the interview earlier this week. In this second part of the interview Alex talks about his current guitar set-up and designing his Gibson signature. You can watch the entire 7-minute interview on YouTube at this location.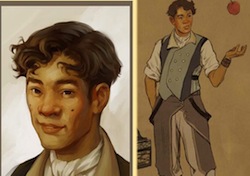 A few weeks ago Clockwork Angels: The Novel author Kevin J. Anderson announced plans via his blog for a graphic novel version of the book he co-wrote with Neil Peart. USA Today ran an article in Wednesday's edition containing some more details about the graphic novel including a sample of artist Nick Robles' character designs for the novel's young protagonist Owen Hardy, and some comments from both Anderson and Peart. The comic will be released as a six-issue Boom! Studios miniseries beginning next March. You can read the entire article online here.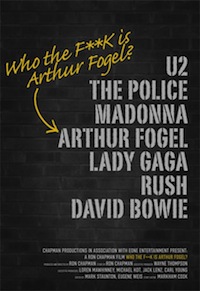 Canadian concert promoter Arthur Fogel is the subject of the documentary Who the f**k is Arthur Fogel?, which released earlier this year. Fogel - a musician himself - is the President of Global Touring and Chairman of Global Music for Live Nation and is widely credited for revolutionizing the global concert touring industry with his hands-on approach. This Ron Chapman documentary features an in-depth interview with Fogel, as well as an appearance by Geddy Lee and many other artists including Bono, The Edge, Sting, Andy Summers, Madonna, Lady Gaga, David Bowie, and many more. It also includes many rarely seen concert performances including some footage of Rush. The film was screened at several Canadian film festivals earlier this year and will get its television premiere on EPIX next month on Wednesday, January 29th. You can check out the film's trailer at this location. The trailer doesn't include any interview footage with Geddy, but does contain some flashes of Rush in concert. Speaking of concert promoters, Rich Engler has published a new book titled Behind the Stage Door: A Promoter's Life Behind the Scenes. The book contains stories from Engler's career as a Pittsburgh-based concert promoter, and includes over 300 photos, posters, and admats from his personal collection. The book also includes a foreword by Rush's Alex Lifeson which you can check out here, and Engler also tells a story about one of Rush's 1975 Pittsburgh shows opening for KISS at the Stanly Theatre. For more information and details on how to purchase the book, visit Engler's website here.
An online campaign was kicked off earlier this week with the aim of convincing Google to celebrate the 40th anniversary of the March, 1974 release of Rush's debut album on Moon Records with a Google Doodle. Google periodically celebrates certain historic events by modifying the logo on their home page in some fashion to celebrate the given event. To let Google know that you support the idea and to share your ideas for the Doodle, just send them an email at proposals@google.com.
Reader Glen R recently saw Norwegian six piece heavy metal band Kvelertak in concert and noted that one of their guitarists (Bjarte Lund Rolland) was sporting a Rush t-shirt.
Photographer Deirdre O'Callaghan is putting together a new book called The Drum Thing containing collections of photographs and interviews with some of the drum world's biggest names including Neil Peart. O'Callaghan is appealing for funding to finish off the project through a Kickstarter campaign located here. In addition to helping to get the book into production, your pledge will get you some cool extras including launch invites, signed swag and more, depending on how much you contribute. For all the details check out the Kickstarter campaign page.
A week ago Michael J. Nelson of MST3K fame tweeted out the following request:
Could someone make a supercut of every instance of "salesman" in Glengarry replaced with Geddy Lee' s from Spirit of the Radio? Thanks.
... and someone obliged him with this video (thanks NorthwestOfPegasus). The video even got the attention of UPROXX.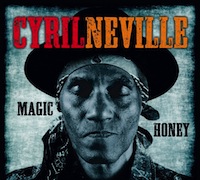 Cyril Neville is the youngest member of the Neville Brothers - the legendary first family of New Orleans R&B - and back on September 10th he released a solo album titled Magic Honey that includes a bluesey cover version of Rush's Working Man. Earlier this week he released an official video for the song which you can check out below or on YouTube here. Neville's son turned him on to the song and he's been closing out his live shows with it as he describes here:
... "My son Omari turned me on to that song," says Neville. "It wound up on my CD Magic Honey, and now we do it in the Royal Southern Brotherhood, closing out the show every night. We've been rocking houses from one end of Europe to the other with it." ...
You can order your copy of Magic Honey here. It's also available on iTunes as well, and you can purchase the Working Man track individually for download here.
That's all for this week. There's only 12 more shopping days until Christmas! Have a great weekend!