UPDATE - 11/30@8:59PM: One other note about one of the special features on the DVD/Blu-ray - the Family Goy parody of Family Guy was NOT a Seth McFarlane creation. He had nothing to do with it actually; it was created and written by Rush and their production team.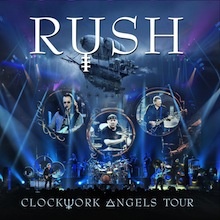 I hope all of my US readers had a happy Thanksgiving yesterday and are surviving Black Friday. Speaking of which, Rush is partnering with independent retail outlets to sell an exclusive 10" picture disc single of The Garden for a Record Store Day sponsored Black Friday event today! The disc features artwork from the animated screen projections shown during the song's performance on the Clockwork Angels tour and includes both the studio version of the song and the live version from the Clockwork Angels Tour live release. Just check the Record Store Day website for a list of participating stores. Rush's Clockwork Angels Tour CD/DVD/Blu-ray was released last week on Tuesday and the video has debuted at #1 on the Billboard Video charts, with the CD debuting at #33 on the Billboard 200 Album Chart! The film had a one-night theatrical premiere across North America the night before its release last week, and it will also be getting a television premiere on VH1 Classic and Palladia this coming Sunday, December 1st at 9PM. This television cut will likely just consist of the same 2nd set concert footage that was shown in theaters and not include the Can't Stop Thinking Big documentary. You can see the official trailer for the film here and order your copy at this location (DVD, Blu-ray, CD). Rush is also offering a limited edition deluxe package exclusively available at the Rush Backstage Club for $99.99. Clockwork Angels Tour is also available for digital purchase on iTunes, and is also available on Spotify and other online streaming services. A few videos from the DVD are available for viewing on YouTube including Subdivisions and The Garden. Some more reviews of the release continue to roll in including this one from Louder Than War (thanks hannuFIN) that gives it a 10/10, another from Paul Semel who gives it a 7.5, this one from Progarchy.com, and this one from Premier Guitar gives it 3.5 stars. For my current poll I'm asking everyone what aspects of the DVD/Blu-ray they like. Please take the poll and let us know. Most fans have already discovered one Easter Egg on the DVD where if you click the up arrow on any of the selections on the main menu, you'll see some footage of Alex Lifeson telling a joke to kill some time during a live show. Reader Mike S also noted that the default audio setting on the Blu-ray is set to Dolby 2.0, so if you have 5.1 audio equipment you'll have to manually set it to Master Audio DTS to take full advantage of the 5.1. For the first of what is likely to be many awards garnered by the Clockwork Angels Tour live release, Rush video director David Davidian was awarded the Parnelli Award for Video Director of the Year this past weekend for his work on the video.
Geddy Lee and Alex Lifeson continued on the interview circuit this past week promoting the Clockwork Angels Tour release. Alex Lifeson spoke with the Dallas Morning News for an interview where - in addition to discussing the DVD - he reminisces about Rush's first show in Dallas back on October 17, 1974 at the Travis Street Electric Company. Alex also appeared on the Prog Magazine Show on TeamRock Radio with Philip Wilding earlier this week. That interview is available for listening online at SoundCloud. And just this morning MusicRadar.com posted a 5-minute video interview with Alex which you can check out here. Geddy Lee was the guest on Sirius XM's Classic Vinyl earlier this week for a special Thanksgiving interview special titled Classic Vinyl Influences with Geddy Lee. In the interview Geddy remembers 10 classic rock songs that were influential to him and his career as a bass guitarist. He plays tracks from the Yardbirds, John Mayall and the Bluesbreakers, Jefferson Airplane, Cream, Yes, Jethro Tull, Led Zeppelin, The Who, Pink Floyd, and Genesis. Reader Matt M recorded the interview portions of the show and made it available online on YouTube.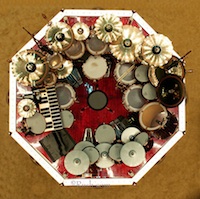 Just like they did last year, the official Rush tour photo gallery website at photos.rush.com is once again offering customizable, 4x8 Rush Christmas cards from now through the Holidays. Simply go to photos.rush.com, choose a photo and click on the Buy link for it - then choose the Create a Card option. You'll then be able to customize your card with the photos available on the site along with a personal message. There are dozens of different holiday templates to choose from. And due to popular demand, John Arrowsmith's aerial photo of Neil's drum kit is now available on the site for purchase at this location.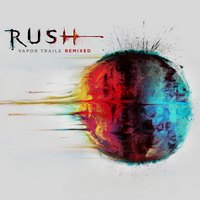 Rush released their long-awaited remix/remaster of Vapor Trails back on September 30th. Paul Semel gave the CD an 8/10 in his review of the CD which you can check out online here. You can order the Vapor Trails remix on CD or on 180g vinyl, and order the Atlantic-era The Studio Albums 1989-2007 box set (which also contains the remix) here.
The 13th annual RushCon Rush fan convention took place this past summer in Toronto. The folks at RushCon posted a great recap of this year's convention yesterday at RushCon.org, including commentary and a bunch of fantastic photos. Check it out here.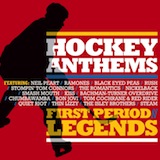 A new compilation album called Hockey Anthems was released this past week in Canada (thanks RushFanForever). It's a 2-disc set of well-known tracks associated with hockey. The 1st disc is titled 1st Period: The Legends and features all the classic hockey songs that fans know and love including Rush's The Spirit of Radio, and Neil Peart's interpretation of the iconic Hockey Night in Canada theme as heard and seen on TSN. The 2nd disc is titled 2nd Period: The Rookies and features newer songs from a stellar cast of current artists.
Drummer Greg Critchley once played drums for the house band at Alex Lifeson's Toronto club The Orbit Room. He now resides in Hilton Head and was recently interviewed by the Hilton Head Monthly:
... Greg was selected to join the house band at the Orbit Room in Toronto, where he partnered with hall of fame guitarist Alex Lifeson of Rush. ... A favorite stage memory is captured in photograph in his office of him playing the drums with Geddy Lee and Alex Lifeson of Rush. "You've got to understand that growing up in Toronto and being a kid who played drums, all I dreamed about was one day being good enough to sit in and play with Neil Peart," Critchley said. "I was fascinated by him as a kid." In high school Critchley's parents allowed Greg and his older brother Rob to transform their basement into a practice studio where the band played nearly every day. "We played so much that we actually got pretty good," Critchley said. He shared a story of the band learning to play Rush songs, and then inviting Neil's younger sister over to the house to watch them play. "I don't know if Neil ever knew that or not. If so, he never said anything and I've never asked him." "It went further than him being a great drummer. We were both from Niagara and my mom was his teacher in school. There was that sense that if he came from there and made it that maybe I could too." Gesturing again toward the photograph of playing Neil Peart's drum set, Greg said, "When I finally had the chance to play with him I was so excited I didn't sleep for three days." ...
The Sun Sentinel published a story earlier this week on the 25th anniversary of the closing of iconic South Florida arena the Hollywood Sportatorium. The article mentions a story involving a Rush gig at the arena back in 1981 (thanks Sean):
... One show his friends saw but he didn't was the Rush concert on Nov. 28, 1981, when, after the Sportatorium failed to open on time, the Canadian trio's fans went berserk. "The Rush incident is probably the most famous of all Sportatorium moments, the riot," Landa says. "Apparently, [Rush drummer] Neil Peart was late because he was watching a baseball game. They wouldn't open the doors, so people were jumping over the walls." By the time it was over, Hollywood police reportedly had tear-gassed the crowd, the concertgoers had returned fire with rocks and bottles, and 11 officers had been injured. ...
The Hollywood Sportatorium Wikipedia page makes reference to this incident, but doesn't specify the exact reason Neil was late. From other accounts regarding it, Neil was on vacation in the Bahamas and missed a connecting flight.
The Jewish holiday of Hanukkah kicked off this past week and to celebrate, VH1 posted their list of 20 Headbanging Hebrews, one of whom is Geddy Lee:
Though he is not religious per se, Lee's spoken about the importance of his Jewish heritage and is the child of Polish concentration camp survivors.

Jammit! has added La Villa Strangiato to the long list of Rush tracks already available for the Jammit! app which includes nearly the entire Moving Pictures album, Closer to the Heart, 2112, and Headlong Flight. For more information and to listen to some demo tracks, visit the Rush page at the Jammit website. The Jammit app is available for both the iPhone and iPad, as well as for Mac and PC.
Rush sound engineer Rich Chycki was recently interviewed for a feature on the Universal Audio website to talk about the UA hardware he uses (thanks Paul V). He also talks a little about working with Rush, and there's a quote from Alex Lifeson included in the article:
"Rich and I both have a long history of using UA gear, and we continue to share our many analog units with each other. In the studio, Rich's knowledge of the ins and outs of analog devices is deep and very creative. Using UAD plug-ins has made any transition from demo to the final stages much more convenient. Not only am I able to provide a clearer presentation of the sounds that I might have in mind, it also saves a great deal of time." - Alex Lifeson
A new digital music magazine called Loudnezz was recently launched, and the inaugural issue contains a few items of interest to Rush fans. There's a review of the new Rush: The Studio Albums 1989-2007 box set, and Rush's Clockwork Angels is included in the magazine's Top Ten Progressive Rock Concept Albums article. Author Rob Mallory has the following to say regarding the album:
... There are moments I take away a clear "Signals" era vibe, and others where the band is treading completely on new territory. Quite impressive for a band that have been in the game as long as Rush have. ...
Rush's Counterparts was included in Ultimate Classic Rock's list of the Top 10 Albums of 1993 (thanks ou812112). It came in at #10 and here's what they had to say:
Music had undergone some rather radical changes in the time between Rush's 1991 album 'Roll the Bones' and 1993's 'Counterparts.' The earlier record was released just as grunge was in its pop-chart infancy -- Nirvana's landmark 'Nevermind' album was released just weeks after 'Roll the Bones.' 'Counterparts,' on the other hand, hit shelves in the middle of grunge's heyday. Whether directly or indirectly inspired by the music emerging from the Pacific Northwest, Rush delivered one of the most straightforward rock albums of their career.
Here's Alex Lifeson's MusicRadar.com interview from earlier this morning:
That's it for this Black Friday edition of the Friday Rush updates. Safe travels and have a great weekend everybody!