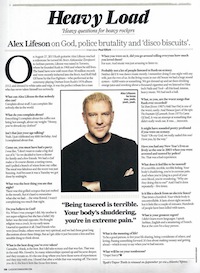 Alex Lifeson is featured in the new issue of Classic Rock Magazine (issue #190, November 2013) for their Heavy Load feature column. The column is billed as heavy questions for heavy rockers and Alex tackles such heavy topics as drugs, religion, getting tasered and what he thinks are the worst Rush songs:
Tai Shan [from 1987's Hold Your Fire] is one of the worst, easily. And Panacea [part of the epic The Fountain of Lamneth, from 1975's Caress of Steel]. It was an attempt at something that didn't really work out. It was ... innocent.
Alex also tells a great story about taking the drug ecstasy with his wife, and when asked what will be written on his tombstone he replies, Oops! Sorry!. You can read a scan of the entire 1-page interview here. The November, 2013 issue of Classic Rock has started hitting subscribers mailboxes and should be on sale at newsstands later next week. Thanks to Geoff C for the heads up and scan.