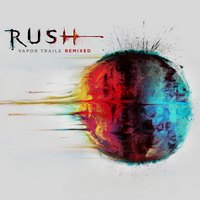 Not surprisingly it was a very slow week for Rush news as Rush and their fans recover from their collective Clockwork Angels tour hangover. The biggest news item on the immediate radar remains the upcoming October 1st release of the long-anticipated Vapor Trails remix along with the Rush: The Studio Albums 1989-2007 box set. Not too long after that - likely just in time for Christmas - we should be seeing the release of the Clockwork Angels concert video, although we're still waiting on a hard release date for that. There's also Audio Fidelity's SACD version of Rush's Hemispheres which will release a week from Tuesday on September 3rd. Eric over at the Power Windows website has added a wallpaper for the Vapor Trails Remixed edition, as well as eight images from the Clockwork Angels Watchmaker Edition to his Desktop Wallpaper gallery.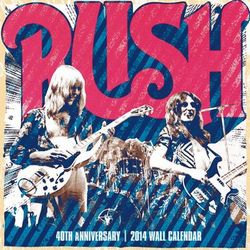 The official Rush 2014, 40th anniversary wall calendar from NMR Distribution is now available for purchase via Amazon and other retailers. The 2014 calendar celebrates next year's 40th anniversary of the release of Rush's first album back in 1974. The cover art includes the Rush explosion logo from the band's eponymous 1974 debut in the background with an early, 70s-era live photo of the band superimposed in the foreground with the words 40TH ANNIVERSARY | 2014 WALL CALENDAR. John over at Cygnus-X1.net has scanned all the images from the calendar and made them available online at this location. You can order your calendar today at this location.
Rush's Clockwork Angels album was recently awarded Gold certification by Music Canada on June 27th, 2013. To obtain Gold certification in Canada an album must sell at least 40,000 units. Clockwork Angels still has not received Gold certification in the US where an album needs to sell at least 500,000 units. Rush's last studio album to receive Gold certification in the US was 1996's Test For Echo, and Roll the Bones was given Platinum certification back in 2001. No Rush studio albums have been certified in the US since then, although several Rush videos and compilations have. However, with all the reissues in recent years including the Sector box sets, the recent Atlantic-era reissues (the digital version has already been released) and the deluxe editions of 2112 and Moving Pictures, it's likely that sales of Rush's back catalog have greatly increased in the past few years. As I'd reported last week it looks like Rush has finally requested recertification of most of their back catalog. So we may be hearing of more Rush certifications in the near future.

Speaking of the Clockwork Angels album, Roadrunner Records will celebrate its 30-plus year legacy as one of the most highly regarded record labels in heavy metal and hard rock music history by releasing a 4-CD box set titled XXX: Three Decades of Roadrunner Records on October 1st. One of the tracks included on the set is Rush's Headlong Flight off of last year's Clockwork Angels album. Rush signed with Roadrunner Records back in August of 2011 and Clockwork Angels was their first album released with the label.
Author and music journalist Martin Popoff's new illustrative history of Rush titled Rush: The Illustrated History was released back in May. Popoff will be making an appearance to meet fans and sign copies of the book at the Indigo Eaton Centre in Toronto on Saturday, September 7th at 1PM (thanks Andrew W). To order your copy of Rush: The Unauthorized Illustrated History via Amazon, go to this location.
Canadian folk musician Jacob Moon recently announced via his Facebook page that he is working on a new CD titled Fascination which will include covers of Rush's Limelight and Subdivisions. It'll also include covers of songs from Yes, Marillion, Radiohead and Peter Gabriel, along with two new original songs. Earlier this week he launched a RocketHub campaign to help finance the project and revealed more details about the album, which is due out this November. To see all the details and to help Jacob out, visit his RocketHub page. Jacob posted an update to the page yesterday about the recording of Limelight and how the David Barrett Trio will help him out with the guitar parts:
08/22/13: Today I am hard at work on an arrangement of 'Limelight' by Rush. Trying to reharmonize and re-jig some of it while leaving enough of the hooks in place so that you can still enjoy it. I think sometimes there is a temptation to completely overhaul a song in the attempt to re-interpret it, and you can end up losing some of the essence of the song in that pursuit.

Tomorrow I meet with David Barrett to talk about his trio's involvement in the song and we will work on guitar parts. Alex Lifeson produced their CD, and they have a great rock trio sound, but no singer. Wait--I know a singer! Together, I think we will bring the energy the record needs off the top (Limelight will open the CD). ...
Jacob Moon garnered the attention of Rush and their fans when he posted a YouTube video of himself performing an impressive rooftop solo rendition of Rush's Subdivisions a few years ago. The video quickly went viral, and Rush later asked Jacob to perform the song at their Canadian Songwriters Hall of Fame induction ceremony back in March of 2010.
The 2009 Canadian vampire horror/comedy flick Suck - which features a cameo from Alex Lifeson and a number of other rock stars - made the Bradenton Herald's list of the 10 worst rock films ever earlier this week, coming in at #6:
6. "Suck." Alice Cooper, Moby, Alex Lifeson and even Iggy Pop can't save this dismal and aptly titled film about a rock band that turns to vampirism to make it big.
Alex Lifeson makes an appearance in the movie as a border guard. You can get a glimpse of him in the film's trailer at this link (at about the 1:45 mark) and here's a video of Alex's complete scenes.

Sterotude posted a photo gallery of 20 album covers redone with legos earlier this week (thanks Stefan). One of the albums featured is Rush's Moving Pictures, and they use this photo that had previously been featured in a Friday Rush update post from a couple of years ago.
The Beach Boys played a show at the Canadian National Exhibition this past Sunday night in Toronto. Ottawa natives Brothers Dubé opened the show with a five-song performance where one of the brothers was sporting a Rush 2112 t-shirt as shown in this review of the show (thanks Andrew W).
The Hard Rock Cafe recently named American musician Mayer Hawthorne as their very first Hard Rock Artist of the Month. To celebrate the occasion they gave Mayer a tour of the Hard Rock Vault as shown in this VH1 news story. One of the items shown in the news video is Geddy Lee's double-neck Rickenbacker. You can watch the video below or at this location.
Everyone make sure to wish Alex Lifeson a happy birthday this coming Tuesday, August 27th. Our favorite guitar player catches up with his other two bandmates and turns the big six-oh! Happy birthday Lerxst!! That's all for this week. Have a great weekend!