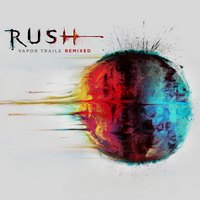 Now what?! The Clockwork Angels tour is in the books so Rush fans will now have to turn their attention to some cool upcoming new Rush releases to tide us over until the next album and/or tour. On October 1st we'll finally see the release of the long-anticipated Vapor Trails remix along with the Rush: The Studio Albums 1989-2007 box set. Then sometime just before Christmas we should be seeing the release of the Clockwork Angels DVD, although there's been no hard release date set as of yet.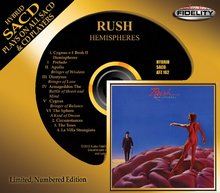 In addition to the above-mentioned releases, Audio Fidelity will be releasing an SACD (Super Audio CD) version of Rush's Hemispheres next month. The original release date as listed in the most recent Audio Fidelity newsletter was given as August 20th, but Amazon now has it listed as releasing on September 3rd. The listing for the SACD at the Audio Fidelity website states that the SACD will retail for $29.99 and was mastered by Kevin Gray at Cohearent Audio. You can pre-order your copy of the Hemispheres SACD at this location. Audio Fidelity released an SACD version of Counterparts earlier this year.
It's been a long time since any of Rush's studio albums have been certified Gold and/or Platinum by the RIAA. Although several Rush videos and compilations have been certified over the past several years, the last time a Rush studio album was certified was back in 2001 when Roll the Bones was given Platinum certification. Rush's last 3 studio albums have yet to receive even Gold certification (sales of 500,000 units) here in the US. However, with all the reissues in recent years including the Sector box sets, the recent Atlantic-era reissues (the digital version has already been released) and the deluxe editions of 2112 and Moving Pictures, it's likely that sales of Rush's back catalog have greatly increased in the past few years. Record companies or the artist need to explicitly request certification and it looks like this may have finally happened with Rush according to a Facebook post from Rush sound engineer Richard Chycki from earlier this week:
Just put in the request ... 26 gold and platinum album sales awards in North America, for all the Rush DVD's and albums over the past 9 years. Unbelievable! I am so blessed. Thanks, guys ... looking forward to many, many more!
Chycki explicitly says North America so several of these certifications may be in Canada where certification is handled by a different entity. It's also not clear whether pre-orders of Rush's upcoming reissue of Vapor Trails or pre-orders of the physical copies of the Atlantic-era box sets will be included (both will release on October 1st), or whether Snakes & Arrows and/or Clockwork Angels has any chance of getting Gold certification. But with sales of all the recent reissues, it's likely that several albums in Rush's back catalog may get Platinum or multi-Platinum certification. The RIAA's database of Gold and Platinum certifications is freely available online and you can check out all of Rush's certifications here (just do a search for "Rush"). More information as I learn it.
Mega baseball fan Geddy Lee has been enjoying his time off from touring by attending some Toronto Blue Jays games. The Boston Red Sox began a series with the Jays this past Tuesday in Toronto and had an off day the Monday before. So a few Boston Red Sox players decided to take in Monday's Jays game and were featured on Yahoo! Sports sitting right behind home plate along with Geddy Lee:
... That's Rush singer and Blue Jays megafan Geddy Lee two seats down from the Boston bros. The guy in the middle? Not sure. But now he has a good story to tell about that time he sat between Geddy Lee and Dustin Pedroia at a Blue Jays game.
Last week CBC News ran a story on Hamilton's renowned dancing guy Jed Lifeson, who happens to be Alex Lifeson's cousin:
... Lifeson was born 58 years ago as Nedad Zivojinovich. When he moved to Toronto as a teen, his cousin Alex took him to his friend Geddy Lee's place so he could hear their new band. Over the next few years, Jed took in every music show he could, whether it be Rush, Santana or Janis Joplin. Santana is a favourite - he's seen Carlos Santana 17 times. ...
There's a professionally-produced documentary video on Youtube, called JED: The Dancing Guy which includes some of Jed's family photos. A young Alex Lifeson is shown in one of the photos.
Modern Drummer magazine launched a poll yesterday with the aim of creating a list of the top 50 drummers of all time. Each voter gets to pick their top 10 list of drummers, with one vote per email/ip address. To find out more about the poll and to place your vote for Neil Peart, just go to this link (thanks John at Cygnus-X1.net).
Canadian folk musician Jacob Moon announced via his Facebook page this morning that he is working on a new CD titled Fascination which will include covers of songs from Rush, Yes, Marillion, Radiohead and Peter Gabriel, along with two new original songs (thanks RushFanForever). Jacob Moon posted a YouTube video of himself performing a rooftop solo rendition of Rush's Subdivisions a few years ago. The video quickly went viral, garnering the attention of Rush themselves who later asked Jacob to perform the song at their Canadian Songwriters Hall of Fame induction ceremony back in March of 2010.
KISS vs. Rush ... in football?! Yesterday the Arena Football League announced that the newest addition to the league will be named the Los Angeles KISS - after the famous rock band and former tourmates of Rush. The announcement caused Tablet Magazine to quip the following:
... Will there be a Jewish duet between Kiss' Israeli-born lead singer Gene Simmons and Rush's Geddy Lee during halftime of the first matchup between the L.A. Kiss and the Chicago Rush? ...
Texas-based heavy metal band The Sword recently performed a cover of Rush's Working Man at an August 7th show at Neumos in Seattle, WA. You can check out a YouTube clip of the performance at this location (thanks Glen R).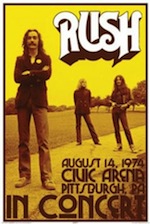 This past Wednesday, August 14th was the 39th anniversary of Neil Peart's first performance playing drums with Rush. It was at the Civic Arena in Pittsburgh on August 14, 1974 opening up for Uriah Heep and Manfred Mann. Rush has released a commemorative poster for the event which you can purchase online here. The band's opening song for this show was Working Man, and you can listen to a bootleg version of the performance on YouTube below or at this location:
That's all for this week. Have a great weekend!