UPDATE - 8/11@9:44AM: Reader CheeseCorn uploaded some great front row videos from the Kansas City show to YouTube including the Wish Them Well dance party, Paul Rudd directing the strings during YYZ, and the final song of the tour (including Geddy's closing comments).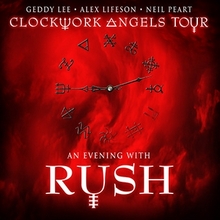 After over 70 concerts in nearly just as many cities across North America and Europe over the past year, Rush closed out their highly successful Clockwork Angels tour this past Sunday night at the Sprint Center in Kansas City. Actor and Kansas City native Paul Rudd made an appearance at the show, and came out on stage to direct the string section during YYZ. The band will now take a long and well-deserved break from touring for the next year or two, but should be back with a new album and/or tour eventually. Now that the tour is over we can finally talk about the setlist without spoiling it for anyone! Rush tried something a little different with their setlist for this tour, alternating out 4 or so songs each night. As has been their standard modus operandi since the Test For Echo tour, the show followed the evening with Rush format where they played 2 sets with an intermission in between and no opening band. Their first set this time around focused heavily on material from the '80s, particularly the Power Windows album. And the second set consisted of nearly the entire Clockwork Angels album with some old favorites thrown in at the end. The Clockwork Angels String Ensemble accompanied the band for nearly the entire 2nd set, exiting after YYZ. Towards the beginning of the 2012 tour they also experimented with a few different songs to close out the 2nd set and include in the encore. They at first were closing the 2nd set with Working Man and then playing an encore consisting of Tom Sawyer and The Spirit of Radio, but eventually replaced The Spirit of Radio with 2112. They also at one point put The Spirit of Radio back in the setlist to replace Working Man. From about mid-September of 2012 onwards, the 2nd set closer of The Spirit of Radio along with the encore of Tom Sawyer and 2112 would be a standard part of the setlist. The 4 tracks that they swapped out from night to night were the 5th and 8th songs of the first set, and the 8th and 10th songs of the 2nd set. For most of the 2012 tour and all of the 2013 tour, the setlist looked something like this:
Set 1:

Video Intro (Gearing Up)
1) Subdivisions
2) The Big Money
3) Force 10
4) Grand Designs
5) The Body Electric or Middletown Dreams (Limelight occasionally)
6) Territories
7) Analog Kid
8) Bravado or The Pass
10) Where's My Thing (with drum solo)
11) Far Cry

Intermission (Clockwork Angels String Ensemble enters)

Set 2:

Video Intro (The Appointment)
1) Caravan
2) Clockwork Angels
3) The Anarchist
4) Carnies
5) The Wreckers
6) Headlong Flight (with drum solo)
7) Halo Effect (with guitar solo intro)
8) Seven Cities Of Gold or Wish Them Well
9) The Garden
10) Manhattan Project or Dreamline
11) The Percussor (drum solo)
12) Red Sector A
13) YYZ
(Clockwork Angels String Ensemble exits)
14) The Spirit of Radio

Encore:

1) Tom Sawyer
2) 2112 Overture/Temples of Syrinx/Grand Finale
Video Outro (Office Of The Watchmaker)
The various combinations of the 4 songs that they swapped out yielded a couple of different versions of the set that we labeled the Night A and Night B sets. Occasionally they'd throw in Limelight which - for the 2013 tour - yielded 4 distinct setlists. This isn't including the special, shortened festival sets they played at the Sweden Rock Festival and the Ottawa Bluesfest (or the Quebec City show that was shortened due to weather). So which of these 4 sets did you think was the best combination? Take the poll and let us know.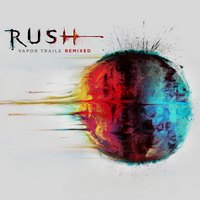 To help tide us over until Rush hits the road and/or the studio again, the band announced last week that they will finally be releasing the long-awaited remix/remaster of their 2002 album Vapor Trails this coming October 1st. The album will be made available for purchase individually or as part of a new Atlantic-era Rush box set that will also be releasing October 1st. The Vapor Trails remix is already available for pre-order on CD and on 180g vinyl from Amazon, as is the Atlantic-era box set.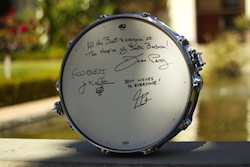 A DW Super Solid snare drum signed by Neil Peart, Jim Keltner and Doane Perry is currently up for auction on eBay with all proceeds going to benefit the Hospice of Santa Barbara. Neil Peart's signature is accompanied by a message reading Best wishes to everyone!. The bidding is well over $3000 now and the auction will run through this afternoon. For all the details and to place your bid go to this location.

Earlier this week we learned about a new Rush book project that is currently in development which will focus on Rush fans. The working title is Rush Fan Stories and the publishers have just set up a website where fans can contribute their stories. From the website:
Would you like to contribute to a forthcoming book about Rush fans? We're coming up on Rush's 40th anniversary. What better way to thank them for 40 years, 20 studio albums, 8 live albums, 37 music videos, 10 video albums, and 165 songs, then to tell them exactly what they've meant to you and how they've affected your life.

Fans of all types are desired to share their Rush stories with the rest of the world. Consider this your place to brag about what you've got, what you've done, and how lucky (and thankful!) you are. If you consider yourself a superfan, this book would probably not be complete without you. ...
The site also contains a short survey that the publishers are asking any and all Rush fans to fill out to help get the ball rolling. To take the survey and for all the details, visit the Rush Fan Stories website.
Author and music journalist Martin Popoff's new illustrative history of Rush titled Rush: The Illustrated History was released back in May. Andrew Matte wrote a review of the book this past week for The National Post and said the following:
... There have been plenty other books about Rush, but this is probably the most complete look at the band and its music. Popoff not only examines each album, but each tour, as well. Popoff and about a dozen guest music journalists provide plenty of insider information for even hardcore Rush fans; there's picture of a shirtless Alex Lifeson in short pants that I'd never seen before and needn't see again. ...
To order your copy of Rush: The Unauthorized Illustrated History via Amazon, go to this location.
Rob Sheffield at Salon.com wrote an article earlier this week titled Rush: How I learned to forgive - and even like - the most hated band of all time (thanks eric). In it he describes the long journey he took in becoming a Rush fan:
...I developed a real affection for the band, as well as an admiration for their devotees, so I guess I was a casual fan. But casual Rush fans do not really count in the grand scheme of things. Real Rush fans are the hard-core believers, one of the most doggedly loyal audiences in the business. And then there are the people who hate Rush just as passionately, who for lack of a better collective noun we can call "the rest of the world." The singular thing about Rush isn't how beloved they are. It's how hated they are. ...
Sports website Grantland used a Rush reference in their About Last Night column earlier this week when discussing a story involving Cam Newton and Johnny Manziel (thanks David H):
Carolina Panthers quarterback Cam Newton said he has spoken to fellow Heisman winner Johnny Manziel a number of times this offseason about the struggles of spending your college career in the limelight. When asked what he told Manziel, Newton broke into a surprising falsetto and said, "The limelight man, circumstances, the big money. It's a Rush, and sometimes you feel like Tom Sawyer painting fences, and sometimes you feel like you're possessed by the spirit of the radio, and sometimes you sign so many things it's just like 'YYZ ... next!' Like you have no freewill. But if you can't see the forest for the trees, you will be nobody's hero." Newton then made drum noises with his mouth for a couple of minutes before shaking his head and saying, "We all want to be the Neil Peart of this game, but sometimes the media loses sight of that."
Heavy metal bass player Patrick Bruders (Goatwhore, Crowbar, Down) picked his list of the Seven Greatest Bass Players of All Time for a MusicRadar.com piece yesterday, and Geddy Lee came in at #6 (thanks drmike):
"To me, what he does is a whole other alien, man. To be able to sing and play and work the keyboard pedals the way that he does, you've got to be a master musician to be able to do what he does. "You've got to have this coordination to be able to pull that off else it's just not going to work. I can't sing and play...I can't even talk and play! "Those guys have been together for 30 plus, 40 years now, it's incredible. They have a solid backbone, a solid foundation, as long as you have that and the guitar player doesn't f*** up then you're ok!"
Speaking of Geddy Lee, Loudwire.com decided to have some Photoshop fun with bass players earlier this week, taking photos of famous bass players and photoshopping in puppies in place of their bass guitars. One of the bass players featured is Geddy Lee. You can check out Geddy with his puppy at this location (thanks Nevetsrush2112).
Apparently Hamilton's renowned dancing guy is Alex Lifeson's cousin according to this CBC News article:
... Lifeson was born 58 years ago as Nedad Zivojinovich. When he moved to Toronto as a teen, his cousin Alex took him to his friend Geddy Lee's place so he could hear their new band. Over the next few years, Jed took in every music show he could, whether it be Rush, Santana or Janis Joplin. Santana is a favourite - he's seen Carlos Santana 17 times. ...
Here's some bootleg video of the final song (2112) from the final night of the Clockwork Angels tour in Kansas City this past Sunday night:
That's all for this week. A very happy birthday to Neil Peart's daughter Olivia who will turn 4 years old this coming Monday, August 12th. Have a great weekend!