UPDATE - 7/23@11:14AM: The shirt has been such a hit that the Rush Backstage Club is already out of stock, but reports that they will have more by the end of the month:
Yesterday we released the Rush Flood T-Shirt, in support of Flood Relief for Alberta. The shirt was such a hit, we are out of stock after the first day of its release. Rest assured - we have you covered. If you would like to pre-order this shirt now, we will have more stock on July 31st and will ship your order on or around this date
----- snip -----
UPDATE - 7/22@8:51PM: Reader thedigitalman let me know that the t-shirts are also being sold at Long & McQuade music stores throughout Edmonton and Calgary for those that don't want to order theirs through the Rush Backstage Club. All proceeds from these sales also go to the flood relief effort.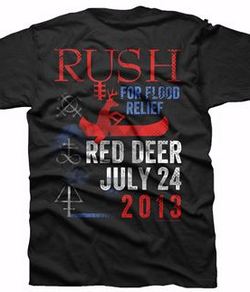 Rush will kick off the final leg of their Clockwork Angels tour this coming Wednesday, July 24th for a benefit show at the Enmax Centrium in Red Deer, Alberta. The band was originally scheduled to play a show at the Calgary Saddledome on that date, but due to severe flooding damage suffered by the venue last month they were forced to cancel the show. In yet another classy move by the band, rather than just simply reschedule the show, they decided to perform a separate show nearby on the same date in Red Deer, Alberta with all proceeds going to Alberta Flood Relief. Calgary ticket holders were given first dibs on tickets last weekend in a special pre-sale, with tickets going on sale to the general public last Monday. The band has also created a special t-shirt design just for the Red Deer Benefit Concert with all proceeds from sales of the t-shirts also going to the Alberta Flood Relief effort. So if you aren't able to attend the show but would still like to help out, you can purchase one of the t-shirts via the Rush Backstage Club.