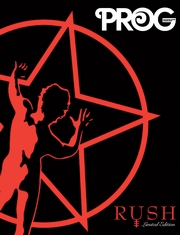 The latest issue of Prog magazine went on sale last month, and the issue contained a 14-page Rush cover feature titled Men at Work: 45 stories from 45 incredible years together. Along with the Rush cover feature in Prog #35, they released a limited edition hardcover version of the magazine's Rush content which includes an additional 12 pages of Rush coverage. John over at Cygnus-X1.net recently received his hardback copy and transcribed the entire thing, making it available online here. The additional content includes a letter from editor Jerry Ewing, a 1990 Presto-era interview with the band titled Presto Manifesto, a previously unpublished 2012 Prog interview with Geddy Lee called Mechanical Animals, and a new interview with Geddy and Alex where they discuss the future of the band titled Closer to Their Hearts!. Here they are on the subject of a 40th anniversary tour:
... Lifeson is not entirely opposed to the idea of a 40th-anniversary tour. "Maybe we'd consider doing one song from each of our 20 albums," he says. "And we could put in some different songs - not always depend on Tom Sawyer and The Spirit Of Radio. But I always say that before a tour and it never happens. It would be a lot of fun to go through the whole history of the band. But in our minds, it doesn't really matter if it's the 40th or the 41st anniversary."

Lee 'agrees. "I wouldn't say no to a 41st or a 42nd anniversary tour," he says, laughing. "I'm not against the idea of doing an anniversary tour - I just don't know why it has to be the number 40. I think a 42nd anniversary tour is much funnier. Or wait till 2015 and do the 40th anniversary of By-Tor & The Snow Dog!"

He is, of course, joking. But there are many Rush fans who would love to see Rush play a set based on their two albums from 1975 ...
The hardcover limited edition has long since sold out, so a big thanks to John for making this available. You can read the whole thing online here.