UPDATE - 5/13@9:59AM: Here's a short review and photo gallery from Ultimate Classic Rock.
UPDATE - 5/10@9:30PM: Here's a review of the show from The Republican.
UPDATE - 5/10@1:48PM: There are a bunch of great reader-submitted photos in the photo gallery for this show.
UPDATE - 5/10@9:17AM: Here's another great batch of photos that was posted over at Cygnus-X1.net. And there's also this photo gallery from The Hour (thanks ctbadger).
UPDATE - 5/10@7:00AM: Official photos from last night have been posted at Rush.com.
UPDATE - 5/9@10:58PM: The show is over and it was the Night B - version 5 setlist.
UPDATE - 5/9@9:30PM: Well this is slightly different. Through the first set, they are playing Night B - version 5. This set hasn't yet been played on the 2013 tour and was only played twice in 2012; in Atlanta and Anaheim. Thanks to Kelly D for the update.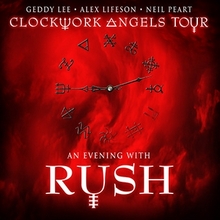 Rush plays the first of 2 back-to-back casino shows tonight when they bring the Clockwork Angels tour to the Mohegan Sun Arena in Uncasville, CT for stop #8 of the 2013 tour. Saturday they'll play the Trump Taj Mahal in Atlantic City and then take an 11-day hiatus before the European leg of the tour begins on May 22nd. The setlist situation is still a little confusing, but we do know that 3 distinct sets have been performed so far on the 2013 leg. Two of these sets (this one and this one) are virtually identical except for 1 song, with the third set having 4 different songs swapped in. I've confirmed via a few sources that the band has now labeled one of these 3 sets as the Night C set, but it's still not clear which one they are calling that. Until I'm sure which one it is, I'm just going to use my same Night A/B - version X naming convention that I used on the 2012 leg. Just to be clear, none of the sets played so far are new; meaning that they were all already played on the 2012 leg - they just seem to be rotating in 3 distinct sets now (Night A - version 4, Night A - version 3 and Night B - version 3). That said, it's not really clear what set we'll see tonight other than to say it probably won't be the same set that was played in Baltimore Tuesday night. I'll be sure to update this post with any unforeseen setlist changes as soon as I learn about them. For everybody going to tonight's show, have fun, be safe, and make sure to share your photos, videos and reports with us. RRUUUSSSHHHH!!!
Date/Time: Thursday, May 9th @ 7:30PM
Show Number: 8
Venue: Mohegan Sun Arena
Place: Uncasville, CT
gallery: [view] [upload] [YouTube videos]
reviews: [reviews] [setlist]