UPDATE - 4/29@9:59AM: Official photos from last night's show have been posted at Rush.com.
UPDATE - 4/29@8:28AM: Here's a review from the Orlando Sentinel's Jim Abbott (thanks Dave W).
UPDATE - 4/29@7:03AM: The final setlist was Night B - version 3 (thanks bobatchison2112).
UPDATE - 4/28@11:42PM: Look likes the played either Night B - version 3 or Night B - version 6; I'm still trying to verify which.
UPDATE - 4/28@9:11PM: They are well into the first set and it looks like they are following a Night B setlist although it's not yet clear what version we'll end up with (thanks starf88).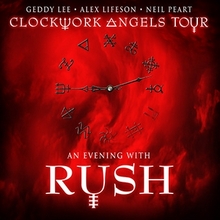 Rush plays the second of their 2 Florida shows this weekend when they take the Clockwork Angels tour to the Amway Center in Orlando tonight for tour stop #3. The band played 2 slightly different versions of their Night A setlist for the first 2 shows of the tour, so there's no telling which of the many Night A or Night B variations they'll play tonight. For everyone going to tonight's show, have fun, be safe and be sure to share your photos, videos and reports with us. RUUSSSHHHH!!
Date/Time: Sunday, April 28th @ 7:30PM
Show Number: 3
Venue: Amway Center
Place: Orlando, FL
gallery: [view] [upload] [YouTube videos]
reviews: [reviews] [setlist]