UPDATE - 3/13@5:39PM: On Tap airs tonight on these radio stations from 7PM to midnight. Most of the stations listed offer online streaming. According to the On Tap Facebook page, Geddy and Alex will be hanging out for the entire show and they'll be playing a good number of Rush tunes:
Do NOT miss tonight's show! We've got Geddy Lee & Alex Lifeson of RUSH hanging out ALL SHOW LONG! Plus we'll spin plenty of Rush tunes and tons of rock and roll!
----- SNIP -----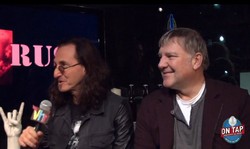 Geddy Lee and Alex Lifeson will be guests on tomorrow's episode of the new syndicated nightly radio show On Tap Presented by VH1 Classic. You can find out where to listen to the show on the On Tap website here. A three-minute preview clip of the interview was posted to the On Tap Facebook page earlier today. Host Nik Carter chats with Geddy and Alex about the band's upcoming Rock and Roll Hall of Fame induction and what it means to them. You can check that out below or on Facebook here.